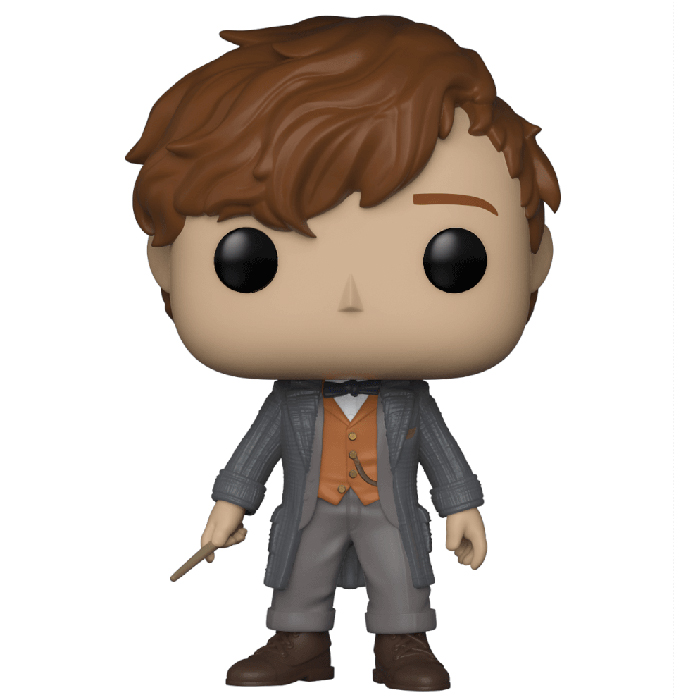 Figurine Newt Scamander (The Crimes Of Grindelwald)
La figurine Funko Pop Newt Scamander (The Crimes Of Grindelwald) vous intéresse ?

Vérifier la disponibilité sur

Une nouvelle mission pour Newt Scamander
Newt Scamander est le héros de la nouvelle série de films se déroulant dans l'univers d'Harry Potter mais principalement aux Etats-Unis dans les années 20-30. Dans le film, Fantastic Beasts, Newt Scamander se rendait aux Etats-Unis pour finir l'écriture de son livre sur les animaux fantastiques des différentes régions du monde et pour y relâcher l'un d'eux dans sa région natale. Mais il se retrouva alors pris dans une histoire bien plus importante que ce qu'il pouvait imaginer avec les actes terroristes orchestrés par le puissant sorcier Grindelwald. Dans ce nouveau film, c'est le professeur Dumbledore en personne qui va donner à Newt la mission de retrouver Grindelwald, son ancien ami qui est devenu assoiffé de pouvoir et bien décidé à rendre la magie connue du monde entier pour que les sorciers prennent enfin, selon lui, leur vraie place : celle de maitre incontesté de l'humanité. Newt va alors tout faire pour le retrouver et l'arrêter avant qu'il ne fasse trop de mal.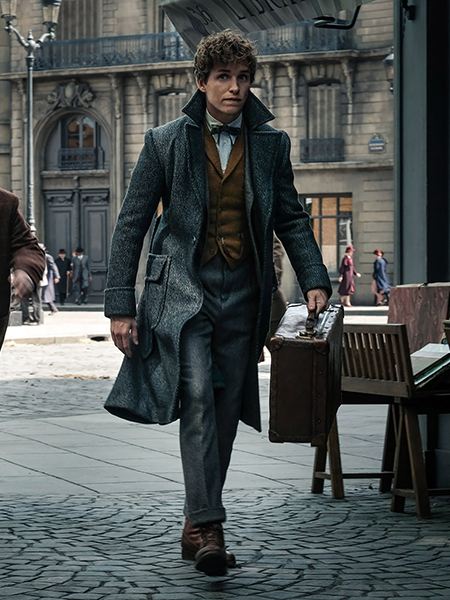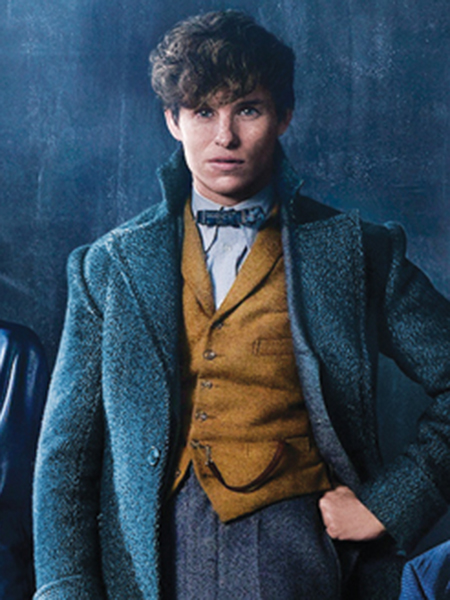 Un personnage au look toujours aussi inimitable
Newt Scamander est donc ici représenté toujours avec ce même look bien typique des années 20 qui le caractérise. Il porte ce pantalon raccourci qui laisse deviner ses bottines marrons ainsi qu'une veste assortie et un fameux petit veston marron clair avec son habituel noeud papillon toujours un peu de travers. Par-dessus cette tenue, il porte une longue veste gris foncé et tient bien sûr sa baguette de la main droite. Au niveau de la tête, on retrouve sa coupe de cheveux bien typique de l'époque avec un côté très court et une mèche épaisse revenant sur l'avant du visage de l'autre.