Figurine Occamy (Fantastic Beasts)
Une créature plus discrète qu'il n'y parait
L'occamy est l'une des créatures magiques amenées aux Etats-Unis par Newt Scamander au début du film Fantastic Beasts And Where To Find Them. Se situant dans l'univers d'Harry Potter mais se déroulant dans les années 20, ce film raconte l'histoire de Newt Scamander, anglais venu aux Etats-Unis pour compléter l'écriture de son guide sur les animaux du monde magique. Quand il arrive à New York l'un des animaux contenu dans sa valise magique s'échappe et quand il tente de le retrouver, sa valise est échangée par erreur avec celle d'un moldu et les choses ne font qu'empirer quand d'autres animaux s'échappent. L'occamy est une sorte de petit dragon/serpent ailé multicolore à la tête d'oiseau et aux cornes dorées. Il a aussi la particularité de s'adapter à la taille de l'endroit où il se trouve. Il peut donc être tout petit et rentrer dans une théière mais aussi faire des dizaines de mètres de long.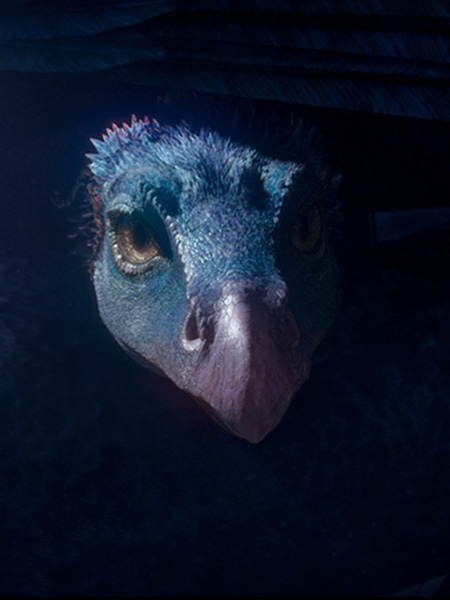 Une créature majestueuse
Quand il a la possibilité de grandir l'occamy est une créature majestueuse et c'est donc ainsi que Funko a choisi de le représenter sur cette figurine super sized en exclusivité pour la SDCC 2017. Son corps aux écailles multicolores très finement reproduite, est représentée un peu enroulé sur lui-même avec la tête bien relevée. Sur celle-ci, on peut voir son bec lui donnant plutôt l'air d'un oiseau ainsi que ces deux grandes cornes dorées typiques des dragons classiques. Un peu plus bas sur son corps sont attachées deux grandes ailes d'oiseau dans des tons de rose et de violet.