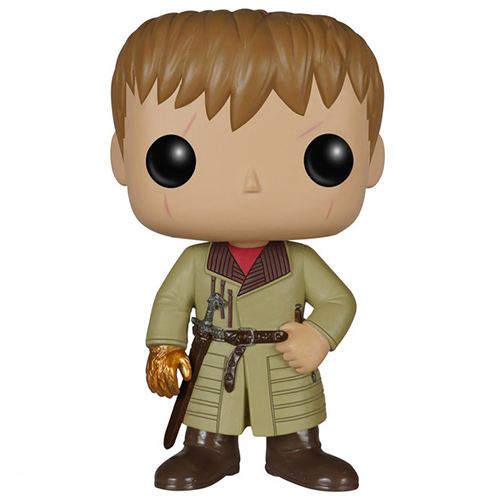 Figurine Jaime Lannister golden hand (Game Of Thrones)
La figurine Funko Pop Jaime Lannister golden hand (Game Of Thrones) vous intéresse ?

Vérifier la disponibilité sur

De personnage détesté à personnage adoré
Jaime Lannister est l'un des personnages principaux des romans "A Song Of Ice And Fire" de George Martin et de la série "Game Of Thrones" qui en est l'adaptation télévisée. Jaime est l'héritier de l'une des plus grandes familles de Westeros se battant pour le pouvoir depuis la mort du roi Barathéon, et la guerre déclenchée par la mise à mort de Ned Stark par le nouveau roi Joffrey Barathéon. On apprendra très vite au cours de la série que, bien qu'il soit officiellement l'oncle de Joffrey, il est en fait son père puisqu'entretenant une relation incestueuse avec sa soeur Cersei Lannister/Barathéon depuis l'adolescence. Au début de la guerre, Jaime perd une bataille contre Robb Stark (fils de Ned) et est fait prisonnier. Mais quelques temps plus tard, Catelyn, la mère de Robb, décide de le relâcher en échange de sa promesse de lui renvoyer ses deux filles, Sansa et Arya, qu'elle pense toujours prisonnières à la capitale avec Cersei. Elle envoie avec lui l'impressionnante guerrière Brienne Of Tarth en tant qu'escorte et assurance qu'il tiendra parole. Mais avant d'arriver à destination, leur chemin sera semé d'embuches et Jaime montrera un tout nouveau visage. S'il commence dans la série comme un personnage particulièrement détestable, il aura, au cours des saisons l'occasion d'agir de manière plus honorable, devenant même l'un des personnages préférés de nombreux lecteurs.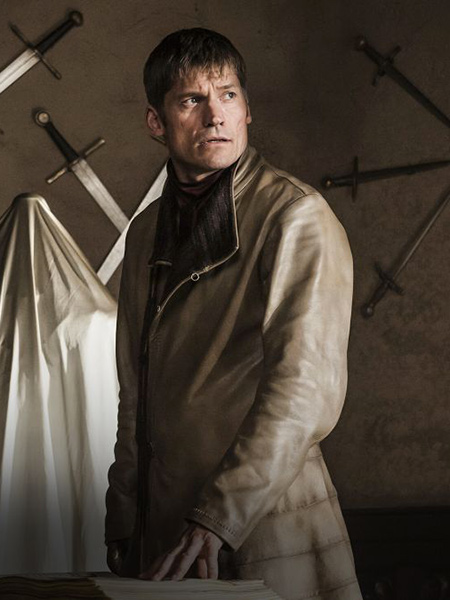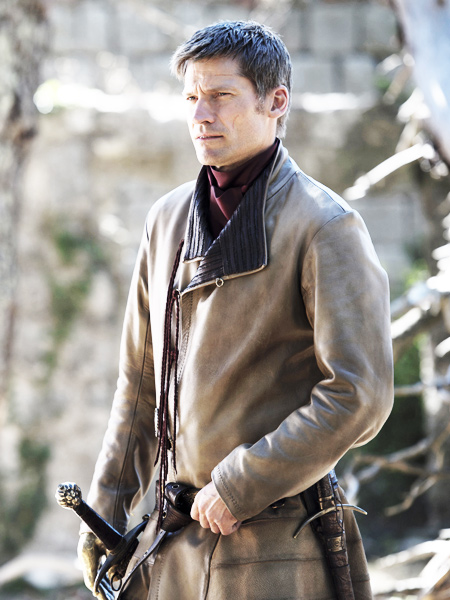 Le chevalier à la main d'or
Cette version du personnage évoque le personnage tel qu'il est habillé et coiffé durant la saison 4 de la série. Pendant son voyage de retour vers Port Réal avec Brienne, ils sont capturés par une bande de bandits et Jaime se fait couper la main droite. Finalement arrivé à destination, son père lui fait fabriquer une prothèse de main en or très finement reproduite sur cette figurine. Au niveau des vêtements, on le voit ré-adopter les couleurs claires de la garde royale. On reconnaît bien son manteau de cuir beige au revers foncé dont les détails ont été finement reproduits. Bien qu'il ne se considère plus comme un guerrier, il porte toujours son épée à la taille retenue par une ceinture de cuir joliment reproduite. Enfin, quand Jaime arrive à Port-Réal, il coupe ses cheveux très courts, se rase de près, abandonnant le côté "prince charmant" de sa belle chevelure blonde. Son visage est simple avec les habituels yeux noirs mais Funko a tout de même pensé à lui rajouter les quelques cicatrices qu'il a gagnées au cours de son périple.