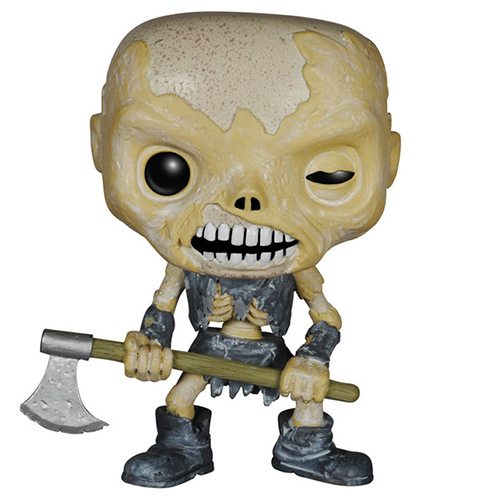 Figurine Wight (Game Of Thrones)
Les zombies de Game Of Thrones
Les "wights" sont des créatures des romans "A Song Of Ice And Fire" de George Martin et de la série "Game Of Thrones" qui en est l'adaptation. Les wights sont des sortes de zombie. Ce sont à la base des êtres humains qui, après leur mort, furent réanimés par des "white walkers" pour en faire leurs serviteurs. Les white walkers sont d'étranges créatures à la peau bleue et aux yeux brillants, vivant au-delà du mur construit au nord du royaume de Westeros. Ce processus de réanimation stoppe la décomposition, ainsi les morts gardent l'apparence qu'ils avaient au moment de leur réanimation si ce n'est que leurs yeux deviennent d'un bleu surnaturel comme ceux de leurs "maîtres". Les wights ne peuvent pas parler, juste grogner, on ignore donc à quel point ils gardent souvenir de leur vie et quelles sont leur capacités mentales. Ils sont avant tout là pour obéir à leur maître et se battre. Le seul moyen efficace de les tuer est le feu, ce qui explique pourquoi les sauvages vivant au-delà du mur brûlent toujours leurs morts.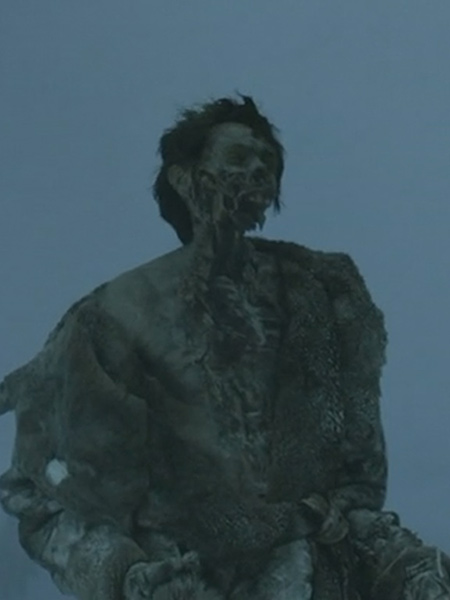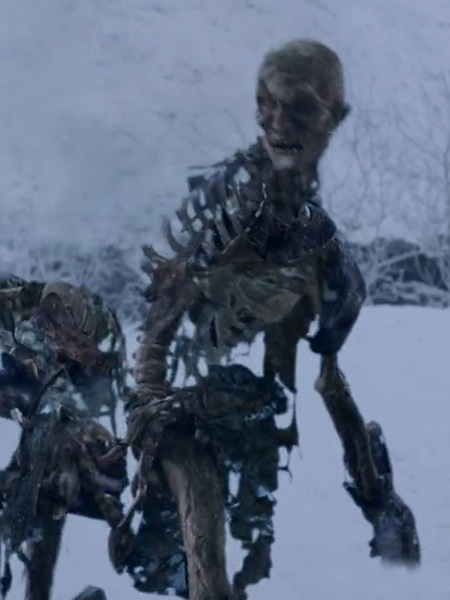 Un guerrier en bien mauvais état
Cette figurine ne représente pas un wight en particulier puisqu'il est en général assez difficile de les reconnaître. Les wights gardent l'apparence qu'ils avaient au moment de leur réanimation. Ainsi, si la personne était morte depuis un certain temps, le wight aura un physique très décomposé proche de l'aspect classique des zombies de film d'horreur. Et c'est le cas pour celui-ci. Il ne reste de la peau qu'à certains endroits et à d'autres, on peut apercevoir ses os, au niveau des bras, de la cage thoracique, des dents ou du crâne. Il lui reste des bottes usées, des vestiges de vêtements ainsi que des sortes d'armure aux poignets qui donnent à penser qu'il a pu être un guerrier avant sa mort. Les wights sont réveillés par les white walkers pour se battre mais ne sont pas très habiles, c'est pourquoi ce personnage porte une lourde hache et non une épée. Enfin, sa tête n'est plus qu'un crâne recouvert partiellement de peau. Sa mâchoire est découverte et un de ses yeux est à moitié fermé.