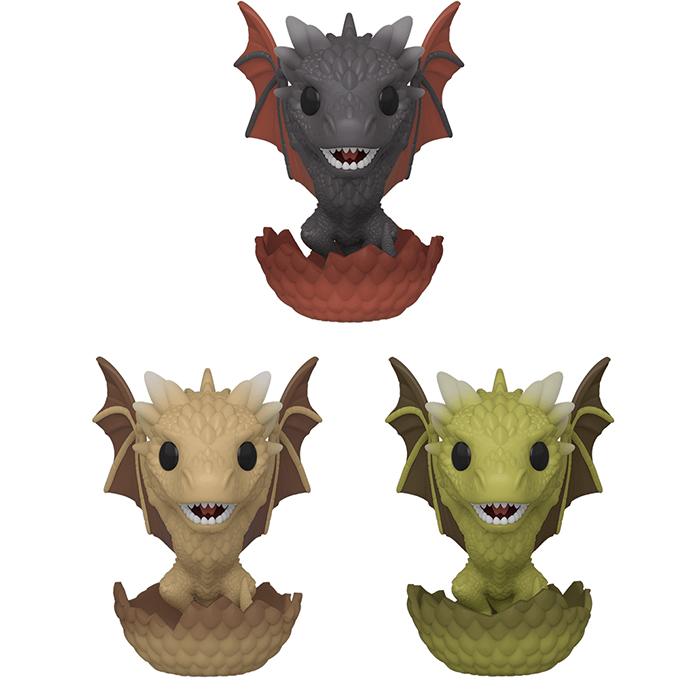 Figurine Drogon, Viserion et Rhaegal in eggs (Game Of Thrones)
La figurine Funko Pop Drogon, Viserion et Rhaegal in eggs (Game Of Thrones) vous intéresse ?

Vérifier la disponibilité sur

La renaissance des dragons
Drogon, Viserion et Rhaegal sont les trois dragons naissant à la fin de la saison un de la série Game Of Thrones. Alors que leur espèce s'était éteinte plusieurs siècles plus tôt, trois oeufs de dragon furent offert à Daenerys Targaryen comme cadeau lors de son mariage avec Khal Drogo. Mais alors qu'on lui avait offert comme de simples objets décoratifs, elle commença à s'en occuper comme de véritables oeufs. A la mort de son mari, elle le rejoint sur son bucher funéraire et y plaça les oeufs près d'elle. Ayant les pouvoirs ancestraux des Targaryen, le feu ne la blessa pas et cela permit de faire éclore les oeufs et ainsi de faire naitre les premiers dragons que l'on ait vu depuis des siècles. Leurs débuts furent difficiles puisque Daenerys errait dans le désert à ce moment là. Mais une fois qu'ils avaient grandi et ont commencé à cracher du feu, ils aidèrent Daenerys à obtenir une armée de 8000 hommes et devinrent des alliés de poids et fidèles jusqu'à sa mort, en particulier Drogo qu'elle avait nommé en l'honneur de son défunt mari.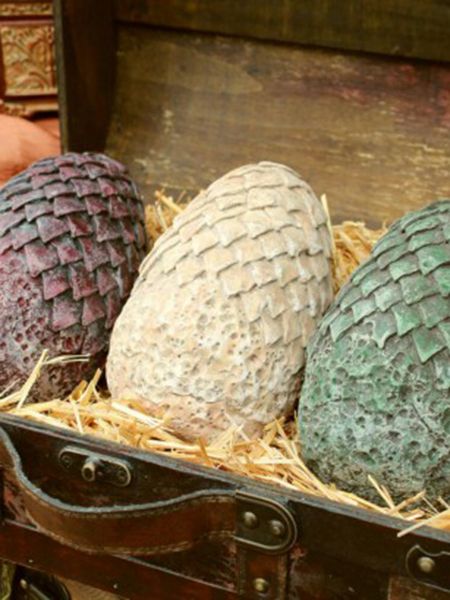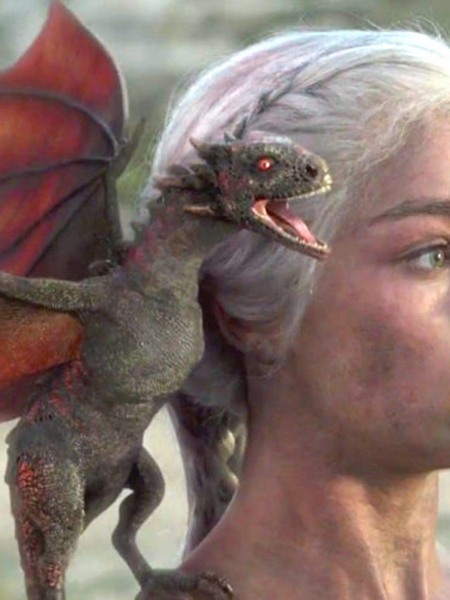 Des débuts prometteurs
Pour ce nouveau pack exclusif, Funko a représenté les trois dragons sortant tout juste de leur oeuf. Pour chacun, on retrouve le dessous de la coquille à écailles de la couleur principale du dragon, rouge pour Drogo, beige pour Viserion et vert pour Rhaegal. Chaque petit dragon est debout dans sa coquille se tenant sur ses pattes arrières avec la queue repliée autour d'eux et les ailes déployées dans une attitude d'intimidation. Au niveau de la tête, leur gueule est ouverte découvrant leurs dents encore pas trop impressionnantes et on retrouve bien les détails d'écailles et cornes sur le dessus de la tête.