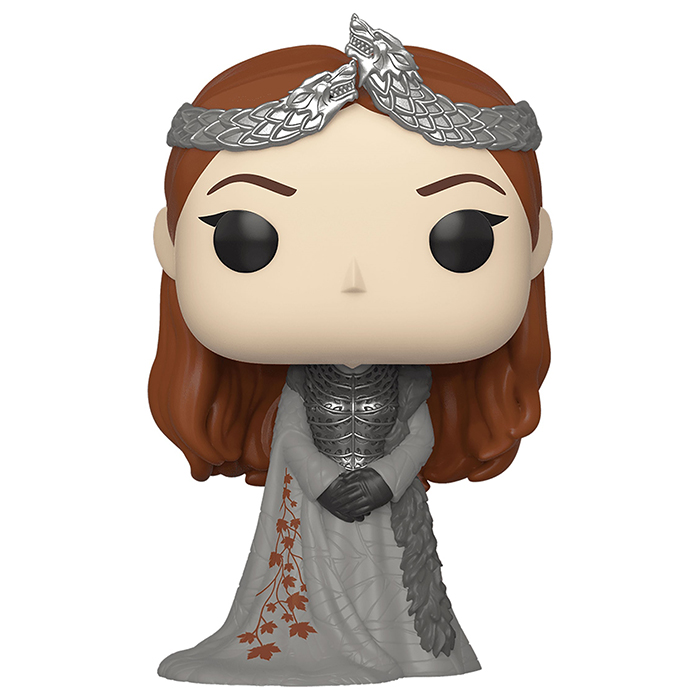 Figurine Sansa Stark Queen In The North (Game Of Thrones)
La figurine Funko Pop Sansa Stark Queen In The North (Game Of Thrones) vous intéresse ?

Vérifier la disponibilité sur

Une évolution impressionnante
Sansa Stark est l'un des personnages principaux de la série Games Of Thrones et certainement l'un des personnages ayant le plus évolué au cours des saisons. C'est l'ainée des soeurs Stark qui, au début de la série, était destinée à épouser le futur roi Joffrey. Destin qui lui convenait parfaitement puisqu'elle n'avait toujours rêvé que de d'épouser un charmant prince et de vivre à la cour. Mais son rêve se retourne rapidement contre quand son père est exécuté et qu'elle devient prisonnière. Forcée d'épouser Tyrion Lannister, elle va profiter de sa bienveillance pour en apprendre de lui. Elle va ensuite fuir le chateau avec Little Finger qui va d'abord l'amener chez sa tante avant d'arranger un marriage avec le cruel Ramsay Bolton. Lui faisant confiance, elle va accepter le marriage et se retrouver dans un autre cauchemar où elle sera ni plus ni moins qu'une prisonnière. Finalement, elle parvient à convaincre Theon, devenu un serviteur de Ramsay, de l'aider à s'échapper pour rejoindre Jon au mur. A partir de là, Sansa va enfin reprendre le contrôle de sa vie et se servir de tout ce qu'elle a appris afin d'avoir enfin le meilleur pour sa famille. Grâce à certaines alliances, elle va permettre à Jon de gagner la bataille des bâtards et prendre la direction de Winterfell alors que ce dernier part à la recherche d'alliés dans la guerre contre les White Walkers. Finalement, elle parviendra à obtenir l'indépendance du Nord et deviendra la reine du Nord, n'ayant besoin d'aucun homme à ses côtés.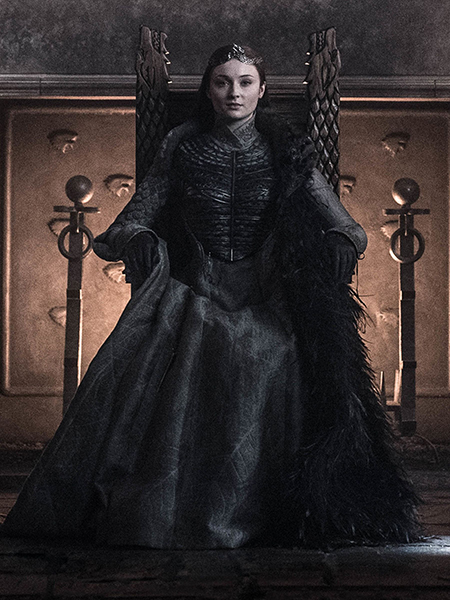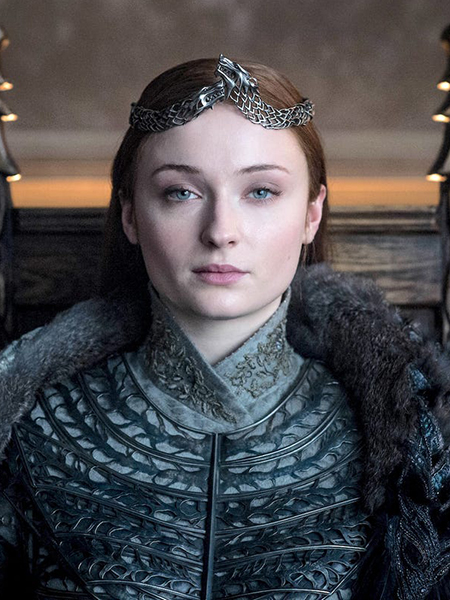 Une reine digne du Nord
Sansa est ici représentée telle qu'elle est dans sa dernière scène de la série, faisant son entrée à Winterfell sur son trône de reine du Nord. Elle porte une superbe robe grise aux manches longues et entièrement brodée avec comme seule touche de couleur un motif de feuilles d'automne rappelant aussi la couleur de ses cheveux. Elle porte aussi une sorte d'écharpe de fourrure avec une sorte de bustier armure en métal brodé au niveau du torse ainsi que des gants noirs. Au niveau de la tête, elle porte ses longs cheveux roux coiffés très simplement avec une couronne argentée sur la tête représentant deux têtes de Direwolf, le symbole des Stark.