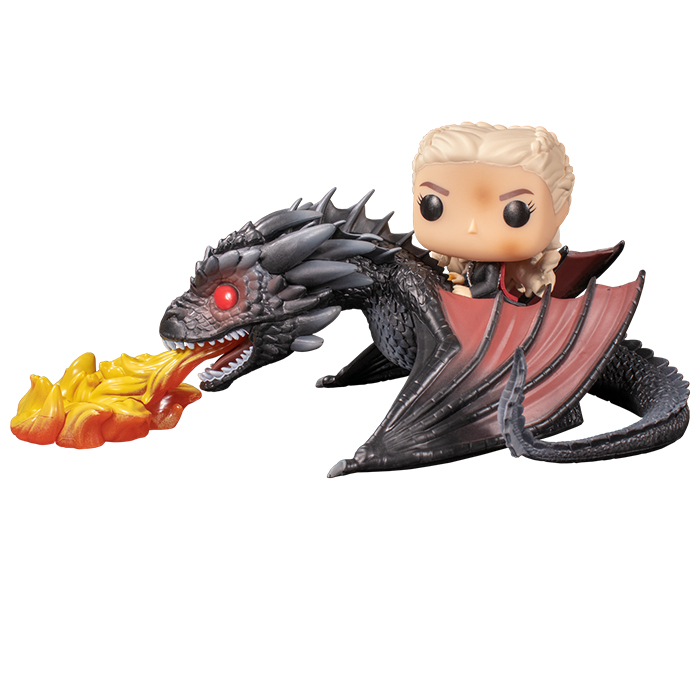 Figurines Daenerys and Fiery Drogon (Game Of Thrones)
Les figurines Funko Pop Daenerys and Fiery Drogon (Game Of Thrones) vous intéressent ?

Vérifier la disponibilité sur

Une reine redoutable
Daenerys est l'un des héroïnes de la série Game Of Thrones et l'un des quelques personnages vraiment centraux. Elle est, avec son frère la dernière survivante de la famille Targaryen, exilés depuis que leur père a perdu la guerre contre une alliance des plus puissantes familles de Westeros. Son frère fait tout pour tenter de trouver assez d'argent et une armée pour reprendre le pouvoir qu'il pense lui revenir de droit, y compris marier sa soeur à un chef de guerre barbare. Mais Daenerys ne voit pas ça ainsi et décide que c'est à elle que le pouvoir doit revenir. Pendant plusieurs saisons, elle va donc y travailler et libérer les esclaves par la même occasion. En début de saison sept, elle débarque finalement en Westeros avec son armée. Les premiers combats sont violents contre l'armée de Cersei mais Jon Snow va finalement la convaincre que le principal combat se joue au Nord contre l'armée des morts contre qui son dragon crachant des flammes va bien sûr se révéler très utile. Malheureusement, elle va prendre un peu trop goût à utiliser le feu pour vaincre ses ennemis.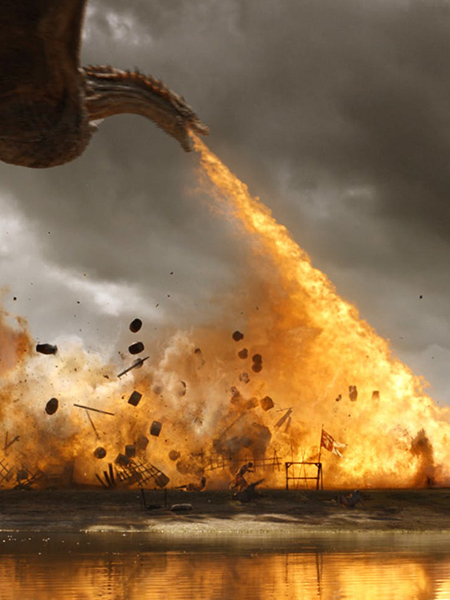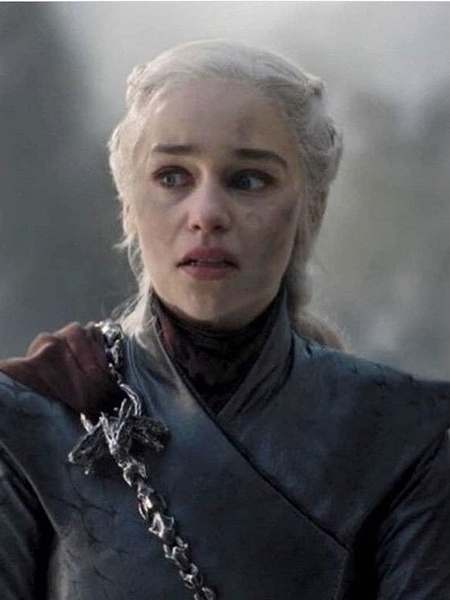 Daenerys et son plus fidèle allié
Daenerys est ici représenté sur Drogon, le plus gros de ses trois dragons et le plus protecteur envers elle. A partir du moment où il commence à le laisser monter sur son dos, Daenerys va dangereusement prendre goût à le faire cracher du feu pour combattre ses ennemis. Drogon est donc ici représenté au sol avec ses écailles noires, ses yeux rouges et ses deux grandes ailes en partie repliées. Il crache du feu représenté avec un plastique partiellement transparent orange et jaune. Daenerys est elle sur son dos, se tenant à ses pics. Elle porte la tenue noire et rouge avec un long manteau et une chaine en forme de dragon qu'elle a adopté en arrivant à Westeros pour s'adapter au climat plus froid. Au niveau de la tête, elle porte ses longs cheveux blonds ramenés en arrière par un complexe système de nattes et joliment bouclés au bout. Son visage est aussi un peu sâle pour montrer qu'elle a déjà passé du temps à se battre.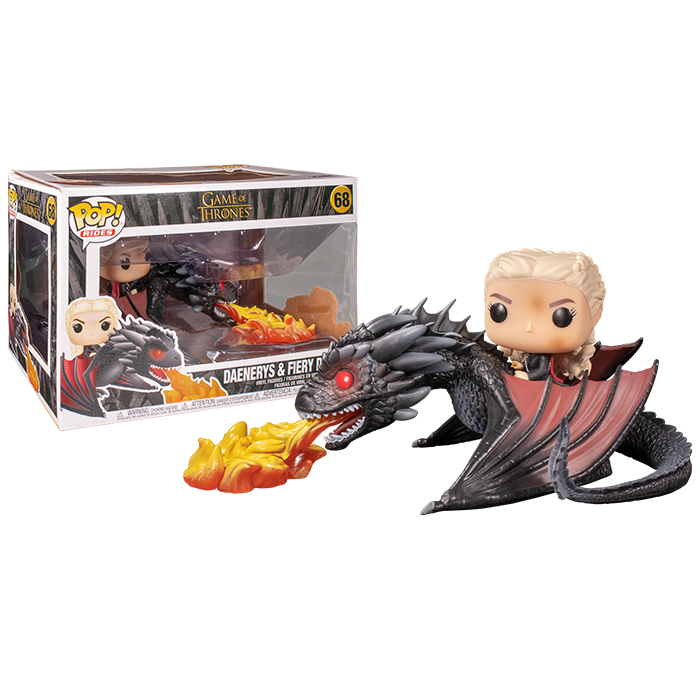 Les figurines Funko Pop Daenerys and Fiery Drogon (Game Of Thrones) vous intéressent ?

Vérifier la disponibilité sur

Trouvable également ici :

39.90 €
Voir l'offre