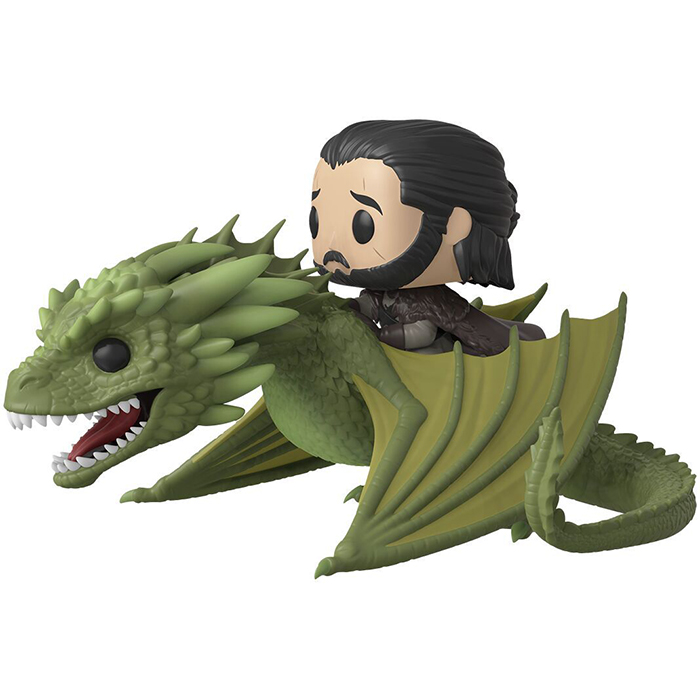 Figurines Jon Snow & Rhaegal (Game Of Thrones)
Les figurines Funko Pop Jon Snow & Rhaegal (Game Of Thrones) vous intéressent ?

Vérifier la disponibilité sur

Un vrai Targaryen
Jon Snow est l'un des personnages les plus importants de la saga Game Of Thrones. Au début de la première saison, étant le bâtard de la maison Winterfell, il ne peut espérer un avenir brillant ou un mariage et décide donc de rejoindre la garde de nuit comme son oncle avant lui. Etant intelligent courageux et déjà bien entrainé, il se fait vite remarquer dans la garde et le chef lui confit une mission auprès des Wildlings qui ne va pas le laisser inchangé. Plus tard, après la mort du chef de la garde et avoir vaillamment défendu Castle Black, il est élu comme le nouveau chef par les siens. Très vite, il découvre que la vraie menace vient des White Walkers et va se concentrer sur ça. Ca lui vaudra d'être tué par les siens, puis ramené à la vie. Il quittera alors la garde pour reprendre Winterfell avec Sansa. En saison 7, quand Deanerys débarque sur le continent, il va la convaincre de les aider à combattre la vraie menace. Elle va accepter et ils vont tomber amoureux. En début de saison huit, ils arrivent à Winterfell, plus amoureux que jamais et Jon a pour la première fois l'occasion de voler sur le dos de Rhaegal. Malheureusement, le bonheur va être de courte durée quand ils vont apprendre par Bran et Sam que Jon est un Targaryen et donc son neveu.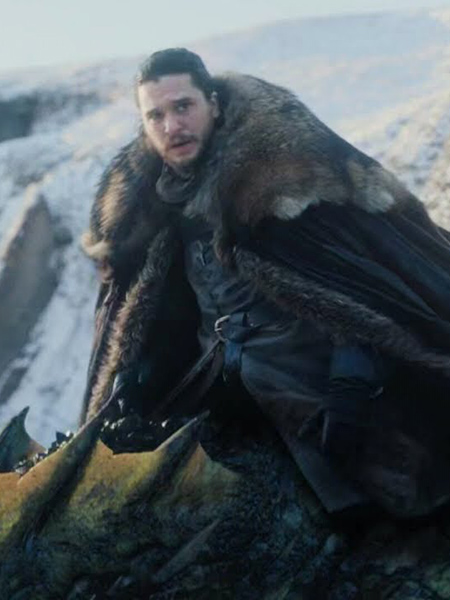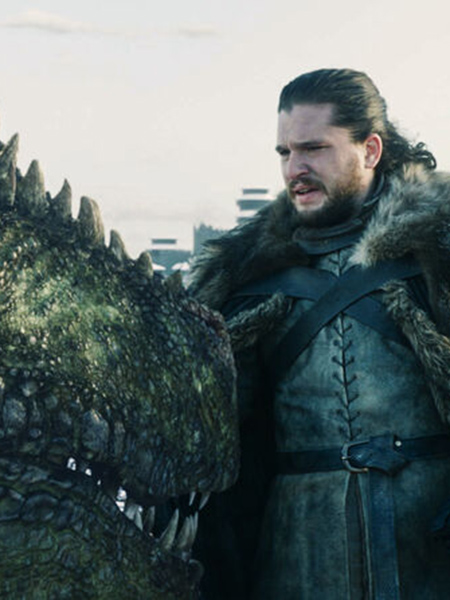 Une monture impressionnante
Jon est donc ici représenté sur le dragon Rhaegal tel qu'on le voit durant le premier épisode de la saison huit et pendant la la longue nuit. Rhaegal est ici posé au sol avec la gueule grande ouverte et les ailes en partie repliées. On retrouve bien ses écailles vertes sur tout son corps et les nombreux détails de cornes et pointes sur la tête ainsi que le jaune plus clair au niveau de ses ailes. Jon est lui à cheval sur son dos et arbore un air plutôt inquiet. Il porte son habituel tunique marron avec une épaisse cape de fourrure attachée en travers de son torse ainsi que des gants marrons. Au niveau de la tête, il porte ses cheveux noirs mi-longs ramenés à l'arrière du visage ainsi que sa barbe et son bouc noir.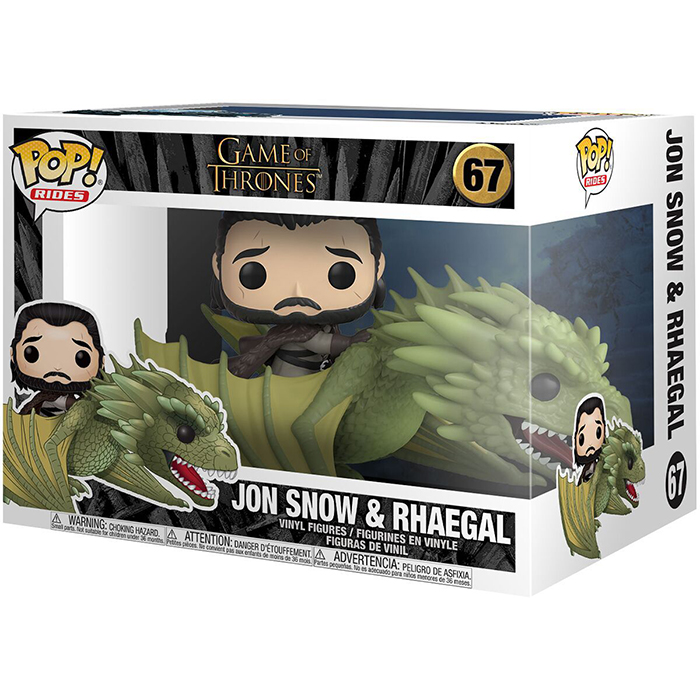 Les figurines Funko Pop Jon Snow & Rhaegal (Game Of Thrones) vous intéressent ?

Vérifier la disponibilité sur

Trouvable également ici :

39.90 €
Voir l'offre