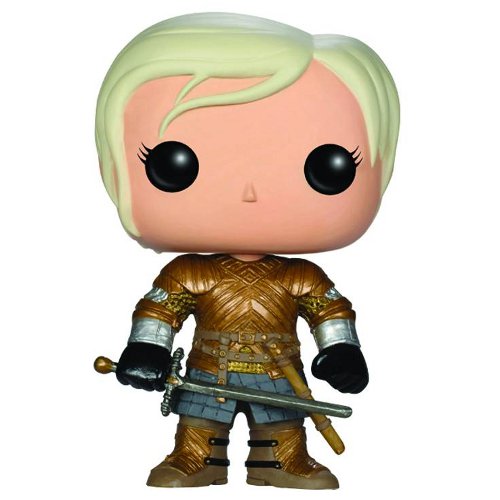 Figurine Brienne Of Tarth (Game Of Thrones)
La figurine Funko Pop Brienne Of Tarth (Game Of Thrones) vous intéresse ?

Vérifier la disponibilité sur

Arya et Sansa Stark en un seul personnage
Brienne of Tarth est un personnage des romans "A Song Of Ice And Fire" et de la série "Game Of Thrones". Apparaissant en cours de saison 2 comme personnage secondaire, elle prendra une plus grande importance à partir de la saison 3. Parfaitement interprétée à l'écran par Gwendoline Christie, Brienne est la seule héritière du seigneur Selwyn Tarth. Son physique inhabituel et considérée comme peu attractif pour une femme ( grande, musclée, peu de poitrine et un visage large), elle abandonnera vite l'idée de se marier et décide de devenir chevalier. Elle gagnera d'abord le respect de Renly Baratheon et deviendra membre de sa garde royale. Lorsqu'il se fait assassiner, elle sera injustement accusée et partira au service de Catelyn Stark, une des seules autres personnes à lui avoir montré gentillesse et courtoisie. Catelyn lui fera confiance pour escorter Jaimie Lannister à King's Landing, Jaimie ayant promis de lui renvoyer ses filles en échange. Méprisant d'abord Jaimie, elle finira par le respecter quand ils seront fait prisonniers et qu'il lui évitera une mort violente. Arrivés à King's Landing, Sansa a disparu mais Jaimie souhaite tenir sa parole. Il envoie donc Brienne à sa recherche pour qu'elle l'amène en lieu sûr. Brienne est une combattante redoutable au fort sens de l'honneur mais qui peut parfois faire preuve d'une certaine naïveté quant à l'idée qu'elle se fait de la chevalerie. Ce qui fait d'elle une sorte de mélange des soeurs Sansa et Arya Stark. Bien qu'issue d'une famille noble, elle est très mal à l'aise dans "le monde" et cherchera souvent le silence et la solitude.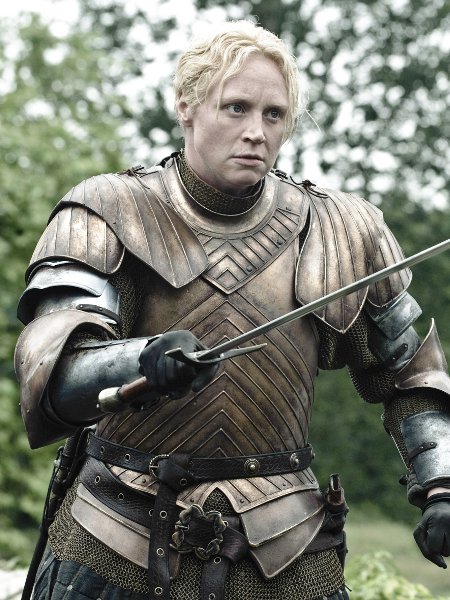 La géante guerrière
Brienne est représentée avec l'armure dorée qu'elle porte durant les saisons 2 et 3. C'est une armure de qualité montrant bien que Brienne est issue d'une riche famille. Les différents éléments de l'armure ont été finement représentés n'oubliant pas les motifs des épaulières et du pectoral ainsi que les quelques éléments contrastants en métal gris. Sous cette armure on voit dépasser la tunique de plaques bleus faisant sûrement référence au surnom de l'île de Tarth "The Sapphire Island". Brienne étant avant tout une guerrière, elle est représentée son épée à la main et son fourreau autour de la taille. Ses cheveux blonds courts sont décoiffés comme si elle venait de se battre. Enfin, afin de respecter le physique imposant du personnage, les créateurs de la figurine semblent avoir créé le corps d'après un moule en général plutôt réservé aux personnages masculins. D'ailleurs si on la place aux côtés des autres figurines de la série, elle les dépasse tous de 0,5 à 1 cm ( si ce n'est peut-être The Hound).