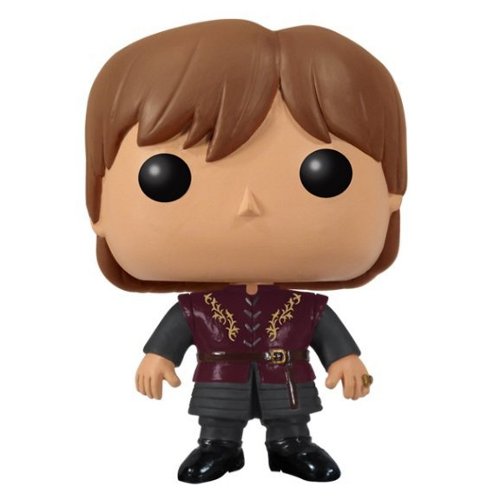 Figurine Tyrion Lannister (Game Of Thrones)
La figurine Funko Pop Tyrion Lannister (Game Of Thrones) vous intéresse ?

Vérifier la disponibilité sur

Tyrion, le mal aimé
Tyrion Lannister est l'un des personnages principaux de la série "Game Of Thrones" (adaptée des romans "A song of ice and fire" de George Martin). Interprété à l'écran par Peter Dinklage, c'est très souvent l'un des personnages préférés des fans des romans et de la série. Il est le fils cadet de la très puissante famille Lannister. Etant nain, il est particulièrement détesté par son père Tywin et sa sœur. Sa mère est morte en le mettant au monde, ce qui les fera le détester encore plus. Jaime, avec qui il partage une grande complicité est le seul membre de sa famille qui l'a toujours accepté. Les Lannister sont devenus très importants quand, après la guerre contre les Targaryen, Cersei, sœur jumelle de Jaime, a épousé Robert Baratheon et est donc devenue reine. Tyrion est très intelligent et cultivé, il a beaucoup d'humour et un goût prononcé pour les prostitués. Il essaie toujours de faire ce qui est juste pour le peuple et pour les gens qui l'entourent, essayant même de réparer le mal causé par les membres de sa famille. Mais malgré tous ses efforts, il sera toujours traité avec injustice notamment à cause de son apparence et des manigances de sa sœur. Peu de gens se rendront compte de sa vraie nature et c'est bien là le drame de ce personnage.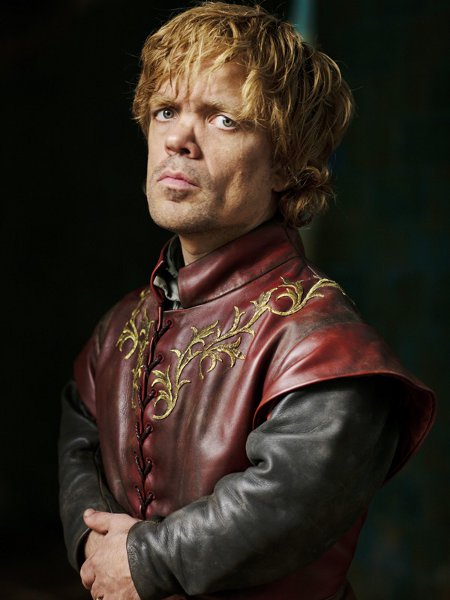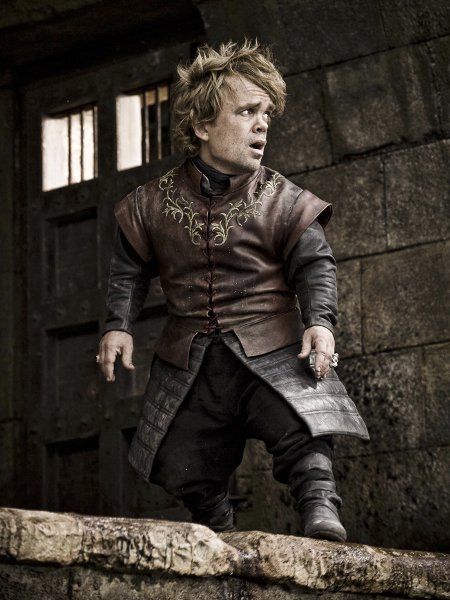 Un Lannister malgré tout
Tyrion est ici représenté avec son physique des saisons 1 et 2. En effet en fin de saison 2, lors de la bataille de la Nera, il échappe de près à la mort et en garde par la suite une grande cicatrice qui lui traverse le visage. Sa tenue est très probablement inspirée de celle qu'il porte sur certaines photos promotionnelles de la saison 1 mais aussi pendant toute la période où il est accusé injustement de la tentative de meurtre de Bran Stark et est prisonnier au château de Lisa Arryn (sœur de Catelyn Stark). Ce sont des vêtements élégants faits de matières nobles, ici principalement du cuir, adaptés à son rang. Il porte un pantalon et des bottes gris/noirs ainsi qu'une tunique de cuir. Par dessus, il porte un gilet de cuir rouge avec des motifs dorés finement reproduits, aux couleurs de la famille Lannister. Malgré ses relations plus que tendues avec son père, il portera presque toujours des vêtements aux couleurs de sa famille. En revanche ses cheveux ont été représenté dans un brun clair plus proche de la couleur qu'il arbore dans les plus récentes saisons et plus éloignée du "blond Lannister" des débuts.