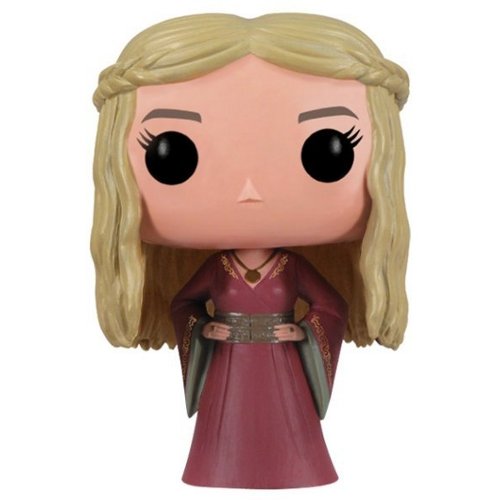 Figurine Cersei Lannister (Game Of Thrones)
La figurine Funko Pop Cersei Lannister (Game Of Thrones) vous intéresse ?

Vérifier la disponibilité sur

La reine qui aurait voulu être un homme
Cersei Lannister est l'un des personnages principaux des romans "A Song Of Ice And Fire" et de la série "Game Of Thrones". Interprétée par Lena Headey, Cersei est la fille ainée de Tywin Lannister, le puissant seigneur de Casterly Rock. Elle a un petit frère Tyrion, qu'elle déteste depuis sa naissance et un frère jumeau Jaime avec qui elle entretient une relation incestueuse depuis l'adolescence. Suite à la rébellion contre l'ancien roi Aerys Targaryen, Robert Baratheon devient roi et épouse Cersei, faisant d'elle la reine de Westeros. Cersei a toujours détesté son mari et on apprendra d'ailleurs très vite que ses 3 enfants ne sont pas de lui mais de son frère Jaime. La reine est une femme froide et manipulatrice, prête à tout, y compris jouer de ses charmes, pour obtenir ce qu'elle veut. Son seul amour sincère est pour ses enfants, qu'elle considère comme sa seule source de joie. Elle sera toujours frustrée d'être une femme et de ne pouvoir accéder au pouvoir réservé aux hommes et qui, selon elle, ne le méritent que très rarement.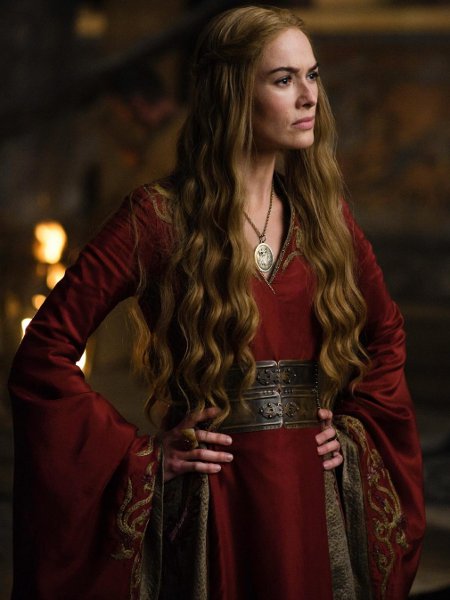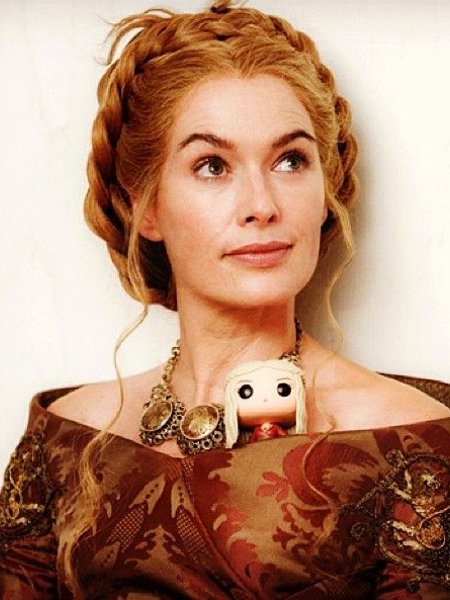 La reine guerrière
Pendant tout la série Cersei ne porte quasiment jamais autre chose que le rouge et l'or, les couleurs des Lannister. C'est donc très logiquement ainsi qu'elle est représentée sur cette figurine. Funko a visiblement choisi de s'inspirer d'une robe spécifique qu'elle porte à plusieurs reprises dans la saison 1 (et peut-être même de cette photo en particulier). C'est une robe rouge sombre de forme portefeuille aux riches broderies dorées au col et tout le long de ses larges manches. Bien que luxueuse et féminine, sa coupe reste assez sobre et couvrante pour conserver cette fausse image de dignité et de droiture. Comme souvent Cersei porte aussi un élément évoquant une armure, ici une large ceinture de métal. Cet élément ainsi que sa posture sont sûrement là pour rappeler qu'elle est en quelque sorte une guerrière, mais se battant avec les armes qui sont à la portée d'une femme. Bien qu'ils n'aient pu rendre les plus petits détails, les créateurs de la figurine ont quand même peint les broderies de la robe, le médaillon et même les deux bagues dorées à chaque main. Enfin sa coiffure nattée et ses fameux cheveux blonds sont fidèlement rendus.