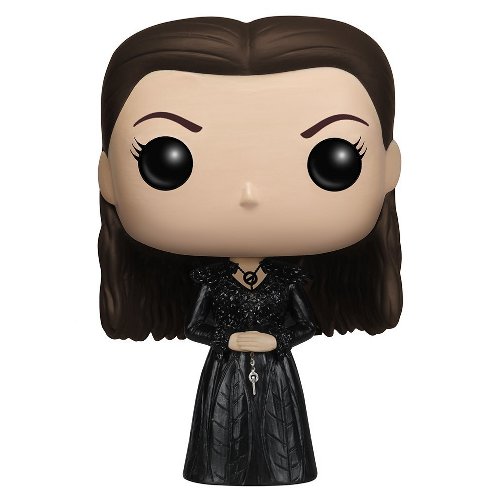 Figurine Sansa Stark (Game Of Thrones)
Sansa, la survivante
Sansa Stark est l'un des personnages principaux des romans "A Song Of Ice And Fire" de George Martin et de la série "Game Of Thrones". Elle est la fille ainée de Catelyn et Lord Eddard "Ned" Stark, seigneur du Nord et de Winterfell. Au début de la série, l'actuel "Main du roi", Jon Arryn, meurt dans des circonstances douteuses et le roi décide de faire appel à son ami Ned pour le remplacer. Celui-ci accepte et vient donc vivre à la capitale avec ses deux filles dans l'espoir d'en savoir plus sur la mort de son ami Jon Arryn. Dans le même temps la jolie et naïve Sansa, âgée de 12 ans est fiancée avec Joffrey, fils du roi et de la reine Cersei Lannister, ce qui la transporte de joie. Mais quand Ned découvre de noirs secrets sur les Lannister, notamment que Joffrey est en fait le fruit de l'incest entre Cersei et son frère Jaime, les choses tournent mal. Le roi meurt lors d'un "accident" de chasse, Cersei fait emprisonner Ned et Joffrey devenu roi, le fait exécuter. C'est seulement là que Sansa se rend compte de la nature sombre et perverse de son fiancé. Si sa jeune soeur, Arya, moins naïve arriver à fuir la ville, Sansa devient elle prisonnière des Lannister alors que son frère Robb Stark déclare officiellement la guerre au royaume. Au cours des saisons, Sansa deviendra moins naïve et se contentera de survivre alors que le reste de sa famille est en guerre. Quand Joffrey est empoisonnée pendant son mariage, elle en profite pour s'enfuir et se retrouve entre les mains de Peter Baelish. Il l'emmène chez sa tante, la soeur de Catelyn Stark où il a de grands projets pour elle.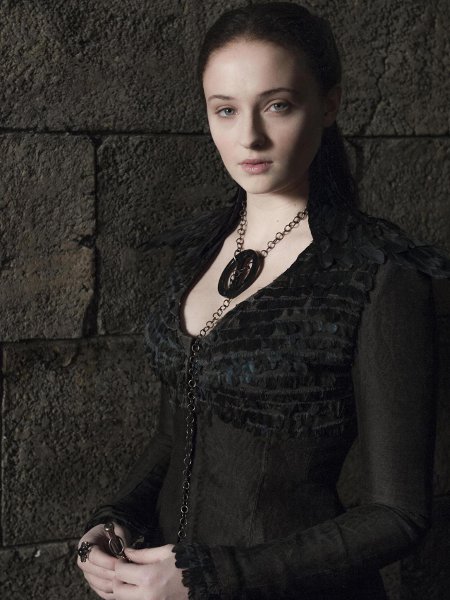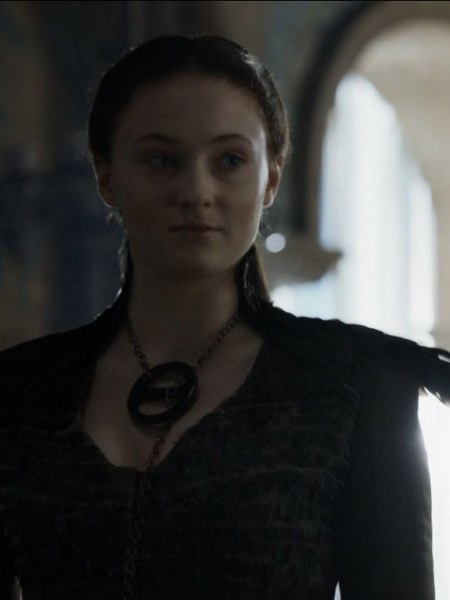 De l'enfant naïve à la femme
Si Sansa est d'habitude reconnaissable par la belle chevelure auburn qu'elle tient de sa mère et ses robes colorées dans le style de celles de Cersei et des dames de la cour, c'est dans un style différent que Funko a choisi de la représenter. En effet quand elle s'enfuit avec Peter Baelish pour rejoindre sa tante dans son château perché, il l'a fait d'abord passer pour sa fille avant de révéler sa vraie identité. Pour ça, il lui fait tendre ses cheveux auburns trop voyants en brun et lui fait porter une tenue plus sobre de couleur noire. Cette tenue est à la fois plus sobre mais aussi plus féminine et symbolise à la fois son passage à l'âge adulte et sa "libération" de Cersei Lannister. Les créateurs de la figurine se sont très probablement inspiré de l'une des photos promo de cette saison. On retrouve bien la robe noir au décolleté en V avec sur les épaules des empiècements qui rappellent les plumes d'un corbeau. Comme sur la photo, elle porte autour du coup un pendentif auquel est attachée une clé qu'elle tient dans ses mains. Enfin ses cheveux presque noirs sont simplement ramenés en arrière et laissés libre dans son dos. si cette figurine est plutôt jolie et réussie, il est surprenant que Funko ait attendu si longtemps pour représenter ce personnage important et qu'ils l'aient représentée dans cette tenue.