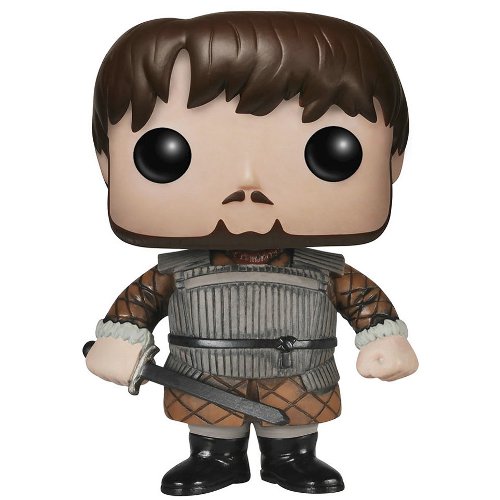 Figurine Samwell Tarly (Game Of Thrones)
La figurine Funko Pop Samwell Tarly (Game Of Thrones) vous intéresse ?

Vérifier la disponibilité sur

Le Samwise Gamgee de Game Of Thrones
Samwell Tarly est un personnage des romans "A Song Of Ice And Fire" et de la série télé "Game Of Thrones". S'il est au début un personnage secondaire, il prendra au fur et à mesure des livres, plus d'importance au point d'avoir des chapitres narrés de son point de vue dans les derniers livres. Samwell est le fils ainé de Lord Tarly et est donc logiquement son héritier. Mais en grandissant, Sam se révèle plus intéressé par les livres que les épées. Son père ne voit alors pas en lui un digne héritier et l'envoie au mur pour faire partie de la Garde de Nuit, un ordre qui jure de protéger le royaume des dangers qui se trouvent au-delà du mur, et dont les membres font serment de ne jamais se marier et de renoncer à leurs titres. C'est là que Sam fait la connaissance de Jon Snow qui le prend sous son aile, le protégeant des autres recrues qui se moquent de son physique et de sa couardise, qu'il avoue lui-même bien volontiers. Pourtant, Sam se révèlera plus courageux qu'il ne le pensait, lorsqu'en mission au-delà du mur, il aide la jolie Gilly à s'enfuir pour sauver son bébé que son père aurait sacrifié aux mystérieux "Autres". C'est aussi à cette occasion qu'il découvre une matière qui peut les tuer. Par la suite, Samuel prendra même encore plus d'importance dans le déroulement de l'histoire.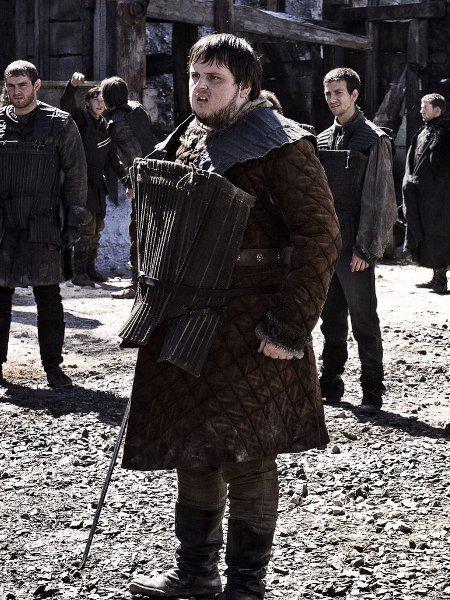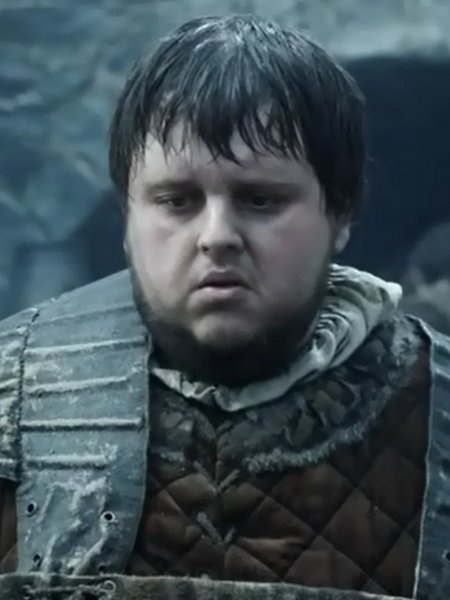 Sam dans une tenue qui ne lui convient pas vraiment
Funko a choisi de représenter Sam avec la tenue d'entrainement au combat qu'il porte au début de la série quand il est encore une jeune recrue. On peut imaginer que c'était pour qu'il soit assorti à la nouvelle figurine de Jon Snow, sorti en même temps et lui aussi en tenue d'entrainement. Sam étant issu de la haute bourgeoisie, il porte sous son armure d'entrainement en métal, une riche tunique en velours matelassé. Funko n'a pas non plus oublié les détails de sa chemise qui dépasse sous la tunique ainsi que ses bottes noires. Les créateurs de la figurine ont aussi bien respecté la forte corpulence de Sam en faisant une figurine sensiblement plus large que les autres. Au niveau du visage, ils ont bien reproduit ses courts cheveux bruns un peu décoiffés et sa frange, ainsi que sa fine moustache et son léger bouc. Enfin en toute logique, Sam tient dans sa main une simple épée d'entrainement. Cette figurine, comme les autres de cette série, est particulièrement réussie et sera à assortir avec les figurines de Jon Snow et de son loup Ghost.