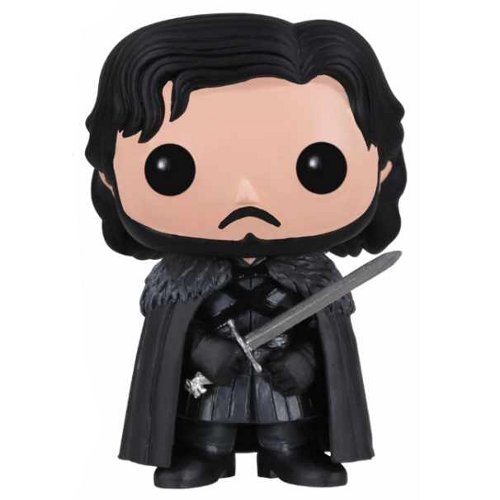 Figurine Jon Snow (Game Of Thrones)
Le "bâtard" le plus important de la série
Jon Snow est l'un des personnages principaux de la saga "A Song Of Ice And Fire". Dans la série télé devenue "Game of Thrones" (d'après le nom du premier tome des romans), il est interprété par l'acteur anglais Kit Harrington. Jon Snow est le fils bâtard d'Eddard "Ned" Stark, Seigneur de Winterfell et du Nord. Jon est le fils que Ned aurait eu avec une autre femme quasi simultanément que son fils ainé légitime Robb Stark. Mais le mystère reste jusque là entier sur l'identité de la mère de Jon que Ned n'a pas eu le temps de lui révéler avant de mourir. Très mal accepté par Catelyn Stark, la mère des enfants légitimes de Ned, Jon décide de rejoindre "la garde nuit" au début de la série. La garde de nuit est l'ordre qui a juré de garder l'immense mur qui protège le royaume des dangers qui les guettent au-delà. Bien qu'il soit particulièrement proche de son frère Robb et de sa sœur Arya, l'engagement dans cet ordre l'empêchera par la suite de prendre partie dans les évènements. Lors de sa première mission au-delà du mur, il se retrouvera à jouer les espions parmi "les sauvageons", tombera amoureux de la jolie Ygritte et se rendra vite compte qu'ils sont loin d'être les ennemis les plus dangereux qui s'y trouvent.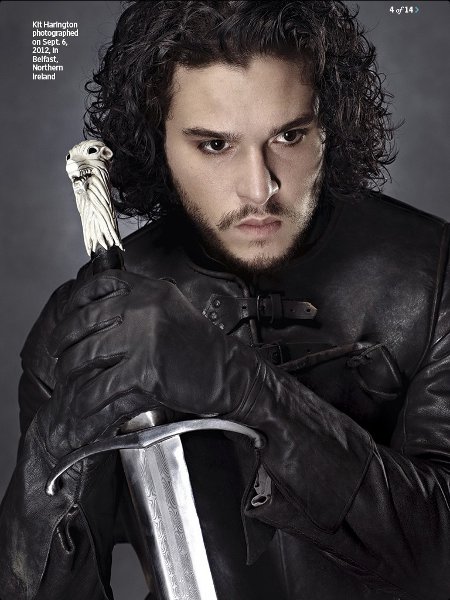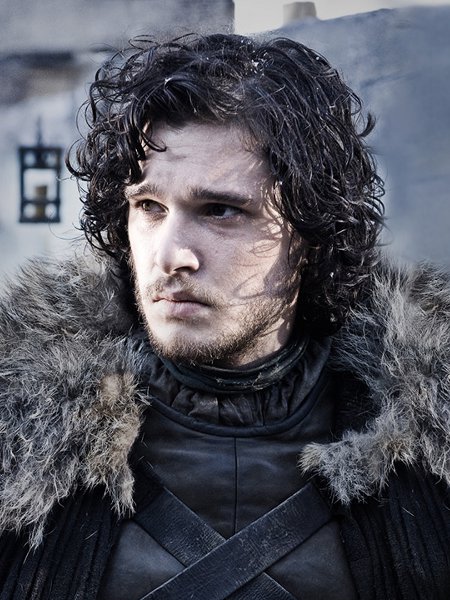 Un frère de la garde de nuit
Jon Snow est représenté dans sa tenue noire de la garde de nuit. On ne le voit d'ailleurs quasiment jamais porter autre chose si ce n'est une variante de cette tenue pour l'entraînement. Comme dans la série il porte donc une tenue adaptée au froid : un pantalon, des bottes, une tunique et des gants de cuir noir. Par-dessus il porte une épaisse cape de laine renforcée de fourrure au col et maintenue par deux lanières de cuir croisées sur la poitrine. Jon tient aussi l'épée "Long claw" en acier valyrien qui lui a été offerte par le commandant Mormont. On voit bien le détail de la tête de loup blanche sur le pommeau qu'il a fait rajouter après que la tête d'ours d'origine ait fondu dans un incendie. Enfin Jon est bien représenté avec sa chevelure noire ainsi que la barbe et la moustache qu'il arbore plus ou moins longue selon les épisodes. L'ensemble est très précis et fidèle au personnage, on regrette juste qu'il soit représenté avec des cheveux quasiment raides et non avec ses jolies boucles caractéristiques.