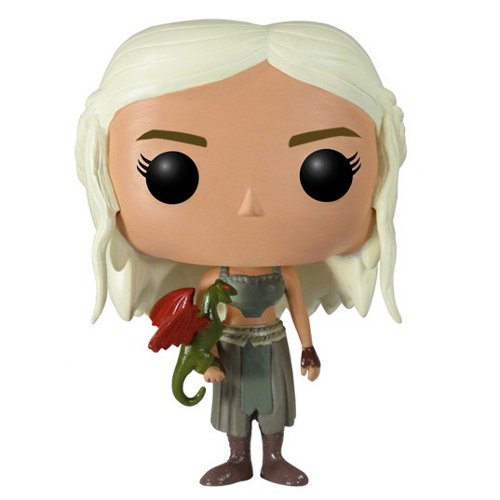 Figurine Daenerys Targaryen (Game Of Thrones)
La figurine Funko Pop Daenerys Targaryen (Game Of Thrones) vous intéresse ?

Vérifier la disponibilité sur

De la jeune fille à la mère des dragons
Daenerys est la dernière héritière de la maison Targaryen, une puissante famille qui plusieurs centaines d'années auparavant étaient les maîtres des dragons. Au début de la saga, on apprend que les Targaryen ont perdu la guerre. Jaime Lannister a tué Aerys Targaryen "le roi fou", père de Daenerys. Robert Baratheon épouse Cersei Lannister (sœur de Jaime), prend la place d'Aerys sur le trône de fer et devient roi du royaume de Westeros. Les survivants de la famille Targaryen, Viserys (grand frère de Daenerys) et sa mère doivent prendre la fuite. Mais sa mère mourra peu de temps après en donnant naissance à Daenerys pendant une terrible tempête lui donnant ainsi son surnom de "Daenerys Stormborn". Viserys et sa jeune sœur se retrouvent donc exilés de l'autre côté de la mer vivant comme ils le peuvent de la générosité de riches propriétaires espérant obtenir quelque chose des deux héritiers de cette noble famille. On fera connaissance avec Daenerys, 13 ans après ces événements (dans les livres, dans la série c'est 16 ans). Viserys n'a jamais abandonné l'idée de reprendre le trône qui lui revient de droit. Il va donc "vendre" en mariage sa jeune sœur au barbare Dothraki Khal Drogo en échange de son armée de féroces combattants qui, il l'espère, lui permettront de reconquérir le royaume de Westeros. Mais les choses ne se passeront pas vraiment comme il l'avait prévu.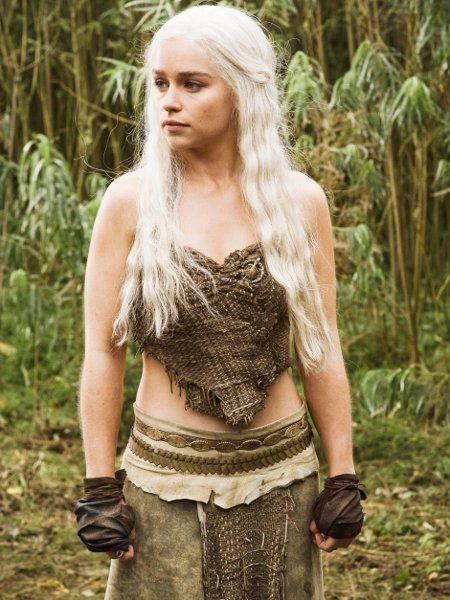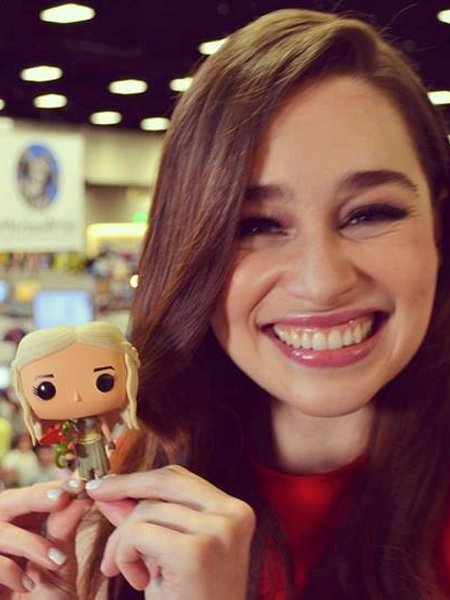 Daenerys version "jeune maman"
La figurine représente Daenerys à une période assez précise de la série, à savoir en début de saison 2. Après la mort de Khal Drogo et la perte de son bébé en fin de saison 1, Daenerys fait finalement éclore les trois œufs de dragons offerts par Jorah à l'occasion de son mariage. Elle se retrouve donc à mener son peuple à travers le désert, dans l'espoir de trouver une solution pour traverser la mer et prendre sa place sur le trône de Westeros. A cette période, la Khaleesi a adopté la mode Dothraki adaptée à la chaleur du désert et au temps important passé à cheval. On peut retrouver tous les détails de sa tenue sur cette figurine. Elle porte un haut très léger avec des bretelles nattées ainsi qu'un pagne sur un pantalon de cuir et des bottes. Malgré le côté stylisé de ces figurines, des détails très fins comme les gants ou les chaines de taille sont présents et permettent de bien situer le personnage dans sa chronologie. Ses cheveux sont nattées assez simplement comme ils le sont à cette période de l'histoire. Et enfin bien sûr, elle est représentée avec l'un de ses petits. Cette figurine existe avec plusieurs variantes du dragon : le dragon rouge Drogon, le vert Rhaegal et le beige Viserion. Mais il existe aussi une version étrange qui semble pourtant être la plus répandue : un dragon vert et rouge qui serait donc une sorte de mélange entre Drogon et Rhaegal ?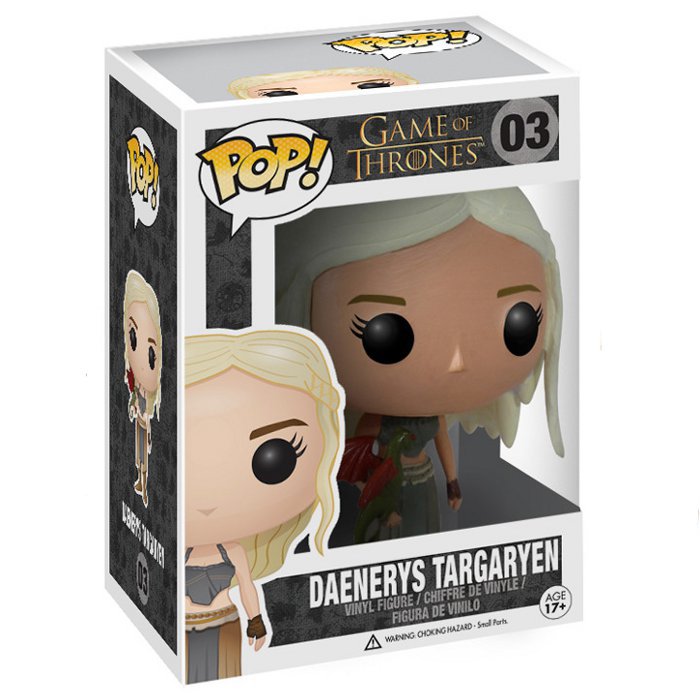 La figurine Funko Pop Daenerys Targaryen (Game Of Thrones) vous intéresse ?

Vérifier la disponibilité sur

Trouvable également ici :

13.90 €
Voir l'offre