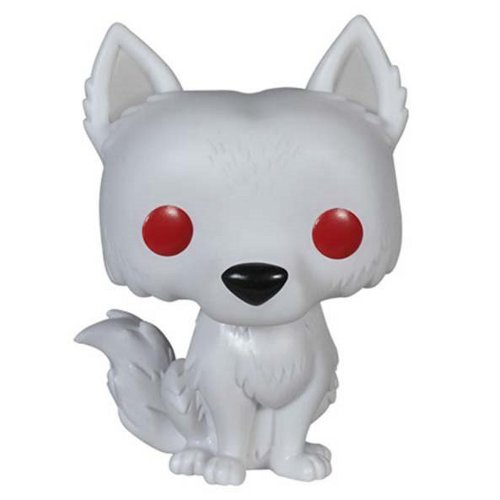 Figurine Ghost The Direwolf (Game Of Thrones)
La figurine Funko Pop Ghost The Direwolf (Game Of Thrones) vous intéresse ?

Vérifier la disponibilité sur

Le symbole de la famille Stark
Ghost est "l'animal de compagnie" de Jon Snow, l'un des personnages principaux des romans "A Song Of Ice And Fire" et de la série "Game Of Thrones". Au début de la série, les garçons de la famille Stark rentrent à Winterfell par la forêt et tombent sur une femelle direwolf morte. Les direwolf sont des sortes de loups mais beaucoup plus gros et on dit qu'ils sont des créatures de l'ancien monde aux pouvoirs magiques. Alors qu'ils s'apprêtent à repartir, ils se rendent compte que la femelle avait 5 petits. Alors que Ned veut les tuer, Jon Snow le convainc de les garder car c'est un signe puisque le direwolf est l'emblème des Stark et qu'ils sont 5 pour ses 5 enfants légitimes. Un peu plus loin ils trouveront un 6ème petit tout blanc aux yeux rouges. Jon décide de le garder pour lui et l'appelle Ghost. Les petits grandiront ensemble à Winterfell puis ils seront au fur et mesure séparés, suivant chacun son "maître". Arya laissera s'échapper Nymeria pour qu'elle ne soit pas tuée par Joffrey. Lady, celle de Sansa sera tuée à la demande de Cersei en punition de ce qu'aurait fait celui de sa sœur. Quant à Grey Wind, il sera tué en même temps que Robb au Red Wedding. Ghost quant à lui suivra Jon jusqu'au mur et restera toujours avec lui. Il l'avertira souvent du danger imminent, le protégera plusieurs fois lors d'attaques de sauvages ou même des "autres". Jon découvrira que comme Bran, il peut voir à travers ses yeux en rêve, bien qu'il ne puisse pas le contrôler comme le fait son jeune frère.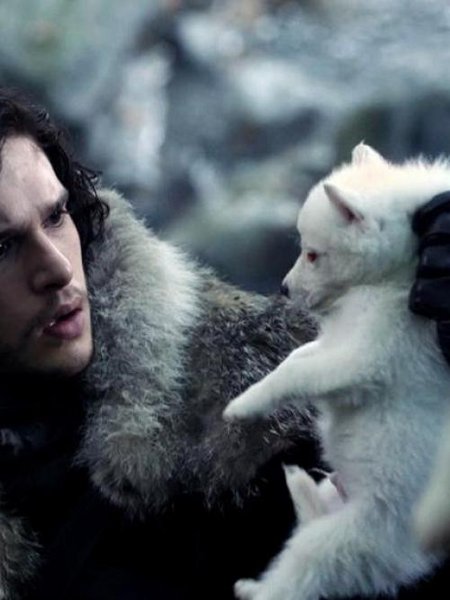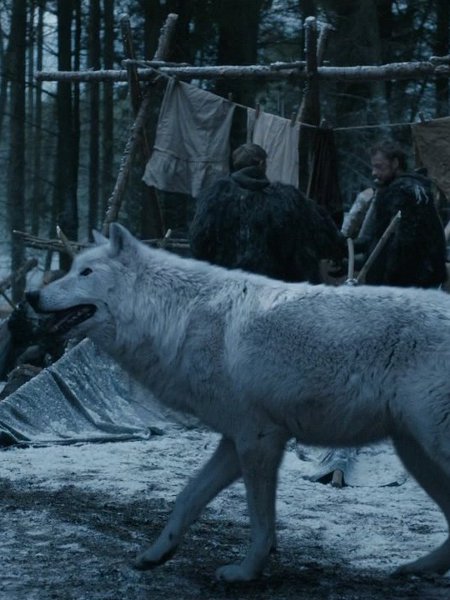 Un animal différent pour un garçon différent
Contrairement aux autres de sa portée qui sont dans des tons de gris, noir ou marron, Ghost est complètement blanc. Jon Snow y voit un signe que celui-ci lui est destiné car lui aussi est différent des autres enfants Stark, étant un batard portant le nom de Snow, "neige" en français. Bien que les direwolf soient censés être des animaux terrifiants, dans la série ils nous sont surtout représentés comme de magnifiques loups. Et Funko a fait un beau travail avec ce personnage. Il est bien sûr en position assise pour respecter les proportions habituelles des figurines, il a une queue bien touffue et les détails de son pelage sont bien rendus. La grosse tête caractéristique des figurines POP! lui donne un air vraiment mignon tout en respectant la forme de la tête d'un loup et avec encore une fois un pelage bien reproduit et deux jolies oreilles pointues. Enfin Funko n'a bien sûr pas oublié ses fameux yeux rouges qui mettent tant de gens mal à l'aise. Il existe aussi une figurine POP! de Grey Wind, le compagnon de Robb Stark.