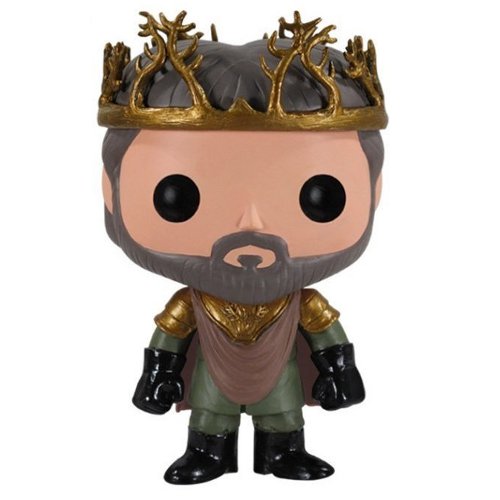 Figurine Renly Baratheon (Game Of Thrones)
La figurine Funko Pop Renly Baratheon (Game Of Thrones) vous intéresse ?

Vérifier la disponibilité sur

La guerre des rois
Renly Baratheon est l'un des personnages des romans "A Song Of Ice And Fire" et de la série "Game Of Thrones". Renly est le jeune frère du roi Robert Baratheon. C'est un homme charmant, courtois et très séduisant qu'on dit être le portrait craché de son frère lorsqu'il était plus jeune. Lorsque le roi Robert est gravement blessé et gît sur son lit de mort, Renly sentant que l'accident du roi a sûrement été causé par sa femme Cersei, décide de fuir la ville avant qu'il ne soit trop tard. Au moment de son départ, il propose à Ned Stark de s'allier avec lui. Sachant tous deux que Joffrey, l'héritier de Robert est en fait le fruit de l'inceste entre Cersei et son frère Jaime, ils veulent à tout prix l'empêcher d'arriver au pouvoir. Mais Ned décide de suivre la tradition et d'envoyer une lettre à Stannis, le plus vieux frère de Robert et donc le logique héritier du trône après la mort de celui-ci. Il regrettera très rapidement sa décision ! Pendant ce temps, Renly s'est allié avec les riches Tyrell en épousant leur jeune fille Margaery et décide d'entrer en guerre contre les Lannister pour prendre le trône. Mais Stannis pense que le trône lui revient et quand Renly refuse de renoncer à le poursuivre, il le fera assassiner à l'aide de la magie de la prêtresse de R'hllor Mélisandre en début de saison 2.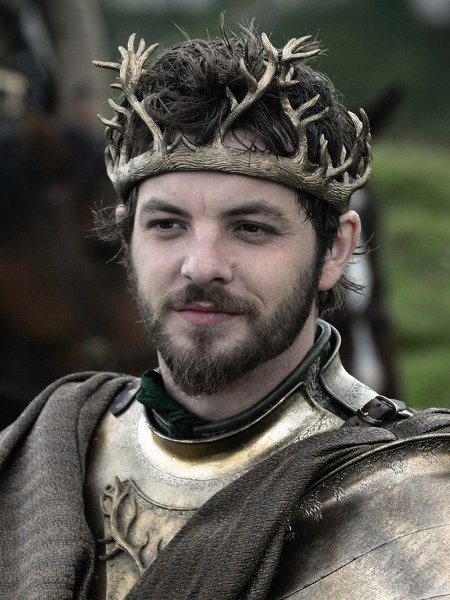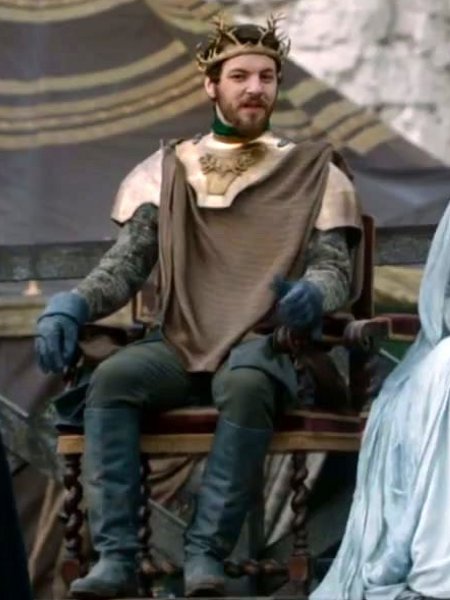 Le roi de l'élégance
Renly vient de l'une des plus puissantes familles du royaume : les Baratheon et dès la fin de la saison 1, il se présente comme le roi légitime de Westeros. De plus il est connu comme étant l'un des hommes les plus élégants du royaume, la figurine doit donc représenter tout ça. On le retrouve avec la tenue qu'il porte lors du tournoi organisé pour son mariage et pendant lequel on rencontre Brienne pour la première fois. Il porte une armure dorée plus décorative qu'autre chose puisqu'il n'en porte que le pectoral. On y retrouve bien la tête de cerf des Baratheon. Comme souvent Renly porte des couleurs rappelant la nature : ici une tunique et un pantalon vert ainsi qu'une cape marron. Comme dans la série, le jeune frère Baratheon porte les cheveux courts et un bouc taillé d'assez près. Enfin comme Renly s'auto proclame roi, il doit donc porter une couronne et celle-ci est dorée et en forme de bois de cerf, l'emblème des Baratheon.