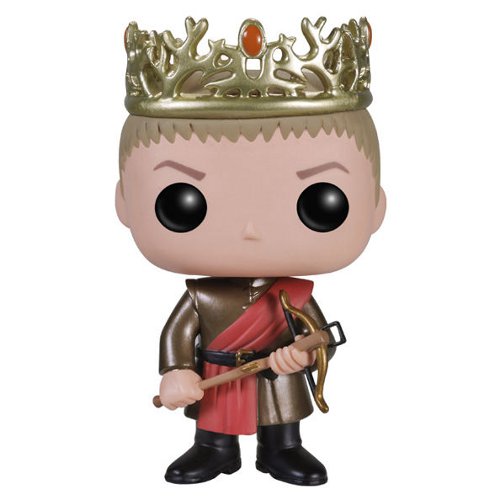 Figurine Joffrey Baratheon (Game Of Thrones)
La figurine Funko Pop Joffrey Baratheon (Game Of Thrones) vous intéresse ?

Vérifier la disponibilité sur

Joffrey Baratheon, roi de la cruauté
Joffrey Baratheon est l'un des personnages principaux des romans "A Song Of Ice And Fire" et de la série "Game Of Thrones". Bien qu'il n'y ait aucun chapitre raconté de son point de vue dans les livres, il a tout de même un rôle déterminant dans certains évènements de la série. Joffrey est officiellement le fils du Roi Baratheon et de la reine Cersei Lannister mais on découvrira rapidement qu'il est en fait le fruit de l'inceste entre la reine et son frère Jaime. En saison 1, un accord est fait pour que Joffrey épouse Sansa Stark, fille de Ned Stark, seigneur de Winterfell et nouvelle main du roi. Mais suite à la mort du roi, quand Ned découvre la réelle identité du père de Joffrey et menace de le révéler publiquement, Cersei le fait emprisonner pour trahison et passe avec lui un accord pour qu'il puisse rejoindre la garde de nuit. Mais à la surprise de tout le monde, quand Ned est contraint de venir "avouer" ses fautes, Joffrey, devenu roi, le fait décapiter. Il déclenche ainsi une guerre dans tout le royaume. Joffrey est probablement le personnage le plus détesté de la série, il est cruel, pervers, pas très intelligent et assez couard, comptant sur sa garde pour le protéger. Sansa lui reste fiancée et il prend plaisir à la torturer physiquement et psychologiquement. Plus tard, il rompra leur fiançailles et sera promis à Margaery Tyrell en remerciement de l'aide des Tyrell dans la bataille de la Nera contre Stannis Baratheon. Finalement, lors de son mariage, il sera empoisonné et mourra étouffé en pointant injustement du doigt son oncle Tyrion, qui était un des seuls à s'opposer à sa cruauté.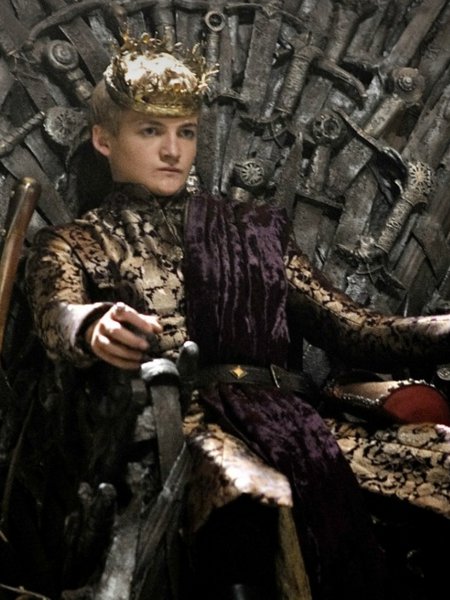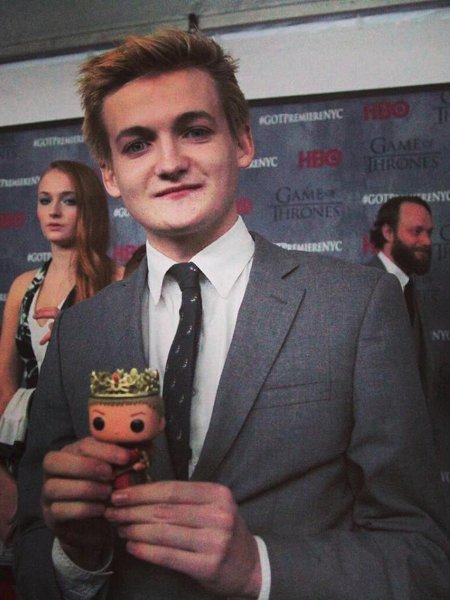 Un pur Lannister
Dans la série Jack Gleeson, qui incarne merveilleusement Joffrey, porte toujours les couleurs rouge et or des Lannister. Ce qui est probablement un moyen de rappeler son peu d'attachement à son père "officiel" et l'identité de son vraie père. C'est donc ainsi qu'il a été représenté sur la figurine. Il porte le plus souvent des tuniques de soie dorée richement décorés et toujours de cette forme parfaitement reproduite sur la figurine. Par contre il est dommage que Funko n'ait pas créé de motif sur sa tunique, ce qui aurait accentué le luxe de la tenue. Comme son grand-père Tywin, il porte souvent une longue bande de velours rouge en travers du torse à la romaine, lorsqu'il est sur son trône. Il est aussi représenté avec sa couronne qu'il aime porter aussi souvent que possible pour rappeler qu'il est le roi. Celle-ci est très fidèle à l'originale : rouge et or pour rappeler les couleurs des Lannister mais aux motifs de bois de cerf, l'emblème des Baratheon. Il tient aussi dans sa main une arbalète rappelant son amour pour la chasse et sa nature cruelle puisqu'il n'hésitera pas à s'en servir sur des animaux domestiques ou même des prostitués. Enfin son visage est particulièrement réussi : on retrouve bien sa coupe de cheveux rappelant celles de nombreux empereurs romains et ses sourcils froncés suffisent à lui donner l'air mauvais qu'il arbore en permanence.