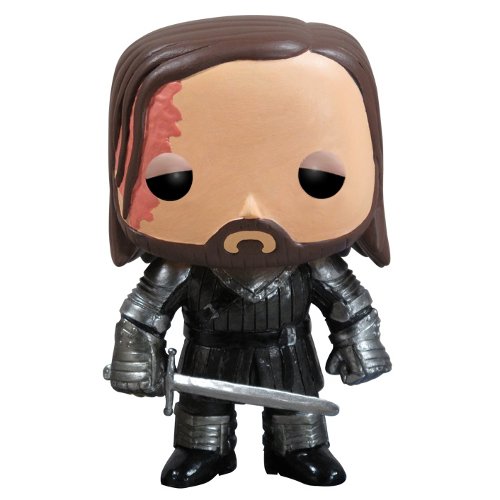 Figurine The Hound (Game Of Thrones)
Le limier au service des Lannister
Sandor Clegane, surnommé "The Hound" (le limier) est l'un des personnages principaux des romans "A Song Of Ice And Fire" et de la série "Game Of Thrones". Sandor Clegane est un chevalier au service des Lannister, acceptant d'accomplir même les tâches les moins honorables pour eux. Quand Joffrey Baratheon/Lannister deviendra roi suite à la mort de son père, Sandor deviendra même membre de sa garde personnelle. Avec sa stature imposante et son visage à moitié brûlé, ce n'est pas le personnage que l'on vient facilement embêter. On apprend assez tôt dans la série qu'il doit sa défiguration à son frère Gregor "The Mountain", qui lui a infligé ça alors qu'ils étaient enfants. The Hound en garde une haine féroce pour son frère et une peur panique du feu, sa seule faiblesse. C'est un personnage complexe, surprenant et parfois attachant qui est souvent l'un des préférés des fans de la saga. Lors de la bataille, contre Stannis, en fin de saison 2 et suite à l'utilisation du feu grégeois, il décide de fuir King's Landing en proposant à Sansa Stark, pour qui il a développé une sorte d'attachement, de l'accompagner. Elle refuse et il se retrouve à errer jusqu'à ce qu'il croise le chemin d'Arya Stark. Il la kidnappe dans l'espoir de la rançonner auprès de sa mère et son frère mais il arrive trop tard au fameux "red wedding". En fin de saison 4, Arya le laisse pour mort suite à une grave blessure (provoqué par Brienne dans la série, par l'un des anciens geôliers d'Arya dans les livres).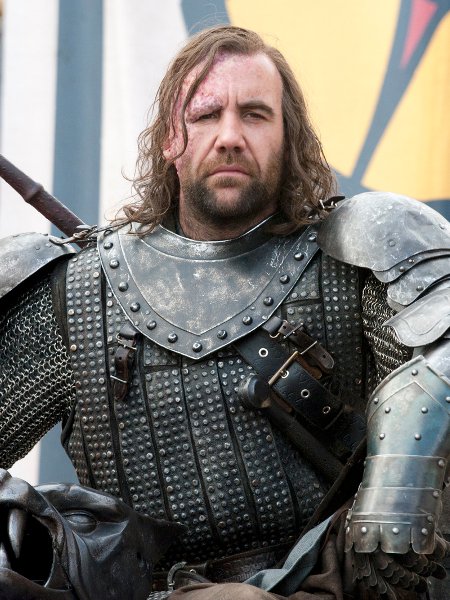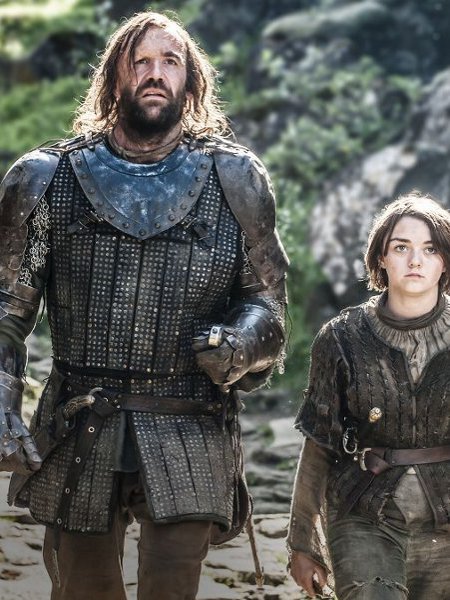 Un guerrier avant tout
Comme il le dit lui même dans la série, Sandor Clegane est avant tout un guerrier dont le seul plaisir est de tuer. En tant que garde personnel de Joffrey puis chevalier en fuite, il doit toujours être prêt à se battre et porte donc toujours une armure. Et c'est bien sûr ainsi qu'il est représenté sur cette figurine. Bien qu'étant au service d'une des plus riches familles de Westeros, son armure n'est pas particulièrement luxueuse. On reconnaît bien son armure gris argenté, la forme de son pectoral, les quelques ornementations et sa tunique de plaques. Comme dans la série, le reste de sa tenue est noire comme pour accentuer la noirceur du personnage. Bien qu'il ait une préférence pour sa hache de combat plus efficace et brutale, on peut aussi le voir avec une épée et c'est ainsi qu'il est représenté sur cette figurine. enfin l'aspect le plus significatif du personnage, c'est son visage. La brûlure sur le côté droit de son visage est plutôt bien reproduite mais ce sont surtout les paupières tombantes qui rendent parfaitement bien ce regard un peu triste. Et comme dans la série, ses cheveux sont ramenés sur le côté de son visage comme pour tenter de cacher sa cicatrice.