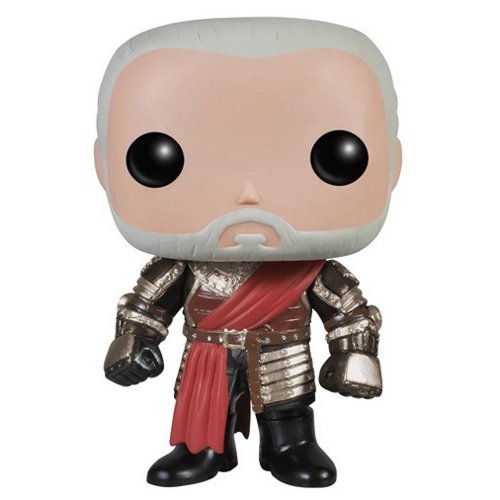 Figurine Tywin Lannister (Game Of Thrones)
La figurine Funko Pop Tywin Lannister (Game Of Thrones) vous intéresse ?

Vérifier la disponibilité sur

Une histoire de famille
Tywin Lannister est l'un des personnages importants des romans "A Song Of Ice And Fire" et de la série "Game Of Thrones". S'il apparaît à plusieurs reprises en saison 1 et 2 (un peu plus souvent qu'il le devrait par rapport aux livres), ce n'est qu'à partir de la toute fin de la saison 2 qu'il devient un personnage régulier présent dans chaque épisode ou presque. Tywin Lannister est le seigneur de Casterly Rock et l'un des plus riches et puissants du royaume. Il fût l'un des principaux instigateurs de la rébellion contre le roi Aerys Targaryen et c'est grâce à cela que sa fille Cersei pût devenir reine en épousant le nouveau roi Robert Baratheon. Après la mort de celui-ci, son fils Joffrey devient roi et nomme son grand-père Tywin, main du roi. Menant la guerre contre Robb Stark, il en confie l'intérim à son fils Tyrion pendant toute la saison 2. Ce n'est qu'en toute fin de cette saison, quand il vient au secours de King's Landing suite à l'attaque de Stannis Baratheon, qu'il reprend officiellement sa place. Tywin Lannister est un homme intelligent, calculateur et très froid, qui a surtout à coeur les intérêts de sa famille. Il nourrit pourtant une haine féroce pour son propre fils Tyrion, à qui il reproche d'être nain et d'avoir tué sa femme en sortant de son ventre. Il ira jusqu'à le condamner injustement à mort pour le meurtre de son petit-fils Joffrey. Cela se retournera finalement contre lui lorsque celui-ci s'échappera de King's Landing avec l'aide de son frère Jaime et le tuera d'un carreau d'arbalète.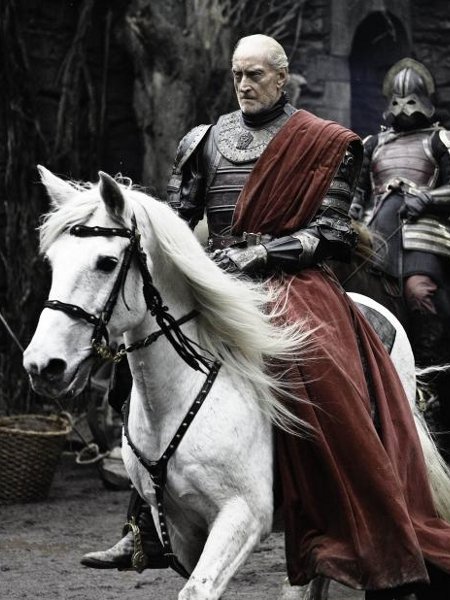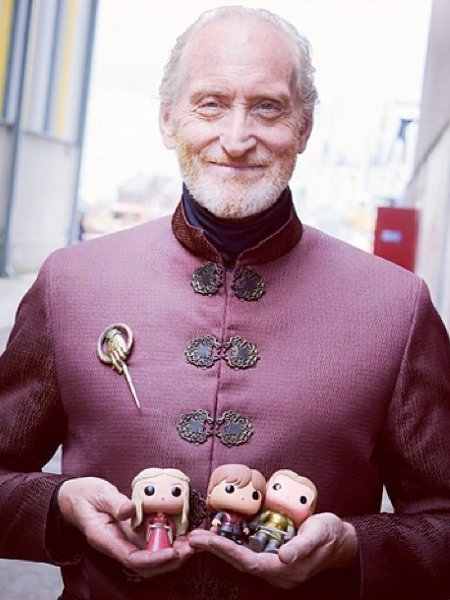 Le plus riche seigneur de Westeros
Bien que ce ne soit pas la tenue qu'on le voit porter le plus souvent dans la série, Funko a choisi de le représenter avec l'armure qu'il porte lorsqu'il arrive pour aider King's Landing face à l'attaque de Stannis en fin de saison 2. Ce choix est probablement du au fait que c'était au moment de la création de cette figurine l'une de ses scènes les plus marquantes. Tywin est l'un des hommes les plus riches de Westeros, son armure doit donc refléter ça. Sur la figurine, elle a été très finement représentée avec les différents éléments et ornementations : on reconnaît notamment la forme du pectoral ainsi que les têtes de lion (le symbole des Lannister) sur les épaulières. Evidemment celle-ci est dorée et complétée par un long morceau de velours rouge sur l'épaule et en travers de son torse pour représenter les couleurs de la famille. En évitant la traditionnelle cape, cela le distingue des autres tout en lui donnant un petit côté romain bien en accord avec les volontés de pouvoir de sa famille. Enfin comme dans la série, ses cheveux et sa barbes sont blancs, courts et parfaitement taillés. Ses sourcils blancs n'ont pas été représentés, sûrement pour insister sur la froideur de son regard et rappeler le grand front de l'acteur Charles Dance qui l'incarne à l'écran.