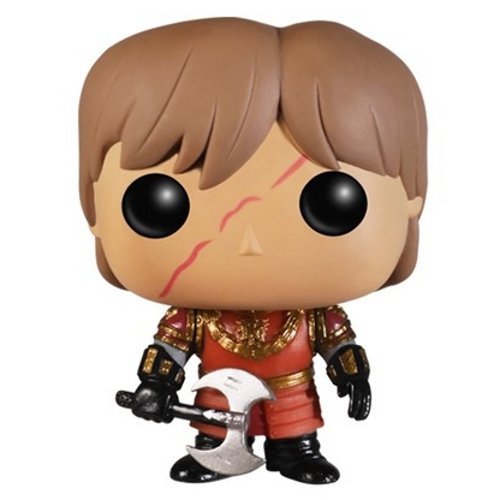 Figurine Tyrion Lannister en armure (Game Of Thrones)
La figurine Funko Pop Tyrion Lannister en armure (Game Of Thrones) vous intéresse ?

Vérifier la disponibilité sur

Main du roi par intérim
Tyrion Lannister est l'un des personnages principaux des romans "A Song Of Ice And Fire" et de la série "Game Of Thrones". Tyrion est le plus jeune fils de Tywin Lannister, puissant seigneur de Casterly Rock. Tyrion est nain et sa mère est morte en le mettant au monde, deux raisons qui font que son père et sa sœur, Cersei, le détestent. Sa sœur est reine de Westeros et lorsque son mari, le roi Robert Baratheon meurt lors d'un accident de chasse, leur fils Joffrey devient roi et Cersei régente. Tywin Lannister est nommé "main du roi" mais étant occupé à livrer bataille contre Robb Stark, il envoie Tyrion à King's Landing occuper sa fonction provisoirement pendant la plus grande partie de la saison 2. Tyrion fera alors de son mieux pour servir la ville et ses habitants. Il la préparera notamment contre l'attaque imminente de Stannis Baratheon. Lors de cette mythique bataille, Tyrion aura même l'occasion de prendre les armes et échappera de justesse à l'assassin envoyé par sa sœur Cersei grâce à l'aide de son écuyer, le timide mais surprenant Podrick Payne.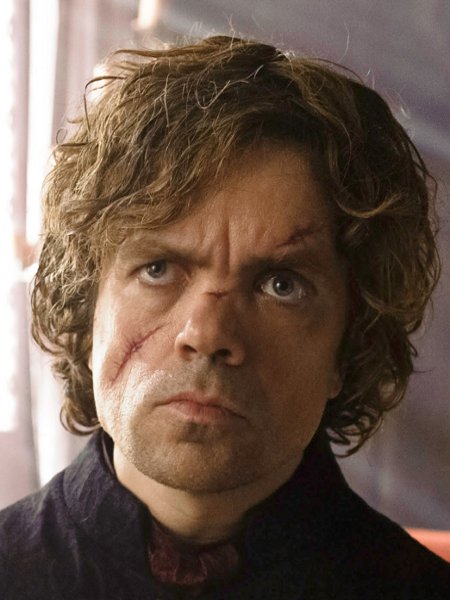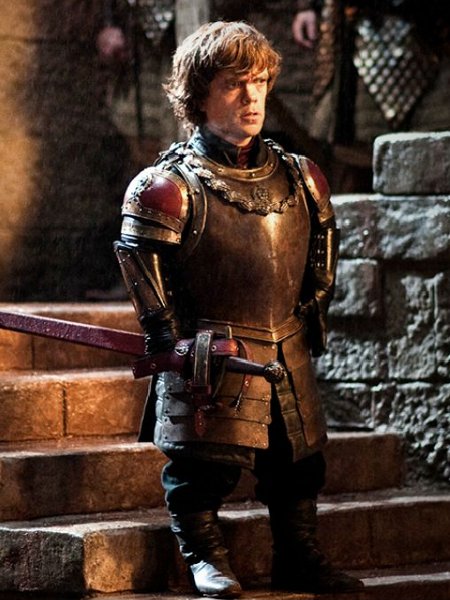 Tyrion le guerrier
Sur cette deuxième figurine, Tyrion est cette fois représenté avec l'armure qu'il porte lors de la bataille de la Nera contre l'armée de Stannis Baratheon. Avec Daenerys et Jon Snow, Tyrion est l'un des personnages préférés des lecteurs et spectateurs, il n'est donc pas surprenant qu'il soit l'un des premiers à avoir le droit à une deuxième figurine. Tyrion est donc représenté avec son armure rouge et or aux couleurs de la famille Lannister. Les Lannister étant une riche famille son armure a été faite sur mesure malgré sa petite taille et on peut voir de nombreux détails finement reproduits notamment au niveau du pectoral et des épaulières. Pour compléter sa tenue, il porte comme dans la série des bottes et d'épais gants de cuir noir. Dans la confusion de la bataille, Cersei en profite pour envoyer un de ses hommes pour tuer son frère. Grâce à Podrick il en réchappe de justesse, mais il en garde une grosse cicatrice qui lui traverse le visage. Dans la série, elle est bien plus légère que dans le livre (où son nez est quasiment entièrement arraché) et sur cette figurine elle l'est encore plus mais ça n'empêche pas qu'encore une fois elle est très réussie. Enfin, il tient à la main la hache à double lame qu'il choisit au moment d'aller se battre car plus adaptée à sa petite taille et à sa façon de se battre.