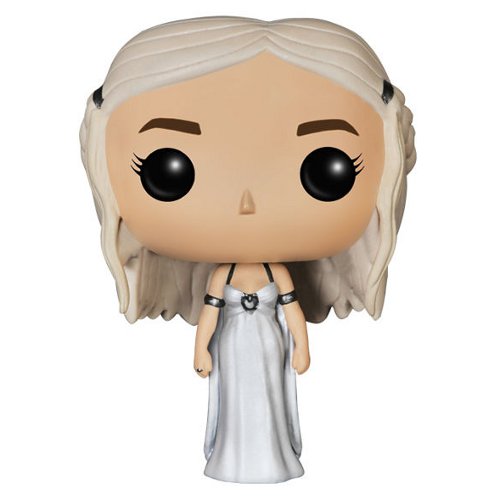 Figurine Daenerys Targaryen en mariée (Game Of Thrones)
La figurine Funko Pop Daenerys Targaryen en mariée (Game Of Thrones) vous intéresse ?

Vérifier la disponibilité sur

Avant qu'elle devienne mère des dragons
Daenerys est l'un des personnages principaux des romans "A Song Of Ice And Fire" et de la série "Game Of Thrones". Elle est à priori la dernière descendante de la puissante famille Targaryen, originaire de la civilisation disparue de Valyria. La famille Targaryen a longtemps régné sur Westeros jusqu'à ce que le roi fou Aerys Targaryen, le père de Daenerys, soit vaincu et que le pouvoir revienne au roi Baratheon et la reine Cersei Lannister. La mère de Daenerys meurt en lui donnant naissance pendant leur fuite. Daenerys se retrouve donc à errer de l'autre côté de la mer avec son frère Viserys rêvant de reconquérir le trône qui lui revient. Lorsque Daenerys a 13 ans (16 ans dans la série), Viserys pense avoir une opportunité de réaliser ce rêve en mariant/vendant sa sœur à un puissant chef guerrier Dothraki en échange de son armée pour reconquérir Westeros. Mais contre tout attente, le féroce guerrier tombera amoureux de Daenerys et les choses ne se passeront pas comme Viserys l'avait imaginé.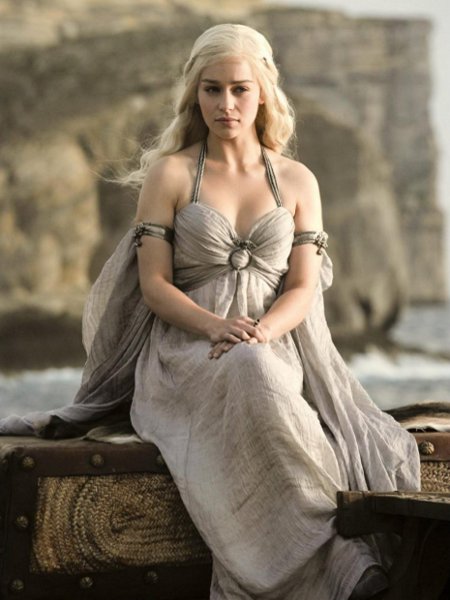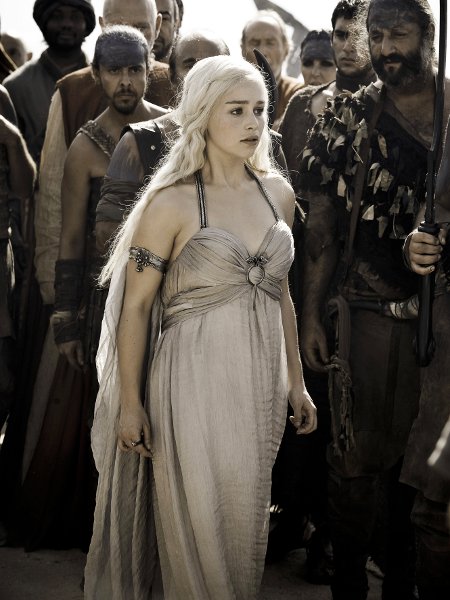 Une Daenerys encore innocente
Daenerys est l'un des personnages préférés des lecteurs et du public et l'un des plus importants. Il n'est donc pas étonnant que Funko ait décidé de décliner plusieurs versions ce personnage en figurine pop. Celle-ci représente Daenerys avec l'une des premières tenues qu'on la voit porter dans la série : au moment de son mariage avec Khal Drogo. A ce moment, c'est encore une jeune fille innocente à la merci de son frère et de son nouveau mari, et la tenue doit symboliser ça. Elle porte une robe claire pour la pureté mais assez légère pour "montrer ce qu'elle a à offrir". De plus, Daenerys vit dans une zone au climat chaud et sec, la mode est donc aux tenues légères. Comme dans la série, la robe est en voile gris clair, la taille est haute et elle porte une broche en forme de dragon au niveau de la poitrine. Elle porte aussi deux larges bracelets au niveau des bras ainsi qu'une sorte de cape accrochée à ceux-ci. Bien que la figurine manque un peu de détail au niveau des bijoux, la robe est bien reproduite et donne une jolie silhouette à cette figurine. Enfin comme souvent Daenerys porte ses cheveux argentés détachés avec juste quelques nattes décoratives. Les créateurs de la figurine n'ont pas non plus oublié de représenter les épais sourcils foncés de la jeune femme malgré ses cheveux clairs.