Figurine Oberyn Martell (Game Of Thrones)
La figurine Funko Pop Oberyn Martell (Game Of Thrones) vous intéresse ?

Vérifier la disponibilité sur

La vipère de Dorne
Oberyn Martell est un personnage des livres "A Song Of ice And Fire" de George Martin et de la série "Game Of Thrones" qui en est dérivée. Le personnage apparaît en début de saison 4 (au milieu du 3ème livre). Bien qu'il ne reste pas longtemps dans la série, il va déclencher une série d'événements important et faire découvrir aux lecteurs et spectateurs une partie de Westeros dont ils avaient alors seulement entendu parler. Oberyn est le frère du prince héritier de Dorne. On fait sa connaissance quand il vient à King's Landing, au nom de son frère trop malade pour se déplacer, pour le mariage de Joffrey Baratheon et Margaery Tyrell. Mais Oberyn, surnommé la vipère rouge, a une autre idée en tête en venant à la capitale. Il veut faire la lumière sur la mort très violente de sa soeur Elia, de son neveu alors encore bébé et de sa nièce, et si possible se venger. Elia était la femme de Rhaegar Targaryen, fils du précédent roi dont toute la famille a été massacrée quand les Baratheon ont pris le pouvoir. Oberyn pense que le meurtre a été perpétré par le monstrueux Gregor Clegane "The Mountain" et probablement ordonné par Tywin Lannister. Oberyn a une réputation plutôt sulfureuse car grand expert en poisons, et ayant engendré de nombreuses bâtardes qu'il chérit, comme d'autres en Westeros chérissent leurs enfants légitimes. Il arrivera d'ailleurs à King's Landing au bras de sa maîtresse, ce qui choquera bon nombre de gens.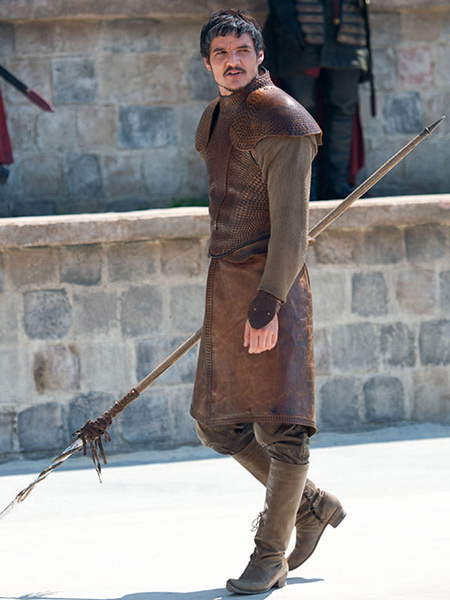 Oberyn combat contre la montagne
Lorsque Joffrey est empoisonné pendant son propre marriage, c'est Tyrion, son oncle, qui est faussement accusé par sa sœur Cersei Lannister. Quand celui-ci est jugé coupable, il demande le jugement par combat. Un champion doit alors se battre à mort pour lui contre le champion du trône, dans ce cas précis, Gregor Clegane. Oberyn se porte alors volontaire pour être son champion et c'est dans cette tenue qu'il est représenté. Ce qui est logique puisque c'est de loin la scène que l'on retiendra le plus de ce personnage. Si ses tenues sont habituellement plus colorées et "excentriques", Oberyn choisit bien sûr une tenue plus pratique pour se battre. Il surprend cependant beaucoup de monde en venant en combat avec une simple armure de cuir légère au lieu d'une lourde armure métallique. On comprendra rapidement que c'est ce qui lui permettra de compenser en rapidité et agilité, la force et la puissance de Gregor Clegane. On reconnaît donc bien son armure dans des tons bruns rouges aux motifs d'écailles de serpent, qui rappellent son surnom. Comme dans la série, il porte des bottes et une tunique marron, et le tout est encore finement réalisé par Funko. Grâce à sa coiffure, sa moustache et son fin bouc si caractéristiques, on reconnaît parfaitement le visage du personnage interprété par Pedro Pascal. Enfin, contrairement à son adversaire, qui porte une lourde épée, Oberyn se bat avec une lance fine et légère, et Funko l'a bien sûr représentée dans la main du personnage.