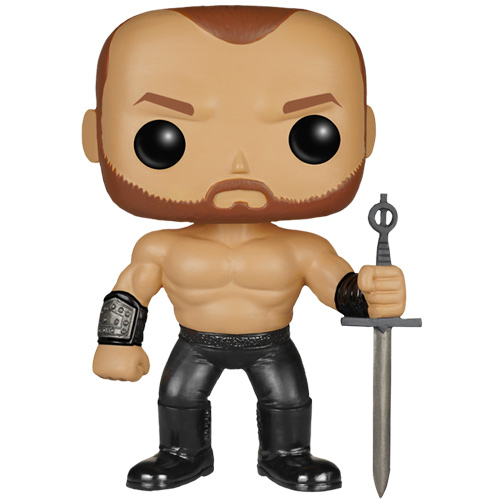 Figurine The Mountain (Game Of Thrones)
La montagne au service des Lannister
Gregor Clegane est un personnage de la série Game Of Thrones et des romans "A Song Of Ice And Fire" de George Martin. Bien qu'il soit souvent mentionné, le personnage n'apparaît que très peu dans les romans comme dans la série et aucun chapitre n'est écrit de son point de vue. La famille Clegane était au départ une famille modeste au service des Lannister, élevée au rang de la Noblesse pour les services qu'ils leur ont rendus. Gregor, surnommé la montagne pour son physique impressionnant, apparaît pour la première fois en saison 1 lorsqu'il perd de justesse un tournoi contre le nettement plus frêle Loras Tyrell. De colère, il décapite alors son cheval d'un seul coup d'épée. Cette scène permet de présenter tout de suite le personnage, d'une violence et d'une cruauté sans pareil. Il a notamment gagné sa réputation en se battant pour les Lannister et en exécutant les pires missions qui lui sont confiées sans état d'âme. On apprendra notamment qu'il a massacré et violé Elia de Dorne, femme du prince héritier des Targaryen, ainsi que ses deux jeunes enfants. Ses relations avec sa famille ne sont pas non plus très bonnes puisqu'on apprend que lorsqu'ils étaient enfants, il a brûlé le visage de son frère Sandor pour avoir pris l'un de ses jouets. En fin de saison 4, il combat Oberyn, le frère d'Elia. Il gagne le combat, mais pas avant d'être blessé par la lance enduite de poison mortel d'Oberyn.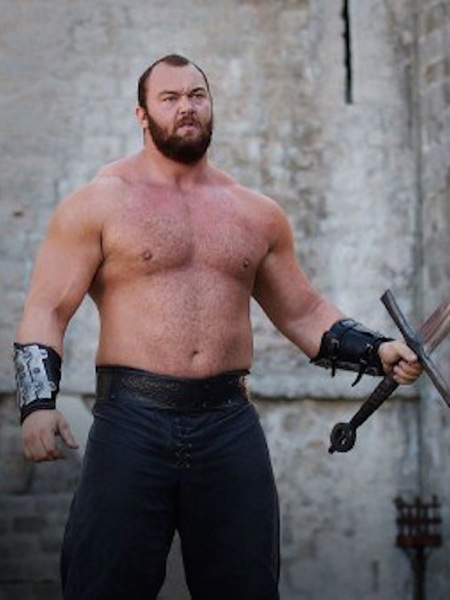 L'entraînement de Gregor Clegane
La particularité de ce personnage est qu'il a été joué par trois acteurs différents au cours de la série. Pour cette figurine, Funko a pris comme modèle le dernier en date, à savoir l'imposant acteur islandais Hafthor Björnsson. Contrairement à ce à quoi on aurait pu s'attendre, ils ne l'ont pas représenté pendant son fameux combat contre Oberyn mais peu de temps avant, pendant qu'il s'y entraîne. Comme dans cette scène, il n'est donc pas en armure complète mais porte un simple pantalon, des bottes noires et de simples armures en cuir pour protéger ses poignets. Funko a bien sûr représenté l'impressionnante musculature de son torse et de ses épaules, accentuée par l'impressionnante épée qu'il tient dans sa main. Au niveau du visage, on reconnaît bien sa barbe, sa moustache et l'implantation si particulière de ses cheveux. Exceptionnellement, Funko a ajouté du volume au niveau des sourcils pour ajouter au côté menaçant de son regard, ce qui fonctionne particulièrement bien.