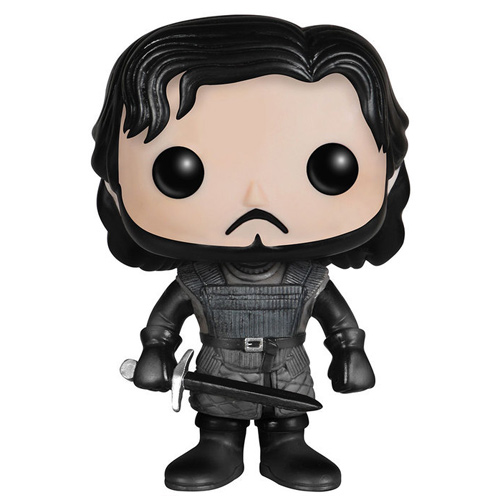 Figurine Jon Snow Castle Black (Game Of Thrones)
La figurine Funko Pop Jon Snow Castle Black (Game Of Thrones) vous intéresse ?

Vérifier la disponibilité sur

Le bâtard au destin hors du commun
Jon Snow est l'un des personnages principaux de la série "Game Of Thrones" et des romans "A Song Of Ice And Fire" dont la série est dérivée. Jon Snow est le fils bâtard d'Eddard Stark, seigneur de Winterfell et du Nord. L'identité de sa mère demeure un secret et de nombreuses théories sont développés par les fans à ce sujet. Au début de la série, Jon part pour Castle Black au mur qui marque la frontière entre le royaume de Westeros et les contrées sauvages au Nord. Il y rejoint une confrérie, La Garde De Nuit, pour laquelle il faut abandonner son nom et son héritage, et jurer de défendre le royaume des "sauvages" et autres créatures inquiétantes vivant au-delà du mur. Malgré l'exécution de son père et l'entrée en guerre de son frère Robb, Jon devra se concentrer sur sa mission et les dangers grandissant venant du Nord. En effet, envoyé en patrouille de l'autre côté du mur, Jon et ses frères devront combattre une armée de créatures appelées "Les Autres". Puis sous les ordres d'un supérieur, il fera semblant de trahir les siens pour rejoindre les sauvages et connaître leurs plans de bataille contre le Mur. Enfin, revenu parmi les siens, et malgré son jeune âge, il devra coordonner presque seul la riposte contre l'attaque des sauvages.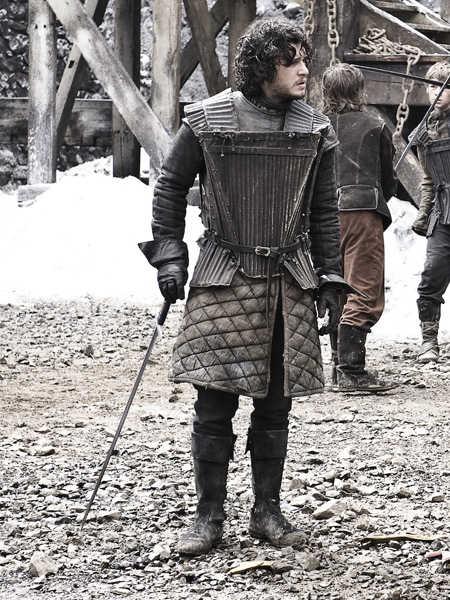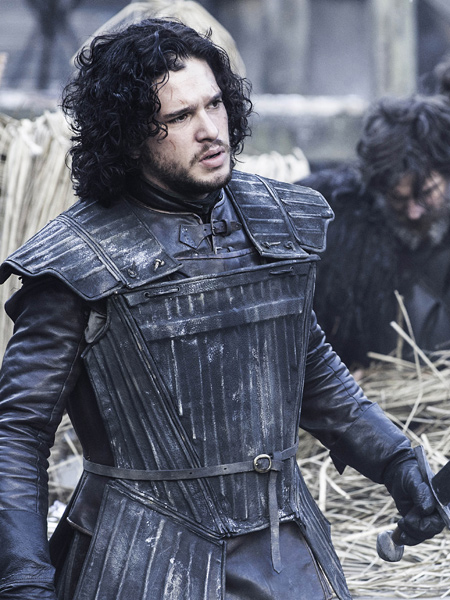 Jon Snow à l'entraînement
Cette figurine est la troisième version de ce personnage (la deuxième n'était qu'une variante exclusive de la première). Cela s'explique très probablement par le fait que c'est l'un des personnages les plus populaires, à l'instar de Tyrion et Daenerys. Mais contrairement à cette dernière, son apparence n'a que très peu changé au cours de la série. Funko a donc du aller chercher la tenue d'entraînement qu'il porte principalement durant la saison 1 à Castle Black. Cela permet de proposer une nouvelle figurine fidèle au personnage et assortie à celle de Samuel Tarly, sortie dans la même série. On reconnaît bien son armure d'entraînement portée par dessus une tunique gris foncée matelassée. Fidèle aux couleurs de la Garde, le reste de sa tenue est noire depuis ses bottes jusqu'à ses gants de cuir. Comme dans la série, il tient dans sa main l'un des grossières épées d'entraînement à la lame quasi noire. Quant à son visage, il est exactement le même que sur la précédente figurine. On reconnaît bien ses cheveux noirs et bouclés ainsi que son bouc très marqué. La seule différence semble être sa couleur de peau, un peu plus pale sur la nouvelle version du personnage.