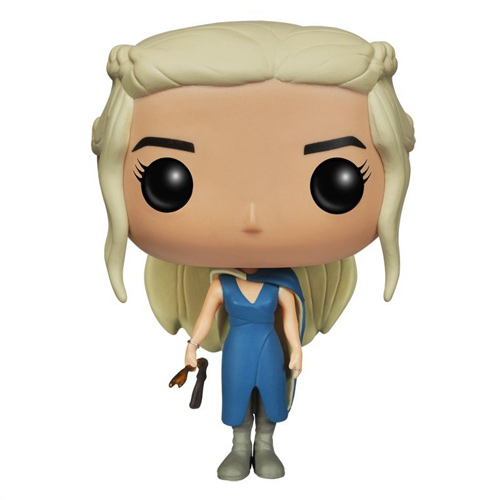 Figurine Daenerys Targaryen en robe bleue (Game Of Thrones)
La figurine Funko Pop Daenerys Targaryen en robe bleue (Game Of Thrones) vous intéresse ?

Vérifier la disponibilité sur

La briseuse des chaînes
Daenerys Targaryen est l'un des personnages principaux de la série "Game Of Thrones" et des romans "A Song Of Ice And Fire" dont la série est inspirée. Elle est la dernière héritière de la lignée royale des Targaryen, son père le roi Aerys, ainsi que toute sa famille, ayant été décimés lorsque les familles Baratheon et Lannister ont pris le pouvoir en Westeros. Au début de la série, elle est en exil avec son frère Viserys, de l'autre côté de la mer. Dans l'espoir de reprendre son trône, ce dernier donne sa sœur en mariage au guerrier Dothraki Khal Drogo en échange de son armée. Mais les choses ne se passent pas comme prévu puisque l'arrogant Viserys est tué par Drogo. Malheureusement, peu après, Drogo, dont Daenerys était finalement tombée amoureuse, meurt lui aussi. Elle se retrouve à errer dans le désert avec ceux de sa tribu qui veulent bien la suivre. Mais elle a cette fois avec les trois dragons éclos des œufs, supposés décoratifs, qui lui avaient été offert lors de son mariage. Elle n'a plus à ce moment qu'un seul but, réunir une armée et reconquérir le trône. Après un passage par la cité de Qarth, qui lui a permis d'acquérir un bateau, Daenerys se retrouve dans la cité d'Astapor. Contre l'un de ses dragons, on lui propose d'acheter les "Immaculés", des soldats esclave sur-entraînés et contre toute attente, elle accepte. Mais Daenerys a un tout autre plan en tête, puisqu'elle lâche ses dragons sur les esclavagistes, libère les esclaves et leur demande de se rallier à sa cause en hommes libres, offrant l'une des scènes les plus mémorables de la série.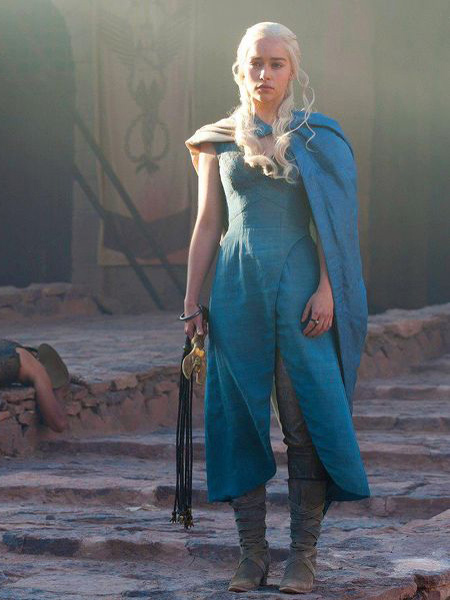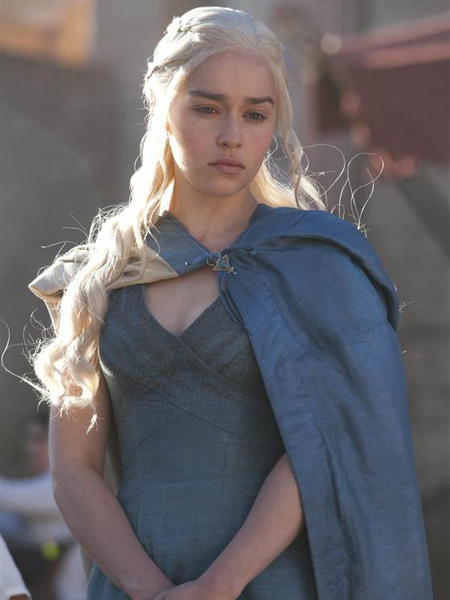 Un style personnel
Daenerys est ici représentée dans la tenue qu'elle porte lors de sa fameuse scène de libération des esclaves. Cette figurine est déjà la troisième version du personnage. Cela s'explique probablement par le fait que c'est l'un des personnages plus populaires de la série, mais aussi parce que c'est celle dont le style a le plus changé au cours des saisons. Après avoir adopté le style des Dothrakis puis celui de Qarth, Daenerys semble enfin avoir trouvé un style qui lui est personnel. Celui-ci est un mélange du style "pratique" des Dothrakis et d'un style plus proche de son royaume d'origine, Westeros. On retrouve donc bien sa jolie tunique bleue au décolleté croisé et sans manche adaptée au climat chaud de ces contrées. Gardant le côté guerrier des Dothrakis, elle porte avec cela un pantalon et des bottes de cuir. Funko a aussi joliment reproduit la cape assortie à sa tunique, représentant même sa doublure beige. Dans sa main, Daenerys porte le fouet donné par les esclavagistes, signifiant qu'elle est maintenant leur maîtresse. Enfin, encore une fois, ses cheveux blonds/blancs en partie nattés ont été finement reproduits par Funko. Comme la majorité des figurines de license Game Of Thrones, celle-ci est une réussite à ajouter d'urgence à votre collection.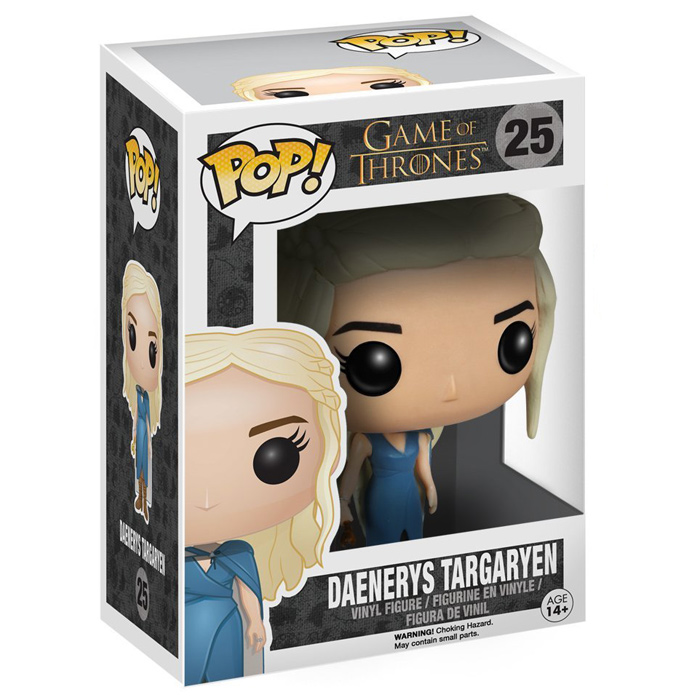 La figurine Funko Pop Daenerys Targaryen en robe bleue (Game Of Thrones) vous intéresse ?

Vérifier la disponibilité sur

Trouvable également ici :

13.90 €
Voir l'offre