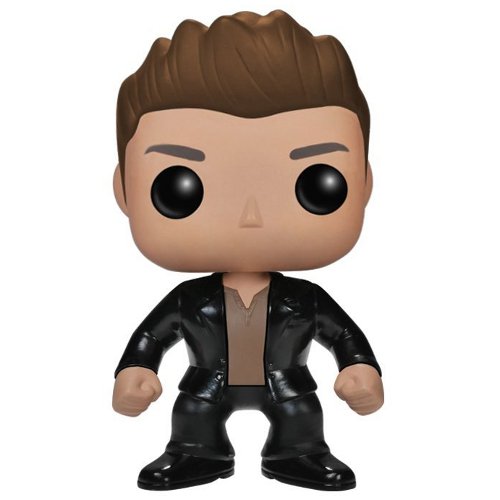 Figurine Angel (Buffy The Vampire Slayer)
La figurine Funko Pop Angel (Buffy The Vampire Slayer) vous intéresse ?

Vérifier la disponibilité sur

Le vampire qui avait une âme
Angel est un personnage important de la série "Buffy The Vampire Slayer". On le voit dans quelques épisodes de saison 1, puis il devient un régulier à partir de la saison 2. Angel est un jeune homme mystérieux qui aide Buffy à plusieurs reprises. Il se révélera en fait être un vampire qui a récupéré son âme suite à une malédiction destiné à le punir et à le culpabiliser de tout le mal qu'il a fait. Lui et Buffy tomberont vite amoureux et quand ils finiront par coucher ensemble en saison 2 et qu'il connaîtra un vrai moment de bonheur, la malédiction gitane sera levée et il reperdra son âme à nouveau. Il s'alliera alors avec Spike et Drusilla, ses anciens "partenaires" et deviendra "le" méchant de la saison 2. En fin de saison, Willow parvient à lui rendre son âme grâce à l'aide de la magie mais Buffy est forcée de le tuer pour refermer la porte démoniaque qu'il vient d'ouvrir. En saison 3, il reviendra des enfers ayant récupéré son âme mais ne pouvant supporter de vivre si près de Buffy sans pouvoir être avec elle, il décidera de partir pour Los Angeles à la fin de la saison. Angel aura à partir de ce moment sa propre série dérivée, ce qui ne l'empêchera pas de revenir faire quelques apparitions dans Buffy dans les saisons suivantes.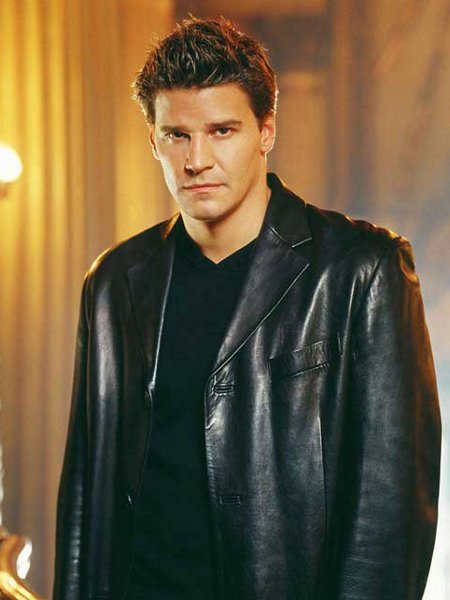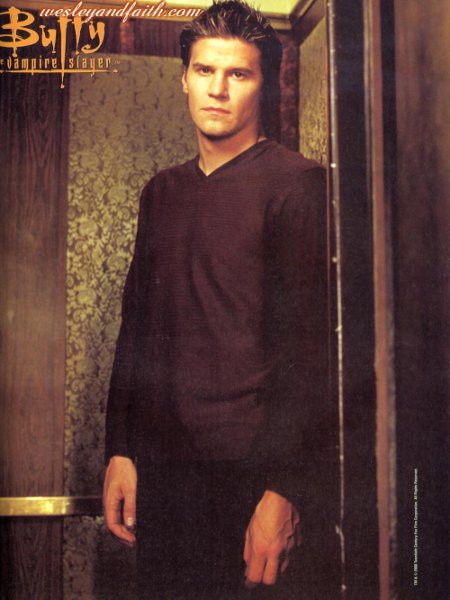 Un look qui n'a pas changé en 120 ans
Angel est l'un des personnages dont le style change le moins au cours des saisons, il est donc difficile de dire de quelle période la figurine est représentative. Cependant on peut remarquer qu'à partir du milieu de la saison 2, lorsqu'il perd son âme, il porte en général des manteaux plus longs. On peut donc supposer que c'est ici plutôt un Angel des débuts, comme c'est le cas pour les autres personnages représentés. Comme on peut le voir il ne porte en général que du noir si ce n'est un occasionnel t-shirt blanc ou comme ici une chemise de couleur sobre. Dans les premières saisons, il porte souvent une veste de cuir noire, ici finement représentée avec ce vernis noir brillant. Enfin Angel a les cheveux brun foncé courts mais toujours coiffés "en pics" dans un style typiquement fin 90'. Le rendu est ici parfait et rend cette figurine, pourtant toute simple, particulièrement mignonne.