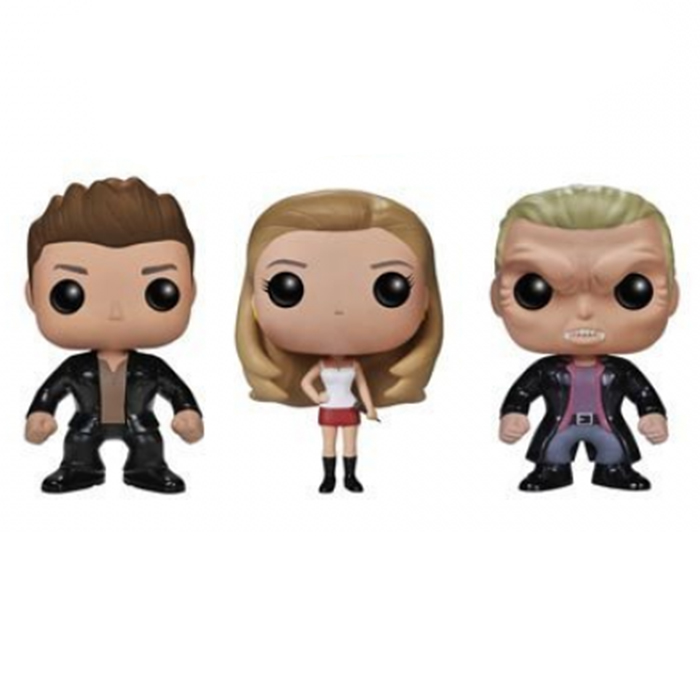 Figurines Angel, Buffy et Vampire Spike (Buffy The Vampire Slayer)
Les figurines Funko Pop Angel, Buffy et Vampire Spike (Buffy The Vampire Slayer) vous intéressent ?

Vérifier la disponibilité sur

Un trio infernal
Buffy est le personnage central de la fameuse série des années Buffy The Vampire Slayer. C'est une lycéenne à priori normale mais qui se trouve en fait être "la tueuse", la dernière en date d'une lignée d'élues mystiques choisies pour combattre les forces du mal et en particulier les vampires et dotée pour cela d'une force et d'une agilité hors du commun. Au cours de la série, elle va donc croiser de très nombreux vampires, certains devenant des personnages particulièrement marquants et des personnages réguliers de la série pendant plusieurs saisons. Angel est est un personnage mystérieux venant plusieurs fois au secours de Buffy au début de la série jusqu'à ce qu'elle se rende compte qu'il est en fait un vampire qui fût maudit et à qui l'on rendit son âme pour ses méfaits. Depuis, il tente de se racheter en combattant le mal. Spike est l'un des anciens "associés" d'Angel qui débarque en ville en saison 2 avec Drusilla qu'Angel avait rendu folle avant de la transformer en vampire (et qu'elle transforme Spike par la suite). D'abord un ennemi de Buffy, il va se retrouve à s'allier avec elle lorsqu'Angel redevient mauvais et veut ouvrir l'enfer sur Terre. Spike se plait plutôt bien sur Terre comme ça. Spike sera de nouveau de retour en saison 4 pour combattre Buffy avant de se retrouver à nouveau son allié malgré lui et finalement de tomber amoureux d'elle. Spike restera jusqu'à la fin de la série et se sacrifiera finalement pour sauver le monde.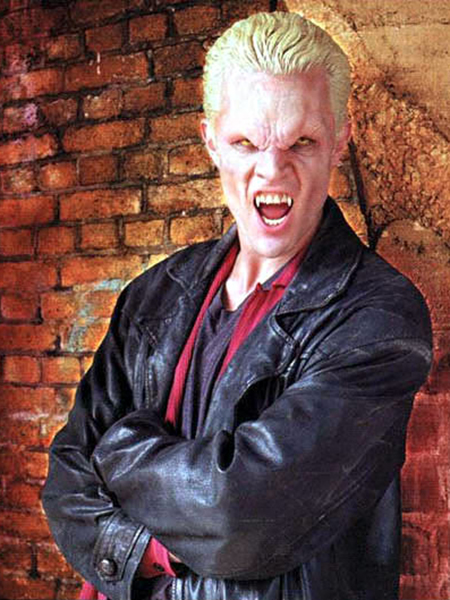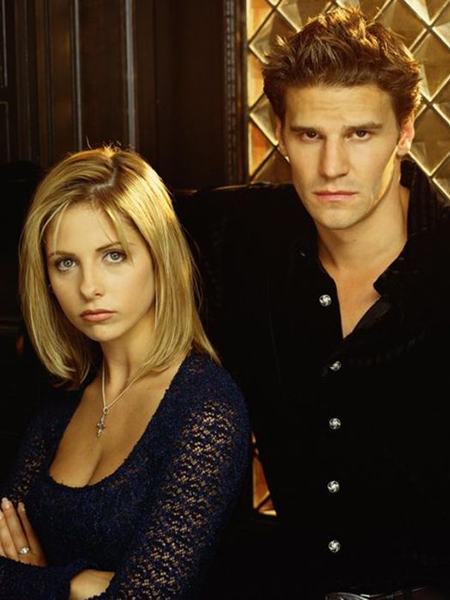 Le pack des champions
Ce pack est constitué de trois figurines, celle de Buffy et Angel déjà sorties à l'unité lors de la première vague de figurines Buffy The Vampire Slayer ainsi que la version chase de Spike en vampire. Buffy porte une courte jupe rouge avec un débardeur blanc et des bottes noires. On reconnait bien sa longue chevelure blonde des débuts de la série ainsi que le pieu qu'elle porte à la main gauche. Angel porte un costume noir légèrement brillant avec des chaussures noires assorties ainsi qu'un t-shirt marron foncé. Au niveau de la tête, on reconnait bien ses cheveux bruns coiffés en pointes comme c'était la mode à la fin des années 90. Enfin, Spike est représenté avec la tenue qu'il porte dans les premiers épisodes où il apparait. Il porte un jean bleu et de grosses bottes noires avec une chemise rose portée par dessus un t-shirt violet mais surtout son fameux long manteau en cuir. Enfin, au niveau de la tête, ses traits sont en partie déformés pour montrer son apparence de vampire surtout au niveau du front et de sa bouche découvrant ses crocs.