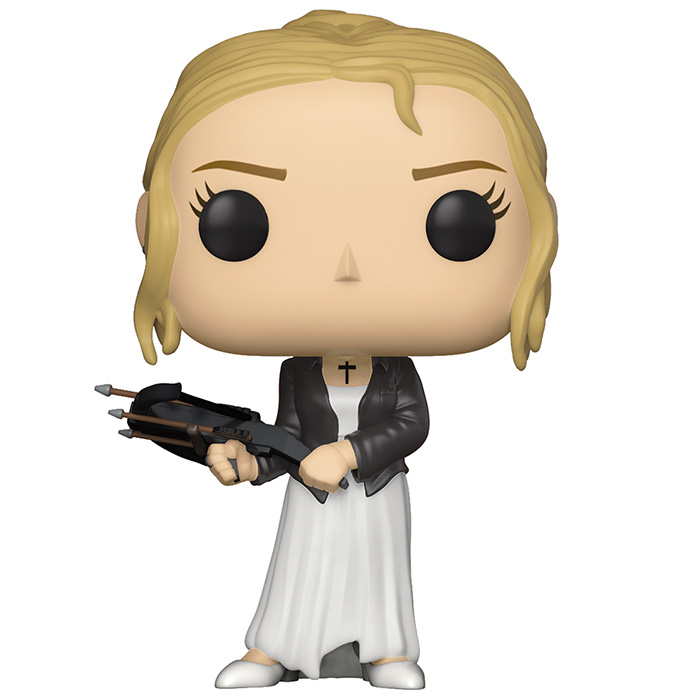 Figurine Buffy Summers (Buffy The Vampire Slayer)
La figurine Funko Pop Buffy Summers (Buffy The Vampire Slayer) vous intéresse ?

Vérifier la disponibilité sur

L'héroïne culte des années 90
Buffy Summers est une lycéenne en apparence comme les autres mais qui se trouve en fait être la tueuse, la dernière d'une lignée de guerrières combattant les démons, vampires et forces de l'ombre, dans la série Buffy The Vampire Slayer. Les pouvoirs de chaque tueuse étant débloqués lors de la mort de la précédente, les pouvoirs de Buffy lui tombent dessus par surprise lorsque son premier vampire l'attaque alors qu'elle est lycéenne à Los Angeles. La série démarre quelques mois plus tard quand elle et sa mère viennent s'installer dans la ville de Sunnydale. Buffy pense être débarrassée de ces histoires mais c'est sans compter sur Giles, le bibliothécaire du lycée qui est en fait son observateur, membre d'une société secrète dont le but est d'aider, entrainer, observer et consigner la vie de la tueuse depuis des millénaires. Elle va vite aussi se rendre compte que les vampires de Sunnydale sont sous les ordres du maître, un des plus puissants vampires ayant jamais existé. Heureusement, elle pourra compter sur l'aide de Giles mais aussi de ses nouveaux amis Willow et Xander qui découvriront rapidement son secret.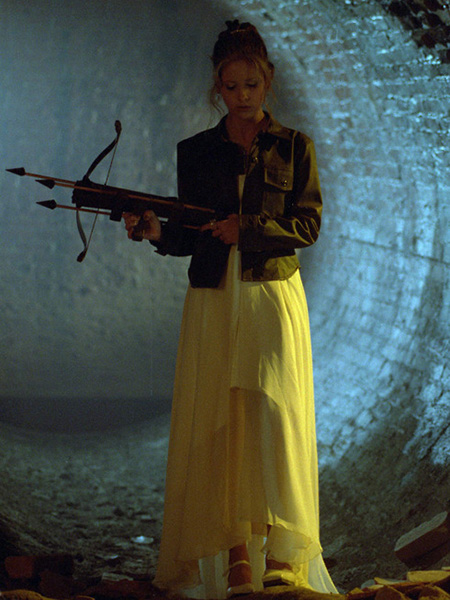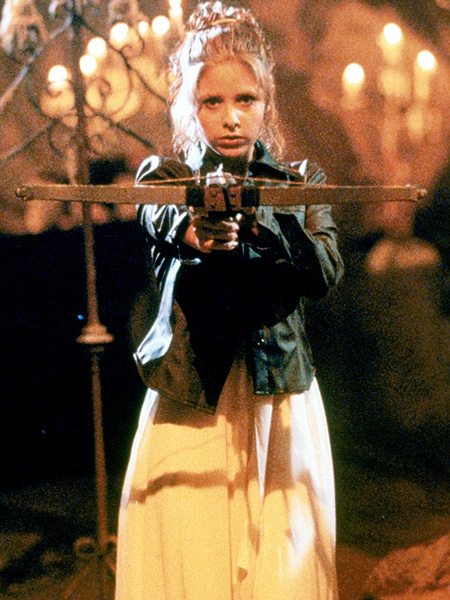 Le bal de promo de la tueuse
En fin de saison un, Buffy doit partir combattre le maître alors qu'elle se prépare à participer au bal de promo et c'est donc ainsi que Funko l'a représentée pour cette nouvelle figurine de la tueuse. On retrouve donc bien cette longue robe blanche avec une taille haute et un voile supplémentaire formant une sorte de traine portée avec des chaussures à talons assorties. Avec cela, elle porte aussi un blouson en cuir noir court pour un look bien typique des années 90 ainsi qu'une grosse croix en argent. Dans ses mains, elle tient une arbalète, ce qui reste son arme de prédilection après le simple pieux en bois. Au niveau de la tête, on retrouve ses cheveux blonds attachés en une queue de cheval avec quelques mèches dépassant sur l'avant du visage.