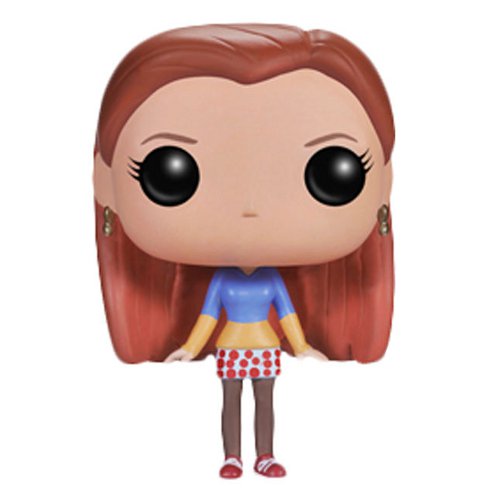 Figurine Willow (Buffy The Vampire Slayer)
La figurine Funko Pop Willow (Buffy The Vampire Slayer) vous intéresse ?

Vérifier la disponibilité sur

Willow, la sorcière intello
Willow Rosenberg est l'un des personnages principaux de la série "Buffy The Vampire Slayer". C'est l'une des quatre du "Scooby gang" originel avec Buffy, Xander et Giles. C'est probablement le personnage qui aura le plus évolué à tous points de vue au cours des saisons. Au début, c'est une petite lycéenne timide, intello et assez mal dans sa peau amoureuse de son ami d'enfance Xander qui lui tombera amoureux de Buffy (elle-même amoureuse d'Angel le vampire, compliqué tout ça!). En fin de saison 2, elle s'essaiera à la magie et au fur et à mesure des saisons, elle deviendra une vraie sorcière au pouvoir puissant, ce qui couplé avec son intellect en fera un des plus gros atouts du groupe. Cela finira par lui causer des ennuis en saison 6 mais c'est aussi ce qui contribuera grandement à lui donner plus d'assurance tant au niveau de sa personnalité que physiquement. Les tenues de petite fille des premières saisons finiront par disparaître au profit de tenues beaucoup plus féminines aux tendance gothique/hippie chic dans les dernières saisons. Bien sûr, l'autre événement très important sera son changement d'orientation sexuelle en cours de saison 4 quand elle craquera pour la jolie mais timide Tara suite à sa rupture difficile avec Oz. Les deux jeunes femmes s'aideront mutuellement à s'affirmer davantage et à prendre de l'assurance. Et il faut noter qu'à l'époque c'était un type de relation qu'on voyait encore très rarement à la télévision.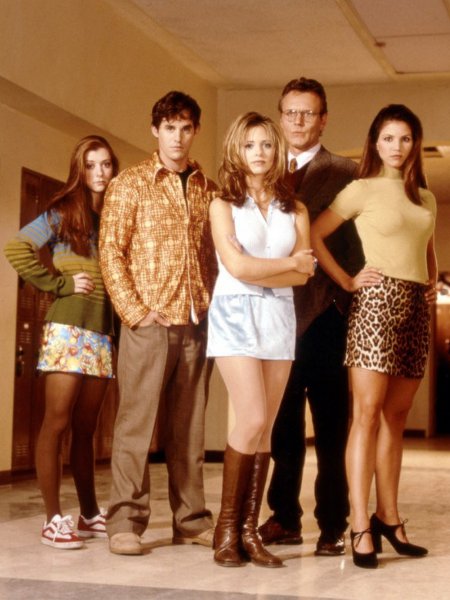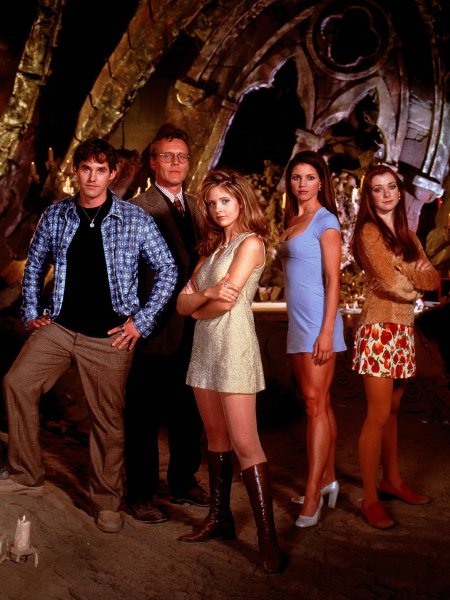 Willow, la timide petite lycéenne
Sur cette figurine, c'est la Willow de la saison 1 qui est représentée. On reconnaîtra bien ses longs cheveux roux raides et on appréciera le petit détail de l'implantation des cheveux en cœur caractéristique de l'actrice Alyson Hannigan. Au niveau du look, on retrouve bien son goût pour les associations de couleurs et motifs flashy peu flatteurs qu'elle arborait le plus souvent dans les 2 ou 3 premières saisons. Le style années 90 est aussi très présent avec l'association jupe/collants et baskets. Pour cette tenue en particulier, les créateurs de la figurine se sont visiblement inspirés de la série de photos promo de la saison 1. On peut retrouver sur une le pull jaune/orange et la jupette blanche à motifs rouges et sur l'autre l'association collants marrons et baskets rouges. Le bleu quant à lui aurait-il été piqué sur Cordelia ? Au final si tous ces éléments suffisent largement à reconnaître la timide Willow de la saison 1, on aurait bien aimé un accessoire supplémentaire pour compléter cette figurine. Pourquoi pas un livre ou son fameux sac à dos de petite fille ?