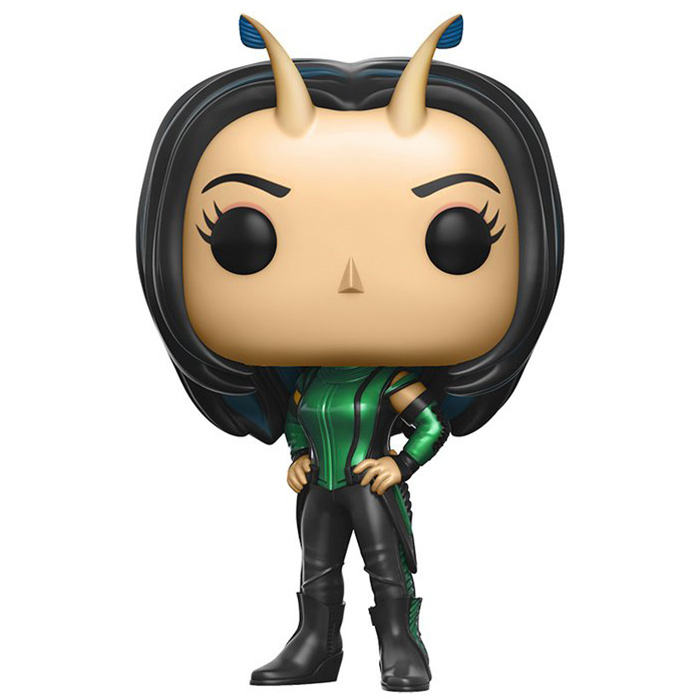 Figurine Mantis (Guardians Of The Galaxy Vol. 2)
La figurine Funko Pop Mantis (Guardians Of The Galaxy Vol. 2) vous intéresse ?

Vérifier la disponibilité sur

Un nouveau personnage mystérieux
Mantis est l'un des nouveaux personnages faisant leur apparitions dans le deuxième épisode des Gardiens de la Galaxie. Dans le premier film, un groupe s'était formé un peu malgré eux autour de Peter Quill/Star Lord et après avoir sauvé la galaxie ensemble, ils sont devenus une sorte de famille. Dans ce deuxième opus, on retrouve donc toujours Peter Quill, Gamora, Rocket, Groot et Drax mais aussi de nouveaux personnages et d'anciens ennemis plus si hostiles. On ne sait pas encore grand chose du rôle de Mantis dans le film si ce n'est que c'est à priori, elle deviendra l'une des alliés du groupe puisqu'elle sera aussi présente dans Avengers Infinity Wars. Dans les comics Mantis est née sur Terre au Vietnam au sein d'une secte Kree voyant en elle la future Madonne céleste. Elle y apprit les arts martiaux ainsi que le contrôle du corps et de l'esprit avant de subir un lavage de cerveau et de devenir serveuse et prostituée et plus tard de partir dans l'espace. Mantis a aussi développé un lien particulier avec le monde végétal.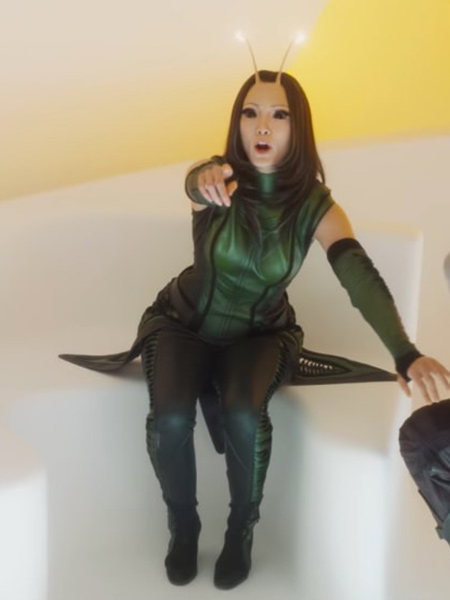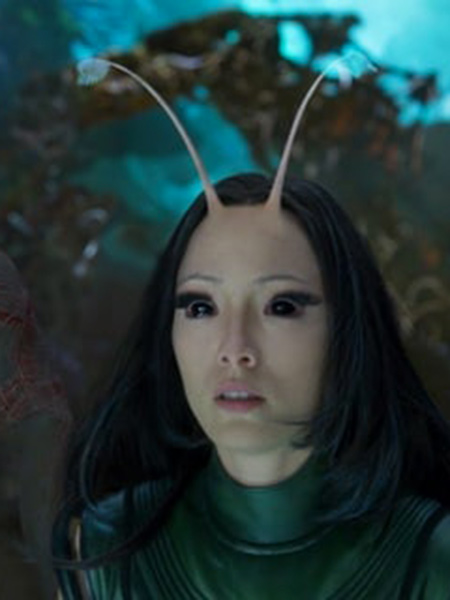 Un étrange visage
Sa tenue étant probablement inspirée de l'animal à l'origine de son nom, celle-ci est verte bien que futuriste pour respecter le style visuel du film. Elle porte un pantalon et des bottes de cuir noirs ainsi qu'une tunique courte devant et longue derrière d'un joli vert métallisé. Les détails de son vêtement, ouvert au niveau des épaules, sont joliment représentés et son attitude en fait une figurine plutôt gracieuse. Au niveau de la tête, son visage est tout simple mais on retrouve bien ses deux étranges antennes évoquant un insecte sur le haut de son front. Enfin, on retrouve bien ses longs cheveux noirs et lisses évoquant ses origines vietnamiennes.