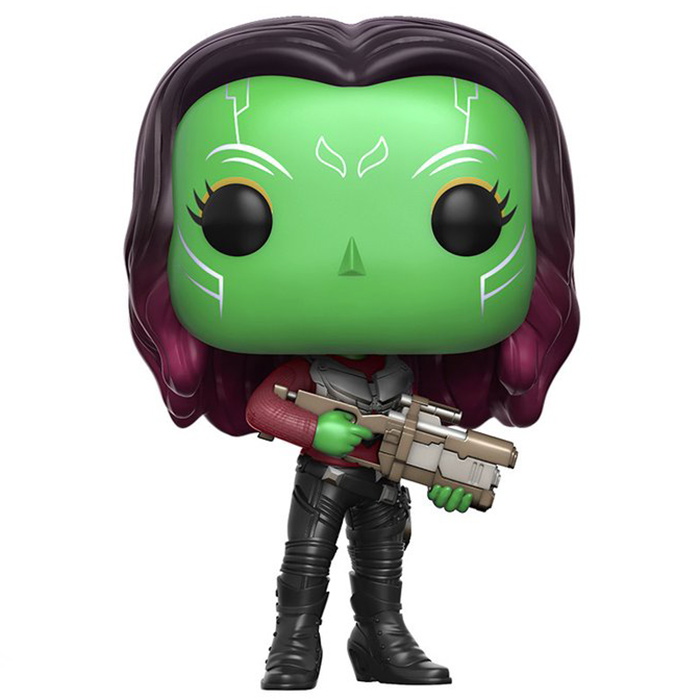 Figurine Gamora (Guardians Of The Galaxy Vol. 2)
La figurine Funko Pop Gamora (Guardians Of The Galaxy Vol. 2) vous intéresse ?

Vérifier la disponibilité sur

Une nouvelle famille pour Gamora
Gamora est l'une des héroïnes du films Guardians of the Galaxy vol. 2, la suite du premier film des studios Marvel se déroulant dans l'espace mais avec une forte ambiance terrienne des années 80 notamment par sa musique mais aussi son aspect visuel. Ce deuxième film est dans la même lignée et verra la petite équipe formée au cours du premier film partir à la recherche de réponses sur la mystérieuse identité du père de Peter Quill/Star Lord. Dans le premier film celui-ci était une sorte de pirate de l'espace ayant mis la main sur un objet très puissant et très convoité. Quand il tente de le revendre, il est attaqué à la fois par des chasseurs de prime et Gamora qui souhaite récupérer l'objet, le revendre et pouvoir ainsi se libérer des griffes de Thanos, l'homme qui l'avait enlevé à sa famille lorsqu'elle était enfant et fait d'elle un soldat génétiquement modifié. Mais lorsque tout ce monde se retrouve en prison, ils s'allient pour s'échapper mais l'objet tombe entre les mains de Ronan, ils décident de tout faire pour l'empêcher de s'en servir et sauvent ainsi la galaxie.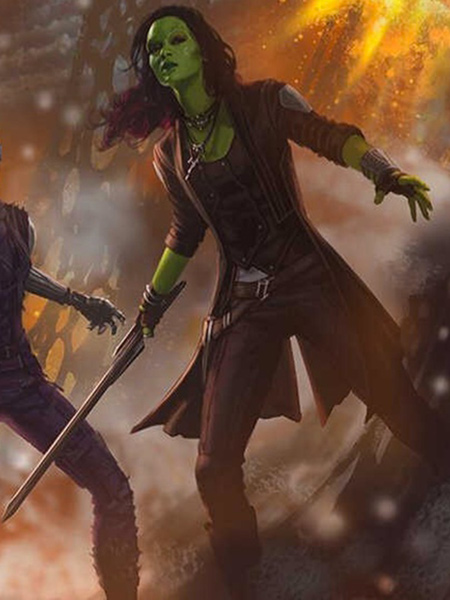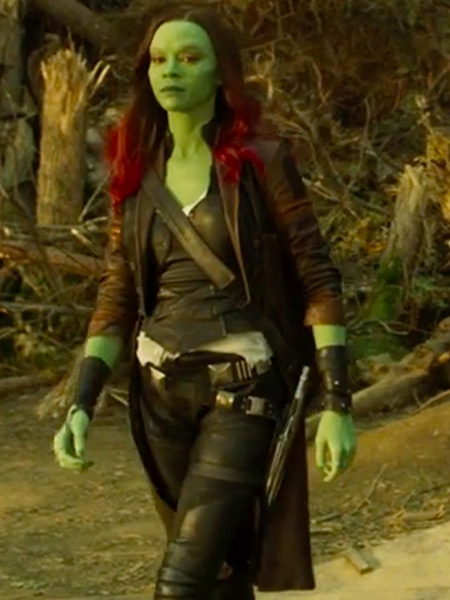 Un teint toujours aussi vert
Comme sur la figurine du précédent film, on peut voir que Gamora est toujours une guerrière à la façon dont elle est habillée mais ceux-ci sont aussi un peu plus féminins. En effet, elle porte un pantalon en cuir noir avec des bottes assorties avec un peu de talons. Bien que tout cela soit de la même couleur, on peut y voir de nombreux détails très bien rendus. Comme on peut aussi le voir dans les premières scènes du film, elle porte un haut rouge moulant avec une armure en métal au niveau de la poitrine. Comme on peut aussi le voir dans l'une des scènes de la bande annonce, Gamora a un tout nouveau fusil futuriste qu'elle tient ici dans ses mains. Enfin, au niveau de la tête, on retrouve bien sa peau verte avec de jolis tatouages blancs sur les joues et le front. Enfin ses cheveux sont toujours légèrement bouclés, noirs avec des pointes fuchsia.