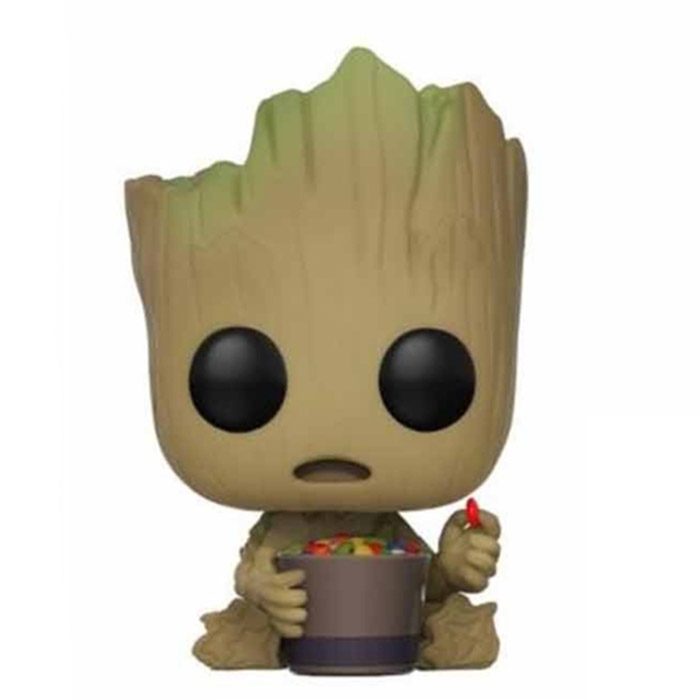 Figurine Groot with candy (Guardians Of The Galaxy Vol. 2)
La figurine Funko Pop Groot with candy (Guardians Of The Galaxy Vol. 2) vous intéresse ?

Vérifier la disponibilité sur

Pas encore d'une grande aide
Groot est cette fameuse créature en forme d'arbre anthropomorphe dans la série de films Les Gardiens De la Galaxie des studios Marvel. Dans le premier film, Groot est un grand arbre qui travaille comme chasseur de primes avec le raton laveur génétiquement modifié Rocket. Mais quand ils croisent le chemin de Peter Quill, ils se retrouvent embarqués dans ses histoires avec Gamora et Drax et tous ensemble ils sauvent une planète de la destruction. Malheureusement, Groot se sacrifie pour sauver ses amis quand leur vaisseau s'écrase. A la fin, Rocket récupère une petite pousse de Groot et la plante dans un pot, créant ainsi un nouveau Groot. Dans le deuxième film, Groot a déjà un peu grandi mais il reste encore un enfant. Le groupe travaille maintenant ensemble pour diverses clients et des missions très variées et malgré son jeune âge et sa petite taille, le petit Groot tient toujours à participer, ce qui n'est pas toujours d'une grande aide.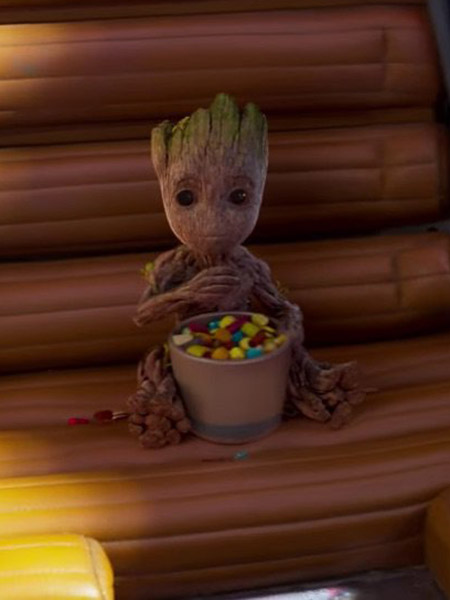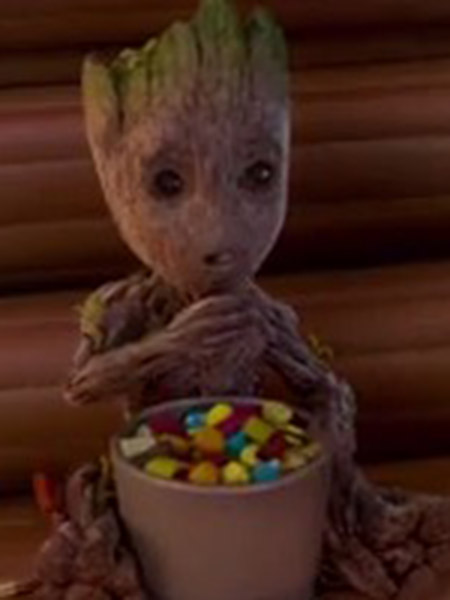 Groot en spectateur
Pour cette figurine exclusive aux magasins Hot Topic, Groot est représenté tenant un bol rempli de bonbons. Cela représente le moment où leur vaisseau est attaqué et que Peter Quill va devoir gérer un atterrissage plutôt sportif. Groot s'attache alors à son fauteuil et prend un bol de bonbons pour regarder cela comme s'il était au cinéma. Il est donc représenté assis avec le gros bol entre ses jambes et pleins de petits bonbons ronds de toutes les couleurs. Il en tient un rouge dans sa main gauche et sur son visage, on retrouve ses grands yeux ronds et sa bouche qui lui donne un air surpris et apparemment fasciné par ce qu'il regarde.