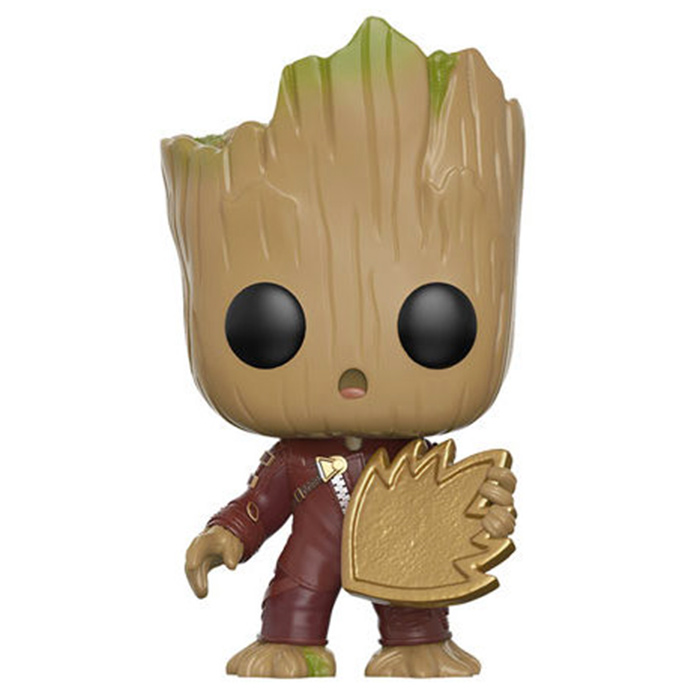 Figurine Groot with ravager patch (Guardians Of The Galaxy vol. 2)
La figurine Funko Pop Groot with ravager patch (Guardians Of The Galaxy vol. 2) vous intéresse ?

Vérifier la disponibilité sur

Bébé Groot a bien grandi
Groot est l'un des personnages principaux des films des studios Marvel Guardians Of The Galaxy 1 et 2. Dans le premier volet, plusieurs personnages très différents se retrouvent un peu malgré eux à faire équipe pour sauver la galaxie quand ils se rendent compte que l'objet qu'ils convoitaient est tombé dans les mains du dangereux Ronan qui compte s'en servir pour détruire toute une planète. Parmi eux, il y a StarLord, le chasseur de trésors, Groot, l'arbre humanoïde associé à Rocket, le raton laveur intelligent, tous deux chasseurs de prime. Mais on retrouve aussi Gamora, fille "adoptive" du terrible Thanos qui n'attendait que cette occasion pour s'échapper et Drax qui souhaite se venger de Ronan. A la fin du film Groot se sacrifie pour sauver ses amis mais Rocket parvient à sauver quelques branches pour refaire pousser un nouveau Groot. Dans le deuxième film, on retrouve donc tout le groupe plus soudé que jamais prêt à affronter de nouveaux ennemis et le petit Groot a déjà bien grandi même s'il est loin d'avoir atteint la taille du Groot initial.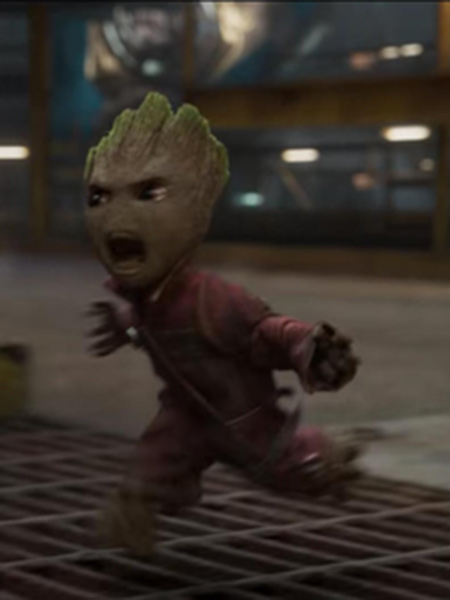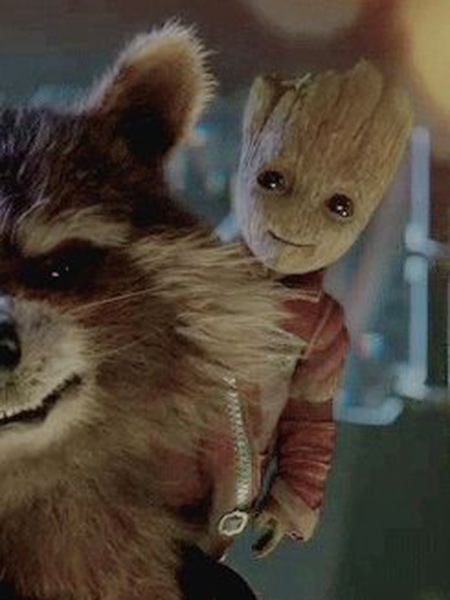 Groot en combinaison
Cette figurine est une version exclusive pour les magasins Hot Topic. Il porte une combinaison rouge en cuir proche de celle de Rocket ou Star Lord comme on peut le voir sur les premières images du film. Les détails de cette combinaison sont joliment représentés et seuls ses mains et ses pieds sont nus et dépassent. Sa tête est toujours allongée et avec ses petites touches de vert comme de la mousse aux extrémités. Il a les gros yeux ronds habituels des figurines pop mais aussi une bouche représentée dans une expression de choc ou de surprise. Enfin, comme on peut le voir sur certaines images du film, il tient dans ses mains un gros objet doré en forme de feuille dont on ne connait pas encore le sens.