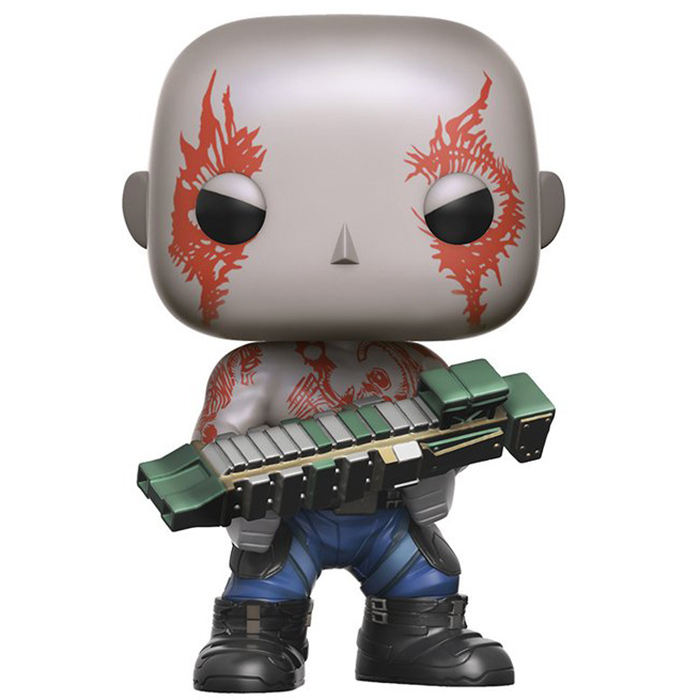 Figurine Drax (Guardians Of The Galaxy Vol. 2)
La figurine Funko Pop Drax (Guardians Of The Galaxy Vol. 2) vous intéresse ?

Vérifier la disponibilité sur

Un costaud au grand coeur
Drax est l'un des membres de la toute nouvelle équipe formée autour de Peter Quill/Star Lord dans Les Gardiens de la Galaxie vol. 2, faisant suite au premier épisode du film des studios Marvel. Dans le premier film, Drax rencontre l'équipe en prison et leur premier contact n'est pas vraiment amical. Peter Quill, Gamora, Rocket et Groot s'y retrouvent ensemble alors qu'ils voulaient tous se capturer ou se voler les uns les autres et ont semé le chaos en ville. Drax en veut particulièrement à Gamora car elle travaille pour Ronan qui a tué sa famille. Finalement ils parviennent à se mettre d'accord pour s'échapper ensemble et partager le prix de l'objet en la possession de Peter Quill. Mais quand c'est Ronan qui met la main dessus et compte s'en servir pour exterminer un peuple, le groupe décide finalement de faire tout ce qu'il faut pour sauver la galaxie. Ils créent maintenant un étrange petit groupe continuant dans leurs missions à travers la galaxie.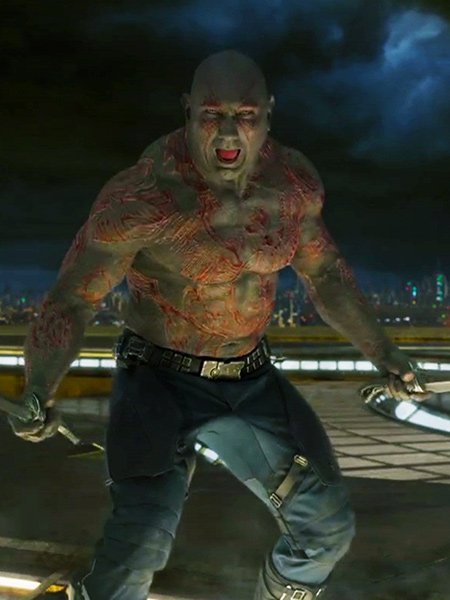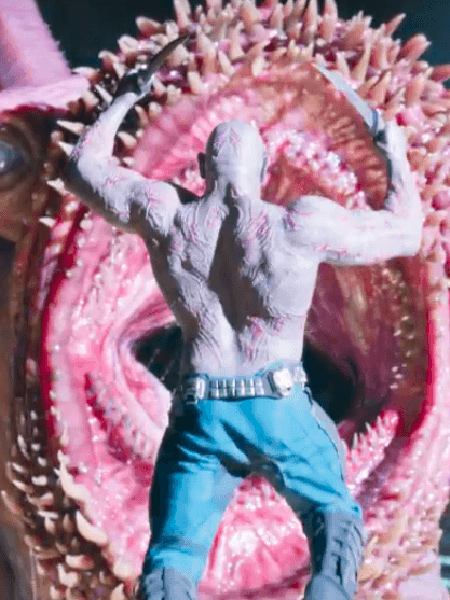 Drax a un nouveau gadget
Alors que dans le premier film, Drax semblait préférer se battre à mains nues, il semble qu'il ait ici adopté l'un des impressionnants fusils futuristes comme en porte Gamora ou même Rocket. Au niveau du corps, il a toujours cette peau gris/rose gravée de tatouages et scarifications rouges au niveau des bras, du torse et du visage. Il est toujours torse nu mais porte un pantalon bleu et de grosses bottes noires aux détails joliment rendus. Dans ses mains, il tient donc ce très impressionnant fusil gris et vert ressemblant presque à un instrument de musique à première vue. Enfin, au niveau du visage, ses yeux sont à demi fermés pour mieux coller au regard du personnage et l'on retrouve bien ses fameux motifs tatoués ainsi que son crane chauve.