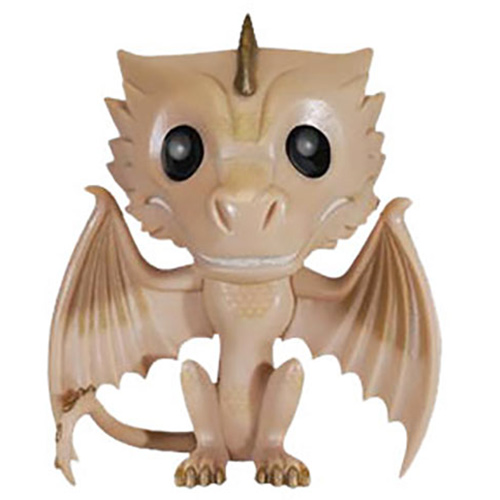 Figurine Viserion (Game Of Thrones)
Viserys revient sous forme de dragon
Viserion est un des trois dragons dont Daenerys se retrouve la "mère" dans Game Of Thrones, la série fantastique médiévale adaptée des célèbres romans de George Martin, A Song Of Ice And Fire. La plupart des protagonistes de cette série évoluent sur le continent de Westeros. Après une courte période de paix relative, les grandes familles s'y font à nouveau la guerre pour le pouvoir. Pendant ce temps, la garde de nuit tente tant bien que mal de contenir la menace des marcheurs blancs venant du Nord sans que les personnes au pouvoir ne s'en préoccupent. De l'autre côté de la mer, sur le continent d'Essos, Daenerys, héritière du roi fou Aerys Targaryen tué par l'actuel roi de Westeros, tente de survivre avec son frère Viserys. Au début de la série, celui-ci la marie à Khal Drogo , un chef barbare, en échange de son armée. Contre toute attente, Daenerys et Drogo tombent amoureux et après que Viserys ait une fois de plus voulu faire du mal à sa soeur, Drogo le tue et promet de mettre son armée au service de Daenerys. Mais en fin de saison 1, celui-ci meurt. Daenerys place alors les oeufs de dragon offerts lors de son mariage, sur le bûcher funéraire de Drogo. Lorsque le feu s'éteint, les oeufs ont éclos et Daenerys se retrouve mère de trois dragons. Elle en nomme un Viserion en l'honneur de son frère Viserys.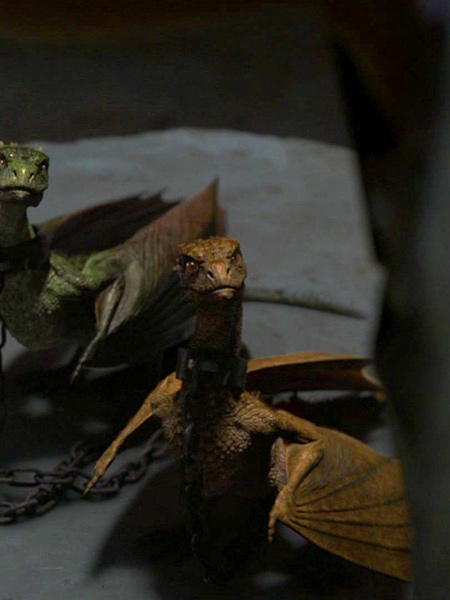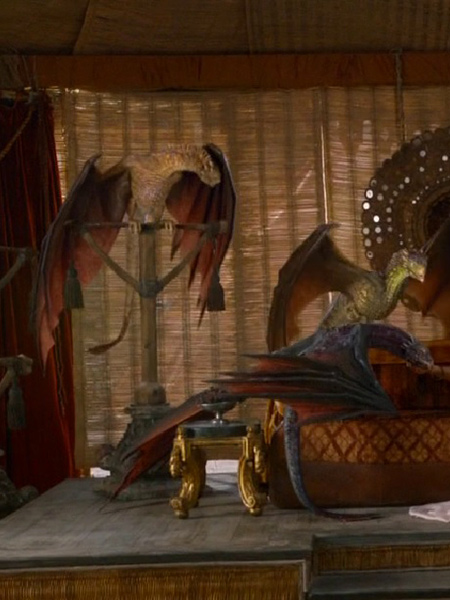 Viserion, le dragon beige
Viserion est représenté bébé tel qu'on peut le voir durant la deuxième saison de la série quand il peut encore se poser sur l'épaule de Daenerys ou gardé dans une petite cage. Funko l'a représenté exactement pareil que les versions bébé des figurines des deux autres dragon, Rhaegal et Drogon. Il est assis sur ses pattes arrière pour coller aux proportions habituelles des figurines pop. Sa longue queue agrémentée de pics est ramenée sur le côté droit et ses ailes de chauve-souris sont en partie déployées sur le côté. Chaque dragon a une couleur différente et Viserion est entièrement beige, ce qui rappelle la peau claire et les cheveux blonds de Viserys, avec des touches de doré (ce qui rappelle la façon dont il est mort). Au niveau de la tête, on peut voir de nombreux pics sur le côté et le dessus de sa tête. Funko a aussi représenté son museau de dragon ainsi que sa bouche légèrement ouverte, ce qui permet d'apercevoir très légèrement ses dents pointues. Des motifs d'écailles ont aussi été dessinées sur plusieurs parties de son corps pour rappeler son côté reptilien.