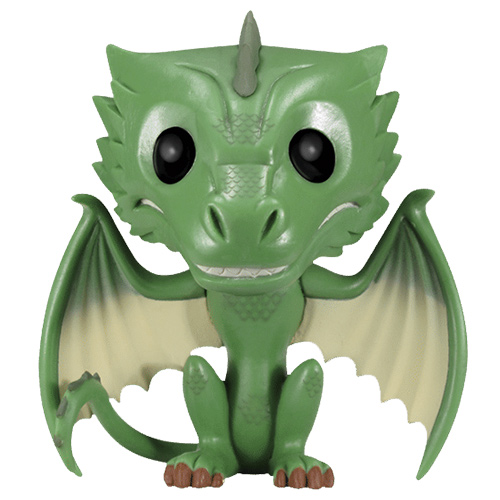 Figurine Rhaegal (Game Of Thrones)
Un dragon nommé en l'honneur de son frère
Rhaegal est un des trois dragons de Daenerys Targaryen dans "A Song Of Ice And Fire", les romans de George Martin, et leur adaptation télévisée "Game Of Thrones". L'histoire de cette série se déroule sur deux continents. La majorité des personnages évoluent sur le continent de Westeros où les grandes familles se battent pour le pouvoir et le trône tout en ignorant la menace grandissante des marcheurs blancs venant du Nord malgré les nombreuses mises en garde de la garde de nuit. De l'autre côté de la mer, sur le continent d'Essos, Daenerys Targaryen cherche à réunir une armée assez grande pour prendre le chemin de Westeros et reprendre le trône qui lui revient de droit, étant la dernière héritière du roi fou Aerys, évincé du pouvoir par une alliance des grandes familles du continent. En saison 1, Daenerys est mariée par son frère à Khal Drogo , un chef barbare en échange de l'armée de celui-ci. A son mariage, on lui offre trois oeufs de dragon en l'honneur des supposés pouvoirs des Targaryen, pouvant contrôler les dragons. L'espèce étant normalement éteinte, ces oeufs son censés être morts et seulement des objets de décoration. Mais lorsque le mari de Daenerys meurt, elle les place sur son bûcher funéraire et la chaleur les fait éclore. Daenerys se retrouve alors la mère de trois dragons. L'un est nommé Drogon en l'honneur de son mari, l'autre Viserion pour son frère et le dernier Rhaegal pour son autre grand frère qu'elle n'a jamais connu.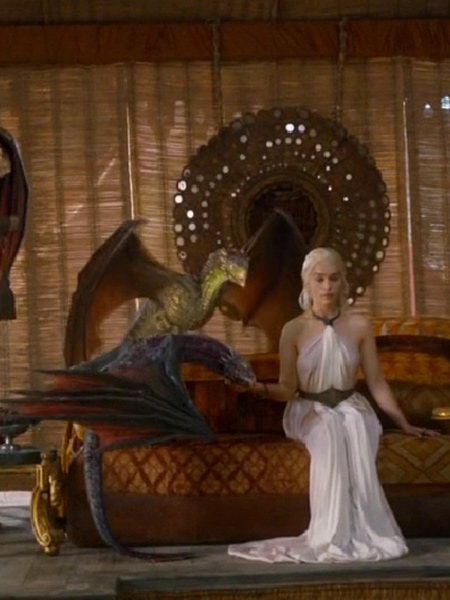 Rhaegal, le dragon vert
Rhaegal est ici représenté pendant ses premiers mois d'existence, quand il est encore bébé et assez petit pour se poser simplement sur l'épaule de Daenerys et pas encore très féroce. Au niveau de la forme, il est exactement pareil que les versions jeunes des figurines de Drogon ou Viserion. Rhaegal est assis sur ses pattes arrière griffues, sa longue queue est ramenée vers l'avant et ses ailes de chauve-souris sont partiellement déployées sur le côté de son corps. des motifs d'écailles sont joliment représentés par endroit sur son corps. Bien sûr, ce qui différencie Rhaegal de ses frères, c'est sa couleur verte allant vers le beige au niveau des ailes. Au niveau de la tête, Funko a dévié de la forme habituelle de la tête de ses figurines pour être fidèle à celle du dragon. On retrouve donc les nombreux pics sur le côté et le dessus de sa tête. On peut aussi voir son museau de dragon ainsi que sa bouche légèrement entre ouverte qui laisse deviner ses dents pointues.