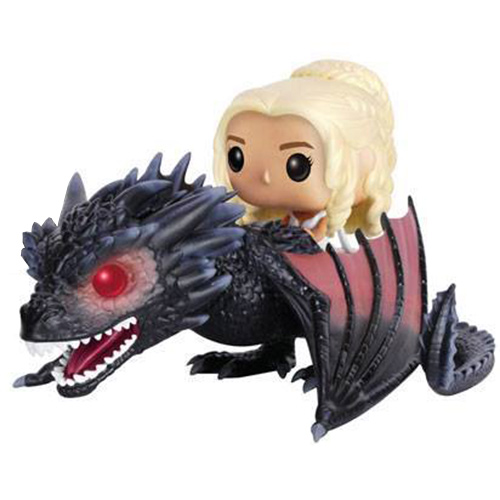 Figurine Daenerys with Drogon (Game Of Thrones)
La figurine Funko Pop Daenerys with Drogon (Game Of Thrones) vous intéresse ?

Vérifier la disponibilité sur

Daenerys prend son envol
Daenerys est l'un des personnages principaux de la série Game Of Thrones adaptée des romans de George Martin A Song Of Ice And Fire. Game Of Thrones se déroule dans un monde médiéval fantastique où plusieurs familles luttent pour le pouvoir sur le continent de Westeros. De l'autre côté de la mer, Daenerys, la dernière descendante du précédent roi, lutte pour survivre et se reconstituer une armée pour reprendre le trône. En fin de saison, les œufs de dragon qu'on lui avait offert éclosent alors que l'on croyait la race éteinte et les oeufs de simples fossiles. Grâce à l'armée d'esclave qu'elle va libérer et faire adhérer à sa cause, Daenerys va prendre le contrôle de la ville de Meereen et provisoirement s'y installer. Elle va tenter d'y remettre de l'ordre après avoir libéré tous les esclaves mais quand elle sera attaquée par les anciens maîtres, le dragon Drogon qui a bien grandi, viendra la sauver et il prendra son envol avec Daenerys sur son dos.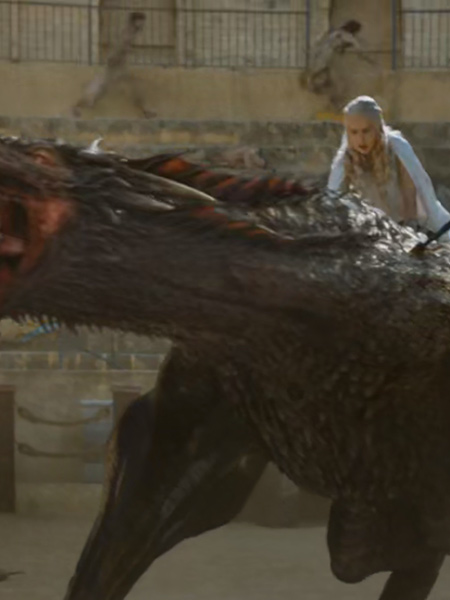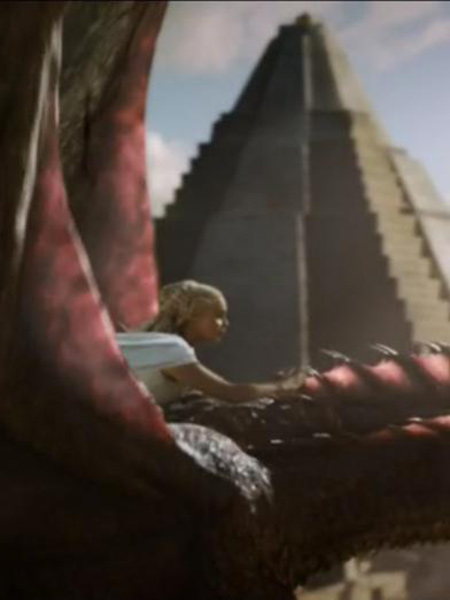 Daenerys et le plus féroce de ses dragons
Drogon est l'un des trois dragons qui sort des œufs en fin de saison 3. C'est le dragon noir, le plus gros et le plus féroce que Daenerys a nommé en hommage à son mari Drogo décédé juste avant leur naissance. Dragon est ici représenté posé au sol les ailes écartés pour laisser Daenerys monter sur son dos. Sa bouche est ouverte pour laisser apparaître son impressionnante dentition et ses yeux sont rouges pour ajouter à son allure féroce. Les détails de ses écailles et des épines sur sa tête et sa queue sont très finement reproduits. Daenerys est posée sur son dos et sa figurine est elle aussi finement détaillée. On retrouve la robe blanche qu'elle porte quand Drogon vient la sauver. Enfin, au niveau de la tête, son visage est tout simple mais sa coiffure constituée de plusieurs nattes et d'un chignon est très joliment reproduite.