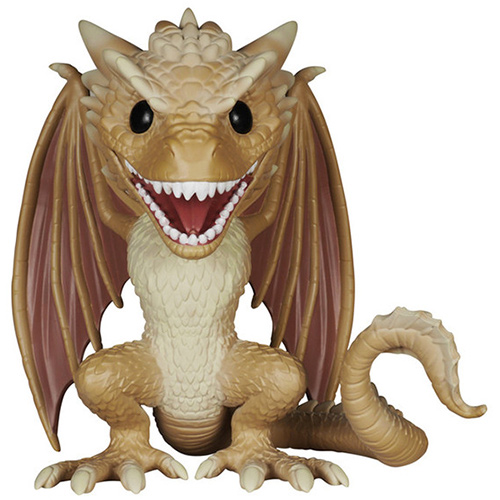 Figurine Viserion adulte (Game Of Thrones)
La figurine Funko Pop Viserion adulte (Game Of Thrones) vous intéresse ?

Vérifier la disponibilité sur

Les dragons ont grandi
Viserion est un des trois dragons de Daenerys dans la série Game Of Thrones, adaptée de A Song Of Ice And Fire, les romans fantastico-médiévaux de George Martin. Alors que Daenerys Targaryen évolue sur le continent d'Essos depuis le début de la série, la plupart des autres personnages sont sur le continent de Westeros. La plupart des grandes familles s'y font la guerre pour le pouvoir et/ou par vengeance depuis la fin de la saison 1 alors qu'une menace bien plus grave arrive par le Nord et peine à être repoussée par la garde de Nuit, un ordre autrefois puissant aujourd'hui réduit à un peu plus d'une centaine d'hommes. De l'autre côté de la mer, Daenerys Targaryen tente de réunir une armée pour marcher sur Westeros pour reprendre le trône qui lui revient de droit. Celle-ci est en effet la dernière héritière vivant du roi fou Aerys, tué par une alliance des grandes familles de Westeros juste avant sa naissance. En fin de saison 1, les oeufs de dragon qu'on lui a offert pour son mariage éclosent et Daenerys se retrouve mère de trois dragons : Drogon nommé en l'honneur de son mari décédé, Rhaegal pour le grand frère qu'elle n'a jamais connu et Viserion pour son grand frère mort récemment. Daenerys va finir par obtenir des bateaux et va se retrouver à la tête d'une armée de 8000 soldats particulièrement fidèles qu'elle aura libéré de l'esclavage. Par la suite, elle décide aussi de libérer les esclaves des autres villes de La Baie des esclaves et s'installe un temps dans la ville de Meereen pour y remettre de l'ordre. C'est là qu'elle commence à se rendre compte que ses dragons commencent à être incontrôlables. Elle décide alors de les enfermer dans le sous-sol de sa pyramide mais elle ne parvient pas à contrôler Drogon qui disparait.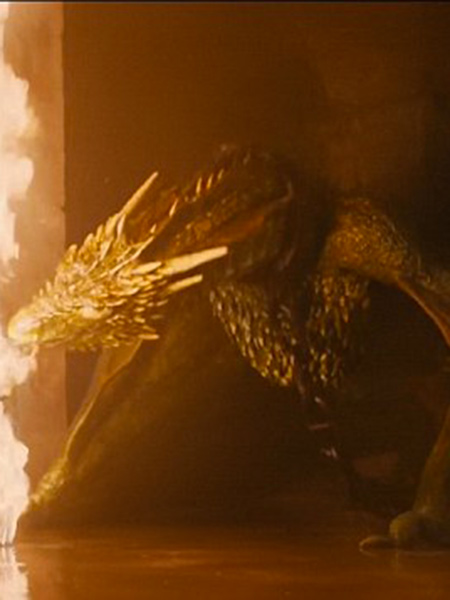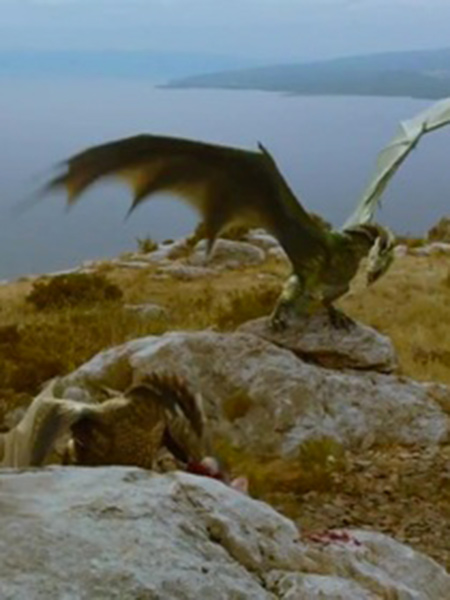 Le dragon enfermé
Viserion est le premier à être représenté adulte et les deux autres prendront modèle sur lui, ne changeant que les couleurs de peinture. Viserion ayant donc bien grandi, il est représenté sous forme d'une figurine super sized de 15 cm au lieu des 10 cm habituels. Ce qui, en plus de représenter sa taille, permet de faire une figurine bien plus détaillée et donc plus réussie que sa version bébé. Viserion est donc représenté debout sur ses pattes arrière aux impressionnantes griffes. Sa longue queue est repliée sur le côté gauche et ses ailes de chauve-souris sont partiellement déployées. Son corps est entièrement recouvert d'écailles, ce qui donne un aspect particulièrement réaliste à cette figurine. Sa tête est relativement proche de celle de sa version bébé mais les différents pics sur sa tête sont mieux définis et plus finement représentés et surtout sa bouche est largement ouverte pour découvrir ses impressionnantes dents pointus. Comme dans la série, Viserion est beige avec des touches de doré et les dégradés de couleurs sont particulièrement bien reproduits, ce qui en fait une fois de plus, une figurine magnifique.