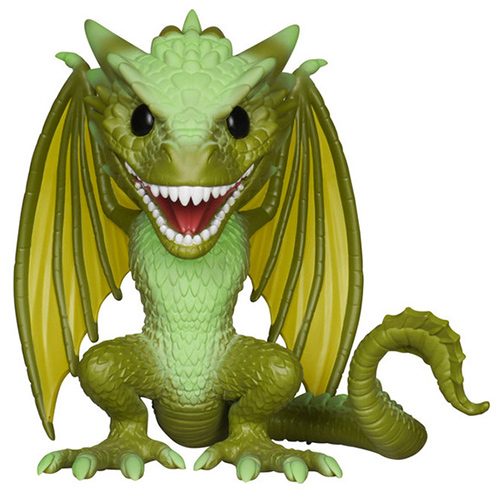 Figurine Rhaegal adulte (Game Of Thrones)
La figurine Funko Pop Rhaegal adulte (Game Of Thrones) vous intéresse ?

Vérifier la disponibilité sur

Les dragons deviennent incontrôlables
Rhaegal est l'un des trois dragons dont Daenerys est la mère dans Game Of Thrones, la série adaptée de A Song Of Ice And Fire, les romans de George Martin. Dans cette fameuse série fantastique médiévale de HBO, l'action se déroule principalement sur le continent de Westeros où les grandes familles se font la guerre, ignorant presque toutes la menace des marcheurs blancs venant du Nord, au-delà du mur censé les protéger. Sur le continent D'Essos, Daenerys Targaryen tente, elle, de réunir une armée pour reprendre le trône de fer qui lui revient de droit puisqu'elle est la dernière héritière vivante du roi fou Aerys Targaryen, mort peu de temps avant sa naissance. En fin de saison 1, elle place les oeufs de dragon qu'on lui a offert lors de son mariage sur le bûcher funéraire de son mari. Quand le feu s'éteint, les oeufs ont éclos et elle se retrouve "mère" de trois dragons. Daenerys obtiendra une armée en proposant à une armée d'esclaves de les embaucher plutôt que des acheter. A l'aide de ses dragons, ils tuent alors les "maîtres" et vont ensuite libérer les esclaves des autres cités de la baie. Quand Daererys décide de s'installer un temps à Meereen pour y remettre de l'ordre, elle commence à se rendre compte que ses dragons sont incontrôlables et décide de les enfermer en attendant d'y arriver. Elle y arrivera sans trop de difficulté avec Rhaegal et Viserion mais cela se révèlera impossible avec Drogon.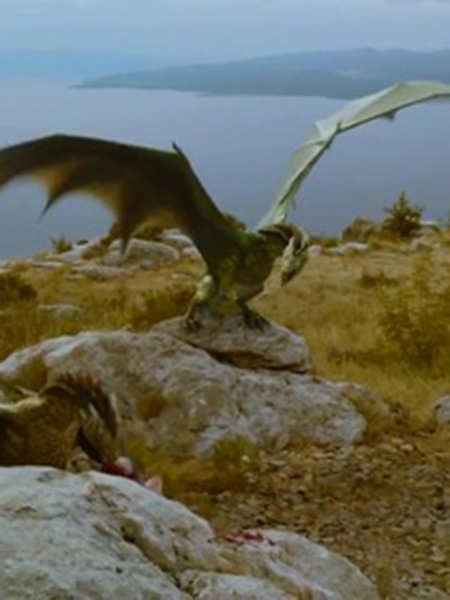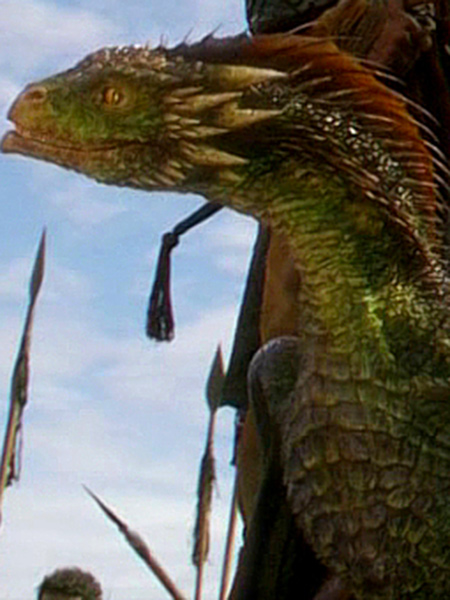 Nommé en l'honneur de son frère Rhaegar
Comme ses deux frères, Rhaegal est enfin représenté en version adulte et super sized (15 cm au lieu des 10 cm des figurines pop classiques). Il est créé sur le même modèle que Viserion et Drogo et donc seul les couleurs de peinture changent. Rhaegal est ainsi représenté en partie debout sur ses pattes arrière pour coller aux proportions habituelles des figurines pop. Sa longue queue très détaillée est repliée vers l'avant par le côté gauche avec un joli mouvement et ses ailes sont déployées sur le côté de son corps. Contrairement à sa version bébé, son corps est entièrement recouvert d'écailles. L'effet est très finement reproduit et donne un aspect très réaliste et délicat à cette figurine. Sa tête est assez proche de celle de sa version jeune mais les détails y sont bien plus fins et mieux rendus et sa gueule est celle fois complètement ouverte pour découvrir toute son impressionnante dentition. Enfin, Rhaegal est donc représenté avec avec plusieurs nuances de vert joliment dégradées allant vers un léger jaune sur ses ailes de chauve-souris.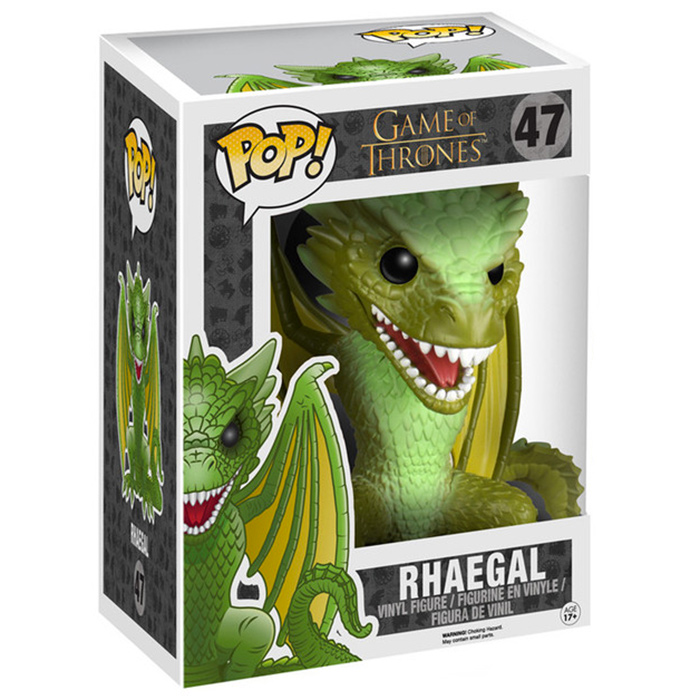 La figurine Funko Pop Rhaegal adulte (Game Of Thrones) vous intéresse ?

Vérifier la disponibilité sur

Trouvable également ici :

22.90 €
Voir l'offre