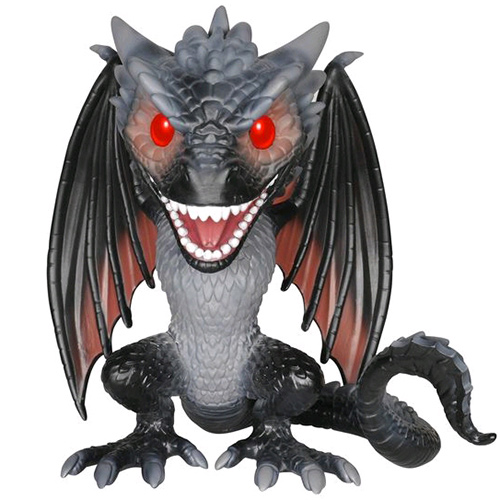 Figurine Drogon adulte (Game Of Thrones)
La figurine Funko Pop Drogon adulte (Game Of Thrones) vous intéresse ?

Vérifier la disponibilité sur

Le plus féroce des dragons
Drogon est un des trois dragons dans la série Game Of Thrones, adaptée de A Song Of Ice And Fire, les romans fantastico-médiévaux de George Martin. L'action se déroule sur deux continents. La plupart des personnages évoluent sur le continent de Westeros où les grandes familles se battent pour le pouvoir. Pendant ce temps, au Nord, au-delà du mur construit pour les protéger des sauvages qui y vivent, une terrible menace se réveille. Ces grandes familles, trop occupées à se battre entre elles, restent sourdes aux demandes d'aide de La Garde De Nuit, l'ordre de soldat qui patrouille au-delà du mur. De l'autre côté de la mer, Daenerys Targaryen tente de réunir une armée pour reprendre le pouvoir qui lui revient de droit. En effet, celle-ci est la dernière héritière du roi fou Aerys Targaryen, évincé du pouvoir par une alliance des grandes familles de Westeros. En fin de saison 1, les oeufs de dragon qu'on lui a offert éclosent et Daenerys prouve que la race n'est pas éteinte et que les Targaryen n'ont pas tous perdus leurs pouvoirs. Drogon est l'un de ces trois dragons, nommé ainsi en hommage à son mari Drogo mort peu de temps avant. En grandissant, Drogon va vite devenir le plus grand et plus incontrôlable de ses dragons. A un moment, elle devra même se résoudre à les enfermer après que l'un d'eux ait dévoré un enfant. Mais Drogon ne se laissera pas faire et disparaitra un temps. Il reviendra pour sauver Daenerys alors que celle-ci est attaquée par les Sons Of The Harpy en fin de saison 5. Et pour la première fois, elle pourra le maitriser et monter sur son dos, comme le faisaient ses ancêtres.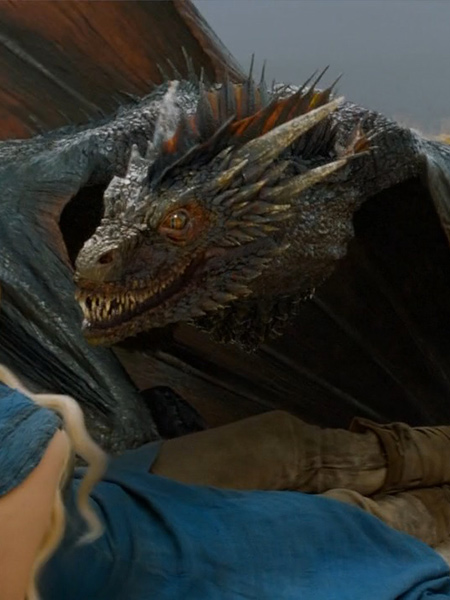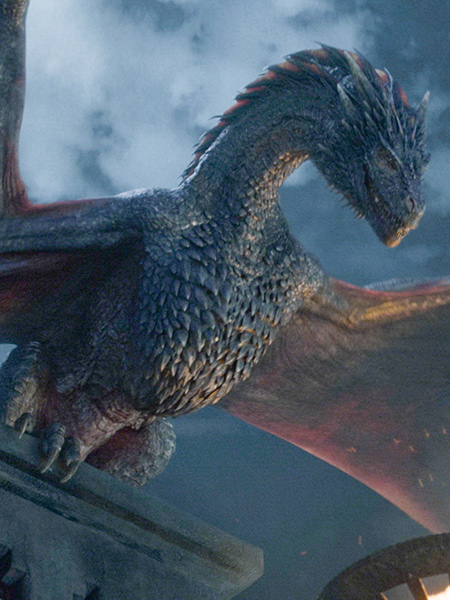 Un dragon qui a bien grandi
Alors que sur sa première figurine, Drogon avait encore l'air un peu mignon, il a maintenant une allure particulièrement féroce. Pour cette figurine super sized de 15 cm, il est représenté débout sur ses puissantes pattes arrière. Sa longue queue est en mouvement, ce qui donne du dynamisme à cette figurine et l'aide probablement à tenir en équilibre. Ses grandes ailes de chauve-souris noires et rouges sont à demi déployées. Au niveau de la tête, là où sur la première version, sa gueule était à peine entre-ouverte, elle est ici grande ouverte et l'on peut voir son impressionnante dentition ainsi que sa langue rouge et pointue de reptile. Les nombreux détails de de cornes, d'épines et surtout d'écailles sur tout son corps sont très finement représentés. Enfin, ses yeux sont maintenant entièrement rouges (et pas seulement entourés de rouge comme sur la première version du personnage) et cela ajoute au caractère féroce de cette figurine.