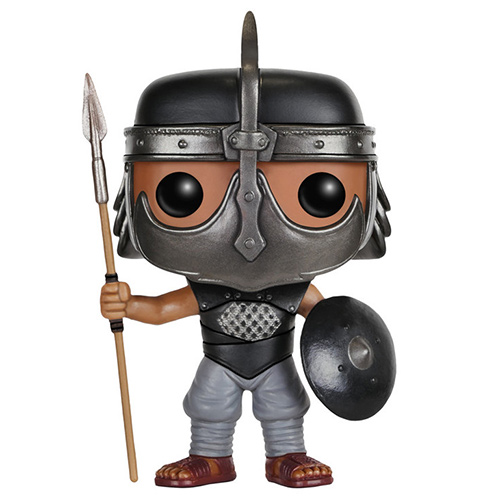 Figurine Unsullied (Game Of Thrones)
Les soldats de Daenerys
Les Unsullied sont des personnages dans la fameuse série de HBO : Game Of Thrones. Cette série, adaptée des romans de George Martin A Song Of Ice And Fire, se déroule dans un monde médiéval fantastique principalement sur deux continents : Essos et Westeros. Les Unsullied sont les soldats recrutés par Daenerys Targaryen pour revenir en Westeros et prendre le trône qui lui revient de droit. En effet lorsqu'une alliance des grandes familles de Westeros s'allia pour combattre le roi de l'époque : Aerys Targaryen "le roi fou", sa famille fût obligée de fuir. Daenerys se retrouva alors seule avec son grand frère Viserys. Celui-ci la vendit en mariage à Khal Drogo, un guerrier barbare en échange d'une armée. Mais Daenerys parvint finalement à obtenir son indépendance, quelques guerriers fidèles et des bateaux. Elle se rendit alors à Astapor dans l'espoir de recruter des soldats. On lui proposa alors d'acheter des "Unsullied", esclaves eunuques entrainés depuis leur enfance de manière cruelle à devenir des soldats sans peur. Daenerys propose de les acheter contre l'un de ses dragons. Mais elle va en fait dire à ses dragons de brûler les esclavagistes et proposer aux soldats leur liberté et de travailler pour elle. Ils vont à partir de ce moment devenir ses plus fidèles alliés.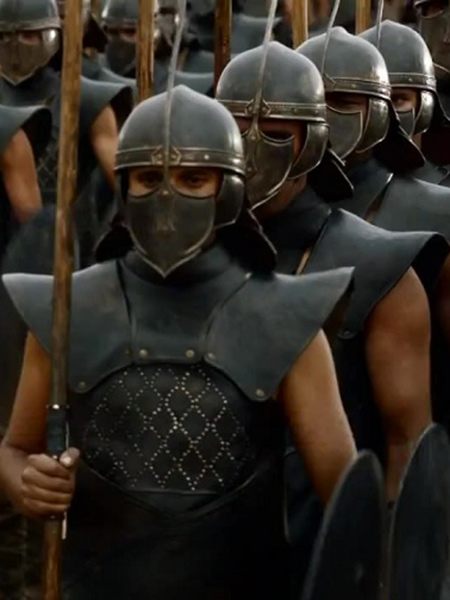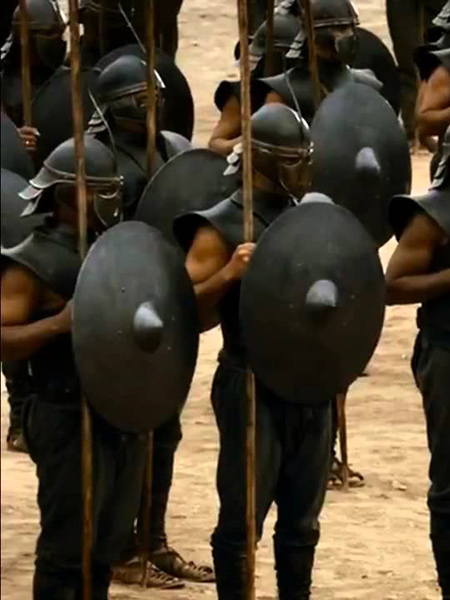 Les soldats les plus fidèles
Les Unsullied sont entrainés depuis leur enfance pour être des soldats et même après avoir retrouvé leur liberté, ils choisissent de rester des soldats. Ils sont alors payés par Daenerys pour se battre et conservent donc la même tenue que celle qu'on les voit porter dans la scène où Daenerys leur propose leur liberté. On retrouve donc cette tenue grise légère et ces sandales déjà portées par Grey Worm, le capitaine des Unsullied, déjà représenté en figurine. Il porte aussi cette armure légère en métal gris au niveau du torse, dont on retrouve bien le motif si particulier. Dans ses mains, il porte la lance et le bouclier rond en métal avec lesquels il se bat toujours. Enfin sa tête est presque entièrement recouverte de son casque. Les détails et l'aspect métallique de celui-ci sont très joliment représentés. On ne distingue que ses yeux et une partie de sa peau brune.