Figurine Night King (Game Of Thrones)
La figurine Funko Pop de Night King (Game Of Thrones) vous intéresse ?

Vérifier la disponibilité sur

La plus grande menace de Westeros
Le Night King est un personnage important aperçu dans la cinquième de la série culte de HBO : Game Of Thrones. Cette série, adaptée des romans de George Martin A Song Of Ice And Fire, se déroule dans un monde médiéval fantastique. Sur le continent de Westeros, de grandes familles se font la guerre pour le pouvoir. Mais pendant ce temps, une menace bien plus grande arrive du Nord. En effet il y a plusieurs centaines ou milliers d'années, le roi de l'époque a construit un immense mur de glace infranchissable tout au nord du continent afin de se protéger des sauvages qui y vivent mais aussi des fameux marcheurs blancs. Aujourd'hui plus personne ne croit vraiment à leur existence sauf ceux de la garde de nuit, cet ordre de soldats habillés de noir ayant fait le serment de garder le mur. Jon Snow, fils bâtard de Ned Stark, est passé en quelques années de simple soldat de la garde à commandant de la garde. En saison 5, il se rend à Hardhome de l'autre côté du mur afin de venir en aide à un groupe de sauvages. Mais c'est alors qu'arrive l'un de ces marcheurs blancs surnommé le "Night King" accompagné d'une armée de "wights", des sortes de zombies. On ne sait pas grand chose sur l'origine de ces marcheurs blancs mais on sait qu'ils ont le pouvoir de ressusciter les morts. Jon Snow va le combattre et en ressortir miraculeusement vivant grâce à son épée en acier valyrien.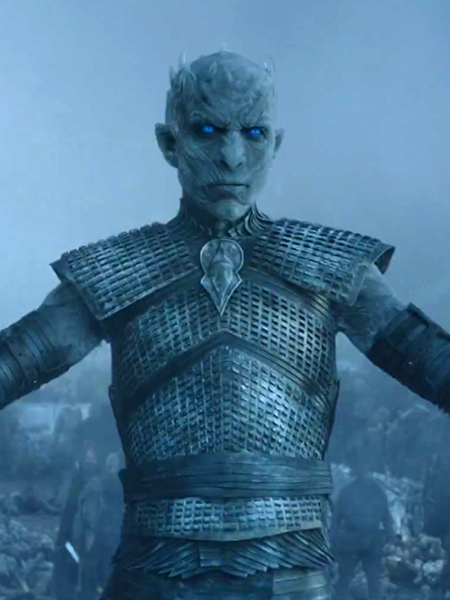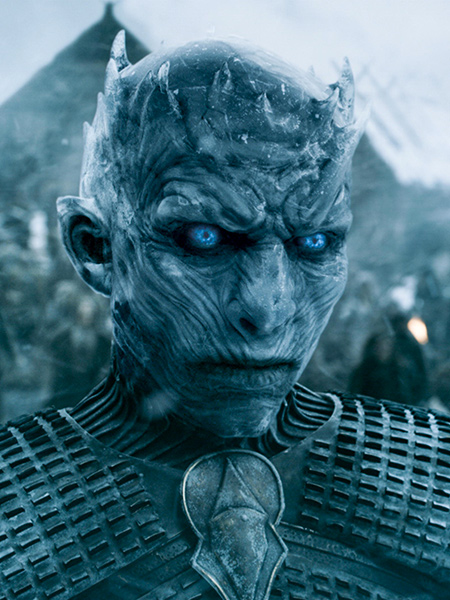 Le roi des zombies
Il ne faut pas confondre les marcheurs blancs qui sont une espèce à part entière et les wights, qui sont des zombies anciennement humains sans volonté aux ordres des marcheurs blancs. Le Night King est l'un de ces marcheurs blancs et bien qu'il ait une allure plutôt cadavérique, il a ses propres caractéristiques. Comme dans ce fameux épisode, le Night King porte une longue tunique grise ainsi que des bottes et des armures de poignet assorties. On aperçoit aussi bien sûr sa peau bleue, ses mains squelettiques et l'étrange pendentif qu'il porte sur sa poitrine. Au niveau de la tête, on retrouve toujours cette peau bleue et Funko a bien représenté ces étranges excroissances sur son crâne. Enfin ses yeux sont d'un bleu brillant pour respecter le regard terrifiant de ce personnage. Sa bouche est pour une fois représentée afin de bien montrer ces étranges plis de peau caractéristiques.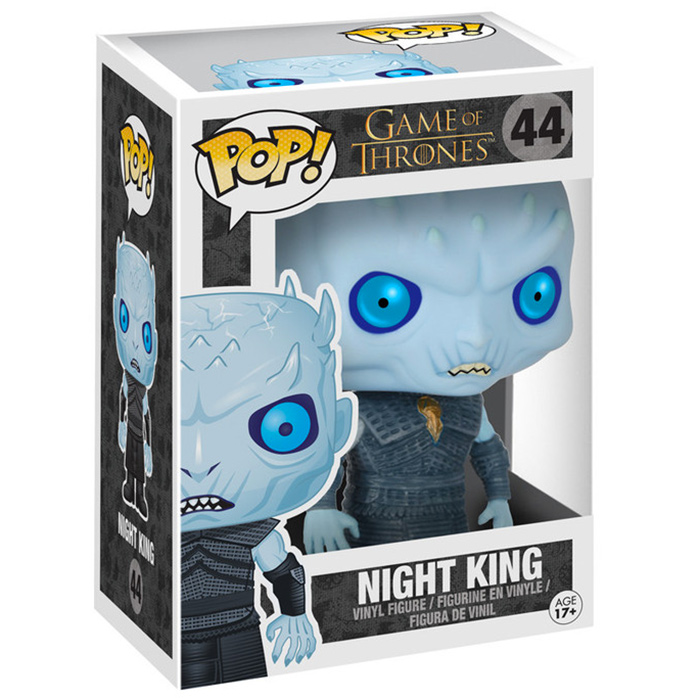 La figurine Funko Pop de Night King (Game Of Thrones) vous intéresse ?

Vérifier la disponibilité sur