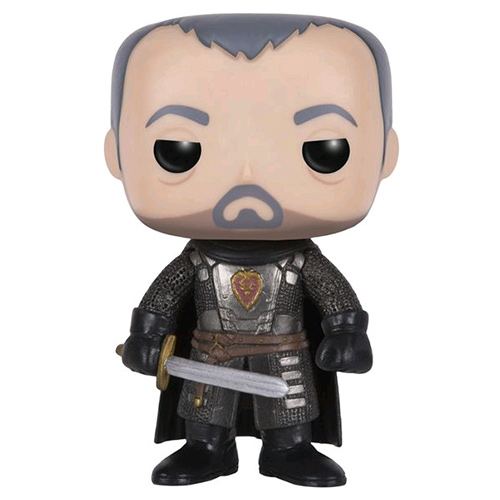 Figurine Stannis Baratheon (Game Of Thrones)
La figurine Funko Pop Stannis Baratheon (Game Of Thrones) vous intéresse ?

Vérifier la disponibilité sur

Le roi légitime
Stannis Baratheon est l'un des personnages principaux de la série Game Of Thrones, la fameuse adaptation télévisée de A Song Of Ice And Fire, la série de romans de George Martin. L'action se déroule dans un monde fantastique médiéval où les grandes familles du continent de Westeros se disputent depuis longtemps le pouvoir alors que tout au nord du continent au delà du mur censé les protéger, les marcheurs blancs se rapprochent dangereusement. Dans la première saison, Ned Stark le bras droit du roi découvre que ses enfants sont le fruit de l'inceste entre la reine Cersei Lannister et son frère Jaime. Elle s'arrange alors pour faire tuer le roi. Craignant pour sa vie, Renly Baratheon, le jeune frère du roi quitte la cour pour former sa propre armée. De son côté, Stannis Baratheon, connaissant déjà la vérité sur les enfants de Cersei, s'était déjà replié chez lui. Quand il apprend la nouvelle de la mort de son frère, il décide alors de former une armée pour reprendre le trône qui lui revient légitimement de droit. Il sera aidé par Melisandre, une prêtresse de la nouvelle religion qu'il a adopté. Malheureusement, Stannis est un homme froid et peu sympathique qui ralliera peu de monde à sa cause, ce qui causera l'échec de sa première attaque contre la capitale. Mais il n'en restera pas là et bien qu'étant au départ un homme juste, il sera de plus en plus influencé par Melisandre, ce qui le poussera à des actes irréparables.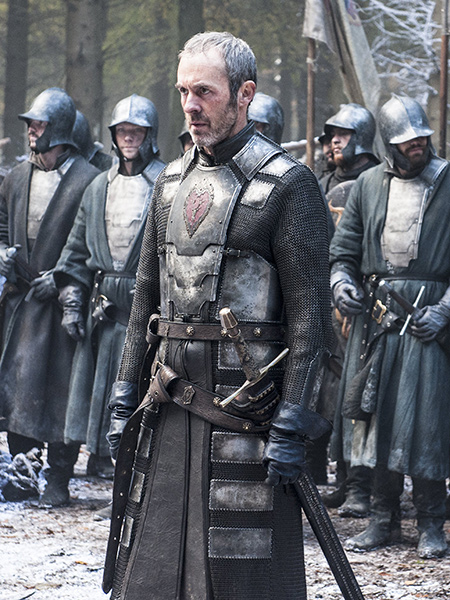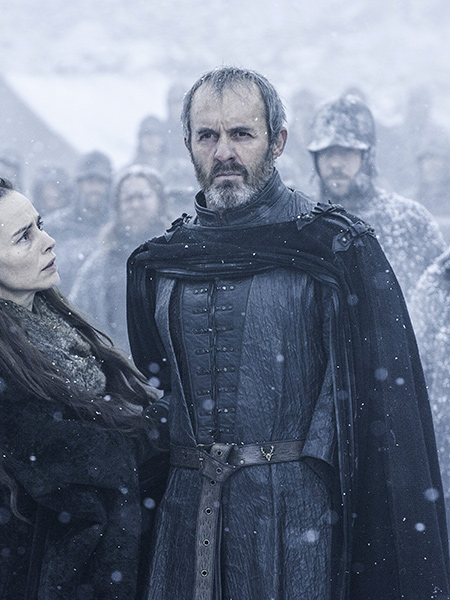 Le chevalier gris
Stannis Baratheon est un personnage plutôt rigide et froid et c'est ainsi qu'il est représenté sur cette figurine. Restant principalement un guerrier, on le voit la plupart du temps en armure, il était donc logique de la retrouver sur cette figurine. Comme dans la série son armure est en métal gris et relativement sobre. On retrouve tout de même son nouvel emblème sur sa poitrine : un coeur enflammé. Il porte une ceinture marron à la taille à laquelle est accrochée une clé dorée. Il porte en en plus de ça des bottes, des gants et une cape noirs et tient bien sûr dans sa main son épée. au niveau de la tête, ses yeux ne sont pas ronds pour lui donner ce regard froid et sa barbe et son bouc ont été finement représentés. Ses cheveux gris et courts sont eux aussi fidèlement représentés.