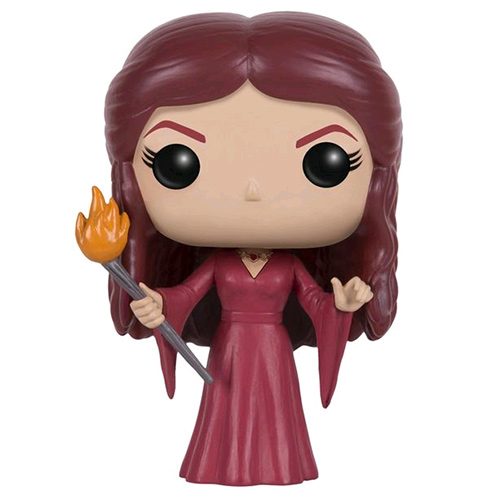 Figurine Melisandre (Game Of Thrones)
La figurine Funko Pop de Melisandre (Game Of Thrones) vous intéresse ?

Vérifier la disponibilité sur

Melisandre, la prêtresse de R'hllor
Melisandre est l'un des personnages importants de la série Game Of Thrones, la fameuse adaptation télévisée de A Song Of Ice And Fire, la série de romans de George Martin. L'histoire se déroule dans un monde fantastique médiéval plusieurs grandes familles du continent de Westeros se disputent le trône alors que tout au nord du continent, au delà du l'immense mur construit pour les protéger, les marcheurs blancs se rapprochent dangereusement. Au début de la série, l'actuel roi Baratheon est tué par sa femme Cersei Lannister, craignant qu'il découvre que ses enfants sont le fruit de l'inceste avec son frère. Le frère du roi, Stannis décide alors de réunir une armée pour récupérer le trône qui lui revient. Auprès de lui se trouve Melisandre, une prêtresse d'une nouvelle religion venant du continent d'Essos. Lorsque, grâce à ses pouvoirs surnaturels, celle-ci arrivera à tuer pour lui son autre frère, Renly, Stannis commencera à lui de plus en plus confiance. Il finira même par se laisser influencer à faire les pires choses, cette religion reposant aussi sur le sacrifice humain, notamment de personnes de sang royal. Ce personnage est l'un des plus mystérieux. On ne sait jamais vraiment ses vrais intentions ainsi que l'étendu réel de ses pouvoirs, notamment lorsqu'il s'agit de prédire l'avenir.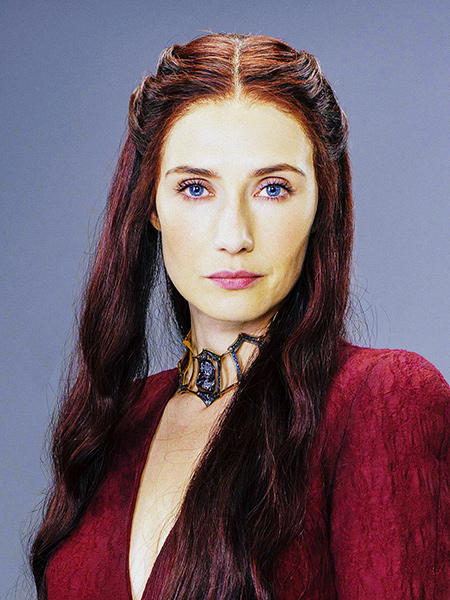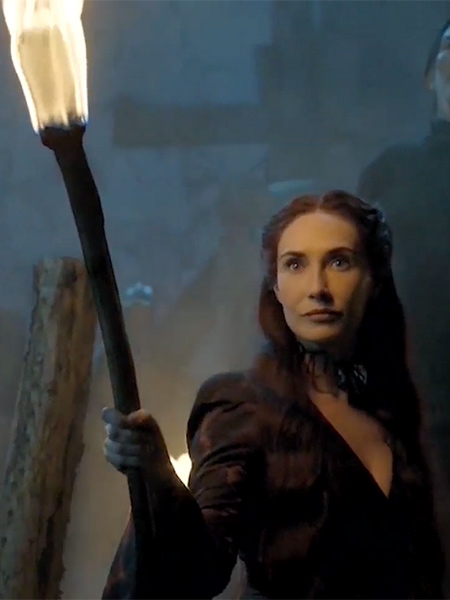 La femme rouge
Les couleurs de cette nouvelle religion venue du continent d'Essos sont le rouge et de manière générale le feu, utilisé pour lire l'avenir et sacrifier des êtres humains au dieu R'hllor. Melisandre est appelée la femme rouge car ses cheveux sont rouges et elle est toujours habillée de rouge. On la retrouve donc avec sa robe rouge qu'on peut la voir porter dans l'un des premiers épisodes où elle apparait et qu'elle porte souvent par la suite. Elle porte aussi autour du cou le collier décoré d'une pierre rouge qu'elle ne quitte jamais. Au niveau de la tête, son visage est tout simple mais l'on retrouve bien ses longs cheveux rouges en partie ramenés vers l'arrière pour dégager son visage. Enfin, elle tient dans sa main droite une torche enflammée, s'apprêtant peut-être à pratiquer un sacrifice.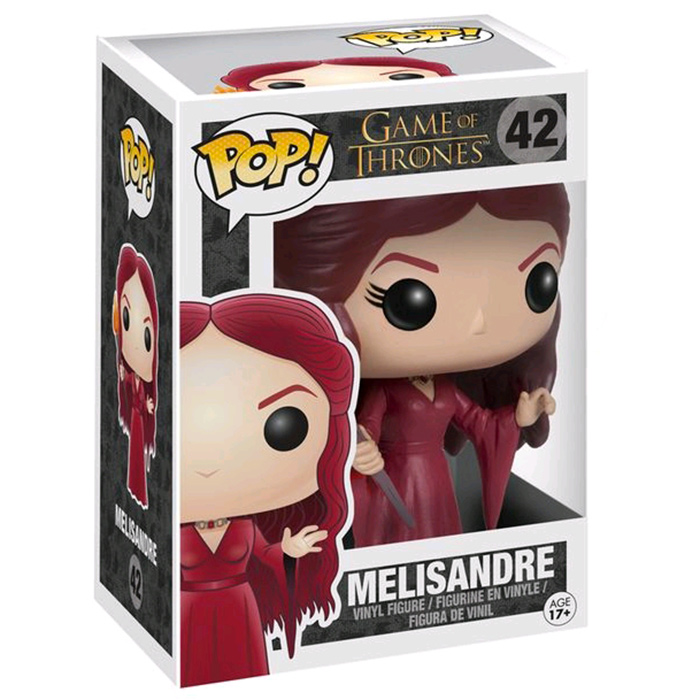 La figurine Funko Pop de Melisandre (Game Of Thrones) vous intéresse ?

Vérifier la disponibilité sur