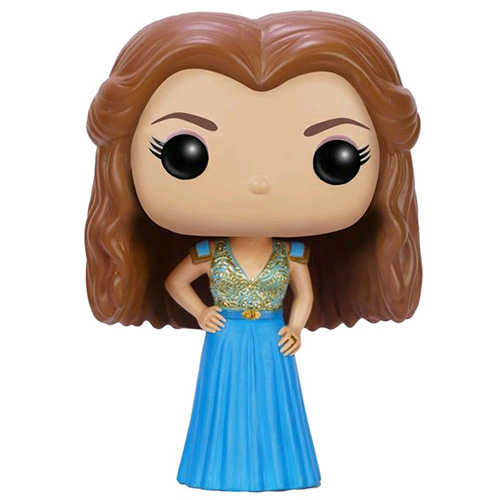 Figurine Margaery Tyrell (Game Of Thrones)
La figurine Funko Pop Margaery Tyrell (Game Of Thrones) vous intéresse ?

Vérifier la disponibilité sur

Une rose pas si innocente
Margaery Tyrell est l'un des personnages importants de la série Game Of Thrones, la fameuse adaptation télévisée des romans de George Martin : A Song Of Ice And Fire. L'histoire se déroule dans un monde fantastique médiéval où plusieurs grandes familles se disputent depuis longtemps le pouvoir et le trône alors que tout au nord du continent de Westeros, les marcheurs blancs se rapprochent sans que grand monde y prête vraiment attention. Margaery est la jeune fille de la riche famille Tyrell. Dans la première saison, Cersei Lannister, la reine, s'arrange pour que le roi meure lors d'une partie de chasse car elle craint que son ami Ned Stark ne révèle au roi que ses enfants sont en fait le fruit de l'inceste avec son frère Jaime. Les deux frères du roi, apprenant cela, décident chacun de quitter la cours afin de former une armée et prendre le trône. La famille Tyrell prend parti pour Renly Baratheon, le plus jeune frère et c'est ainsi que Margaery épouse Renly, bien que celui-ci soit homosexuel. Mais quand Renly meurt de la main de son frère Stannis, la famille Tyrell change de camps et fait alors alliance avec les Lannister quand ceux-ci sont à leur tour attaqués par Stannis. Margaery se retrouve alors fiancée à Joffrey, le fils de Cersei Lannister. Quand celui-ci meurt à son tour, elle est alors fiancée à son jeune frère Tommen. Bien que d'apparence douce et charmante et plutôt bienveillante, Margaery sait très bien manipuler les gens pour obtenir ce qu'elle veut, en particulier des hommes. Elle va alors entrer en conflit avec Cersei pour l'influence sur le jeune Tommen.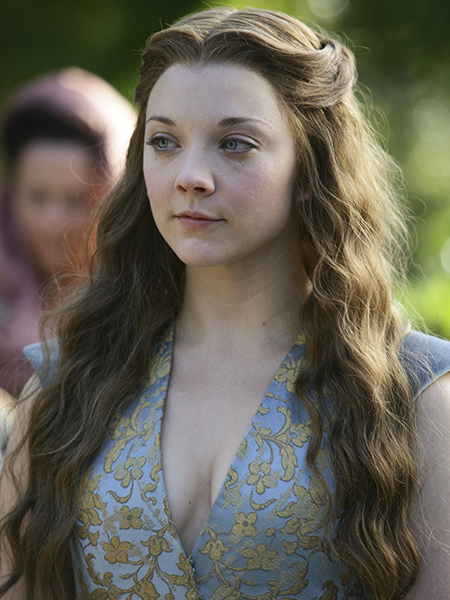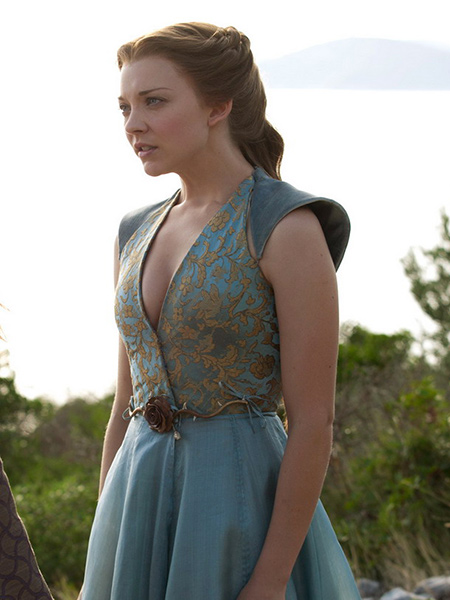 La nouvelle reine
Margaery est originaire d'Highgarden et donc, ainsi qu'on peut le voir dans la série, elle n'adopte pas la mode de la cour inspirée du style de Cersei, mais suit la mode de sa région d'origine, ce qui ne fait que renforcer son opposition à l'ancienne reine Cersei. Margaery porte des robes souvent très décolletées et sans manche dans des tons principalement bleus, encore une fois en opposition à Cersei. Elle porte ici l'une de ses robes les plus emblématiques. le bas est bleu clair et le haut est de la même couleur mais brodé de fleurs dorés. On retrouve aussi ses étranges petites manches tombantes qui découvrent ses épaules. Au niveau du visage, ses yeux ne sont pas parfaitement ronds pour marquer ses fameux yeux de biche. Ses cheveux bruns/roux sont joliment représentés avec ces jolies boucles et la façon dont ils sont gonflés sur le dessus et en partie ramenés vers l'arrière pour dégager son visage.