Figurine King Aragorn (The Lord Of The Rings)
La figurine Funko Pop King Aragorn (The Lord Of The Rings) vous intéresse ?

Vérifier la disponibilité sur

Le couronnement du héros
Aragorn est l'un des membres de la communauté de l'anneau et donc l'un des grands héros de la trilogie du Seigneur des anneaux. Quand on rencontre Aragorn, il ne semble être qu'un ranger et se présente sous le nom de Grand-Pas (Strider en version originale). Il sauve les hobbits d'une attaque de Nazguls à Bree et Gandalf n'étant pas au rendez-vous, il prend sur lui de les emmener en sureté chez Elrond. Ce n'est qu'au moment du conseil d'Elrond où l'on doit décider que faire de l'anneau qu'il est révélé qu'il est en fait Aragorn, fils d'Arathorn, descendant d'Isildur et donc roi légitime du Gondor, depuis longtemps gouverné par des intendants en attendant le retour du roi. Au cours de l'histoire, Aragorn va prouver sa valeur, son courage, sa force de caractère et ses qualités de leader en menant les armées des hommes pendant que Sam et Frodon sont en route pour détruire l'anneau. Quand l'anneau est détruit et que Sauron est définitivement mort, Aragorn est finalement couronné roi et épouse son grand amour : Arwen, fille d'Elrond.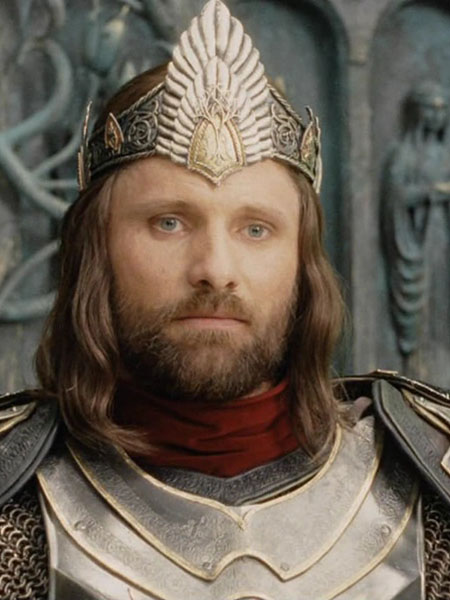 Une couronne digne des rois
Pour cette figurine exclusive aux magasins Toys'r us, Aragorn est représenté au moment de son couronnement à la fin de la trilogie. Il porte donc une tenue officielle de cérémonie composée d'une armure en métal argenté extrêmement raffinée et bien détaillée. Le plastron porte le signe du Gondor et de nombreux détails dorés la décorent. Il porte aussi son épée Anduril du côté gauche ainsi qu'une riche cape grise doublée de tissu rouge. Au niveau de la tête, on retrouve ses cheveux bruns mi-longs et sa barbe est nettement plus longue que pendant le reste des films. Enfin, il porte bien sûr sa couronne de roi en argent (ou peut-être en mithril) avec des détails finement représentés notamment l'arbre blanc du Gondor à l'avant.