Figurine Gandalf The White (The Lord Of The Rings)
La figurine Funko Pop Gandalf The White (The Lord Of The Rings) vous intéresse ?

Vérifier la disponibilité sur

Le Gandalf ultime
Gandalf le blanc est la deuxième version de Gandalf que l'on rencontre dans le roman et film d'heroic fantasy Le Seigneur Des Anneaux. Gandalf est l'un puissants membres de l'ordre des magiciens aux pouvoirs sans pareil et dont la longévité se rapproche de la quasi immortalité des elfes. Quand ce dernier se rend compte que son ami Bilbo Le Hobbit était en possession de l'anneau maléfique de Sauron toutes ces années, il insiste pour qu'il le lègue à son neveu Frodo avant que celui-ci ne prenne trop le pouvoir sur lui. Accompagné de ses amis, Frodon doit se rendre conseil d'Elrond avec l'anneau afin de décider ce qu'il en sera fait. Une communauté composée de deux hommes, un nain, un elfe, quatre hobbits et Gandalf est formée pour accompagnée Frodon au Mordor pour détruire l'anneau. Mais Gandalf doit combattre un terrible démon Balrog dans les mines de la Moria et il tombe dans le gouffre avec la créature et on le pense mort. Mais dans le second livre et film, on apprend qu'il est mort mais fut ramené à la vie pour devenir Gandalf le Blanc à la place de Gandalf le Gris. En effet Saruman, dont c'était le titre précédemment, a rejoint Sauron et le titre devient donc celui de Gandalf. Il porte maintenant un manteau blanc et ses pouvoirs son accrus.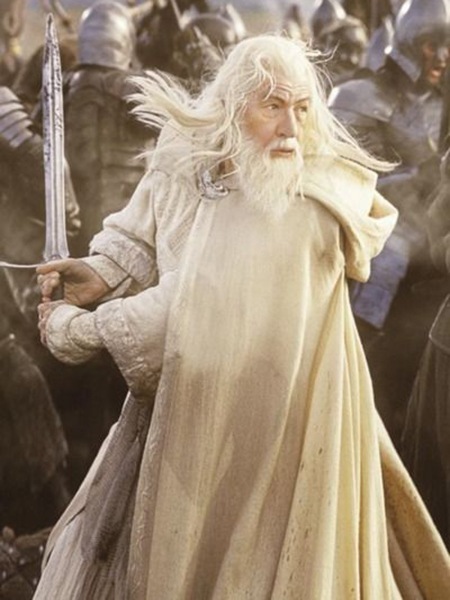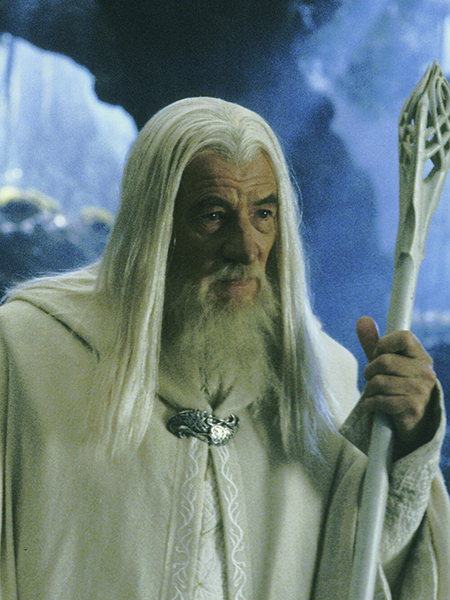 Un Gandalf guerrier
Gandalf est ici représenté dans le dernier film quand il s'apprête à partir combattre les orcs dans dans le Mordor, les jambes pliées et l'épée à la main. Il porte une tenue toute blanche composée d'un pantalon, d'une longue tunique ainsi que d'une cape. Les bords sont élégamment brodés de motifs argentés. Il porte aussi des bottes grises ainsi qu'une ceinture maintenant l'étui de son épée. Au niveau de la tête, on retrouve enfin ses longs cheveux blancs ainsi que sa barbe assortie.