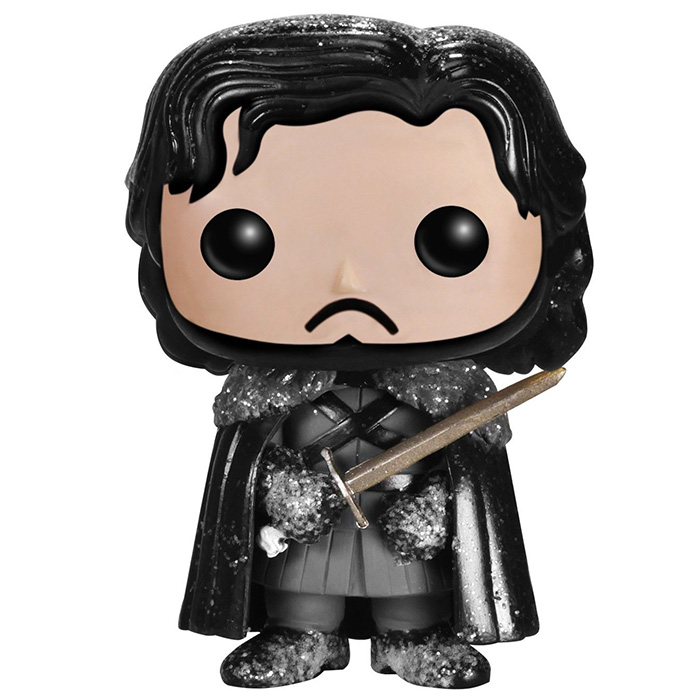 Figurine Jon Snow beyond the wall (Game Of Thrones)
La figurine Funko Pop Jon Snow beyond the wall (Game Of Thrones) vous intéresse ?

Vérifier la disponibilité sur

Un bâtard devenu roi
Bien que ce ne soit pas forcément évident au tout début de la série, Jon Snow est l'un des personnages les plus importants, si ce n'est le plus important, de la série Game Of Thrones inspirée des fameux romans de George Martin. Il est officiellement le fils bâtard de Ned Stark, seigneur du Nord et de Winterfell. Sachant qu'il n'aura que peu d'occasions de se marier et de servir sa famille d'une façon ou d'une autre, il décide au début de la série de rejoindre la garde de nuit, comme son oncle Benjen. Cet ordre a promis de garder le royaume de tous les dangers qui rodent au-delà du mur de glace géant construit un peu au Nord de Winterfell. La garde étant plus souvent composée de criminels ayant choisi le mur plutôt qu'une exécution, ce jeune homme instruit et entrainé au combat se démarque immédiatement des autres. Mais lors de son premier périple sur la banquise au delà du mur, Jon va vite se rendre compte que le vrai danger ne vient pas des hommes libres y vivant mais de créatures bien plus dangereuses que tout le monde prenait depuis longtemps pour des légendes.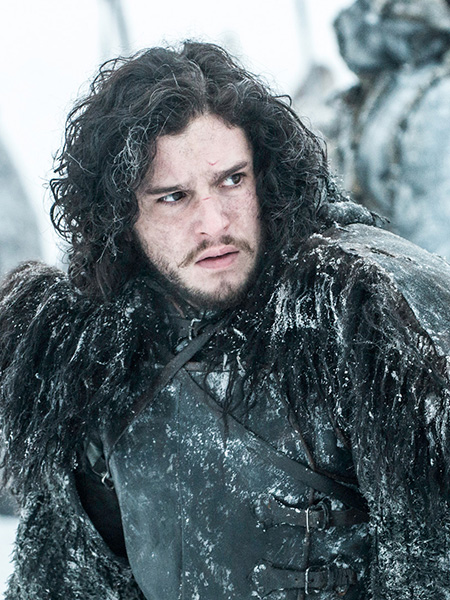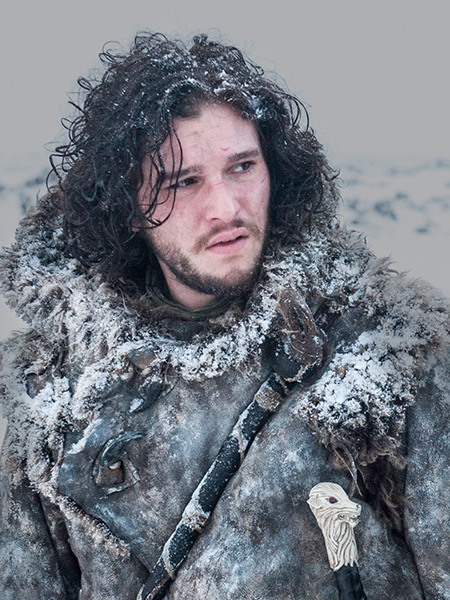 Jon Snow sous la neige
Cette figurine est une version exclusive « beyond the wall » de la première figurine sortie pour ce personnage. On peut le voir porter sa tenue de la garde de nuit : un pantalon et une tunique gris foncé ainsi que des bottes noires modestes. Par dessus, il porte ce fameux manteau de laine doublé de fourrure au col et maintenu autour de ses épaules par deux lanières en travers du torse. Avec cela, il porte bien sûr des gants noirs et l'épée offert à lui par Jeor Mormont, chef de la garde, après qu'il lui ait sauvé la vie. Sur son visage, on reconnait bien sa légère barbe ainsi que son bouc mais encore une fois, ses fameuses boucles noires sont un peu ratées sur cette figurine. Enfin, ce qui différencie cette figurine de la première, c'est la neige d'un joli blanc pailleté sur ses gants, bottes, épaules et le dessus de sa tête.