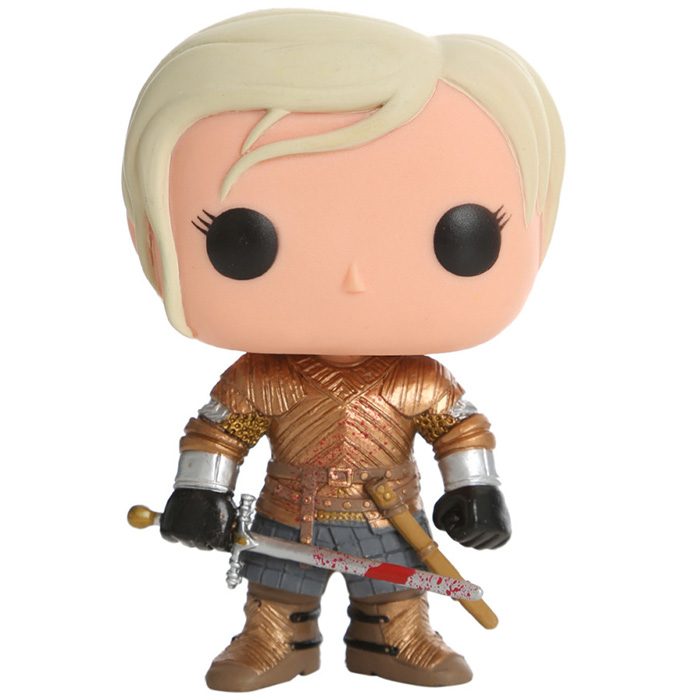 Figurine Brienne Of Tarth bloody (Game Of Thrones)
La figurine Funko Pop Brienne Of Tarth bloody (Game Of Thrones) vous intéresse ?

Vérifier la disponibilité sur

Une guerrière sans pareil
Brienne Of Tarth est un personnage important de la série Game Of Thrones inspirée de la fameuse série de romans A Song Of Ice And Fire de George Martin, encore en cours d'écriture. Brienne apparait en cours de saison deux et bien que restant un personnage secondaire, elle prend de l'importance au fur et à mesure des saisons. Après la mort de Robert Baratheon puis la prise de pouvoir très contestée de Cersei et Joffrey ainsi que la mort de Ned Stark, le royaume est déchiré et plusieurs seigneurs entrent alors en guerre chacun voulant le trône pour lui-même. Brienne s'est déclaré pour Renly Baratheon, l'un des seuls hommes à s'être jamais montré gentil avec elle durant son adolescence malgré son physique disgracieux et considéré comme masculin. Elle est même choisie pour faire partie de sa garde personnelle après sa victoire lors d'un tournoi. Mais quand Renly est assassiné par une ombre envoyée par son frère Stannis, elle est accusée et Catelyn Stark, présente à ce moment, prend sa défense et lui propose de servir alors sa famille. A partir de ce moment, sa loyauté sera sans faille et elle fera tout pour respecter le serment qu'elle a fait à Catelyn de ramener ses filles saines et sauves chez elles à Winterfell.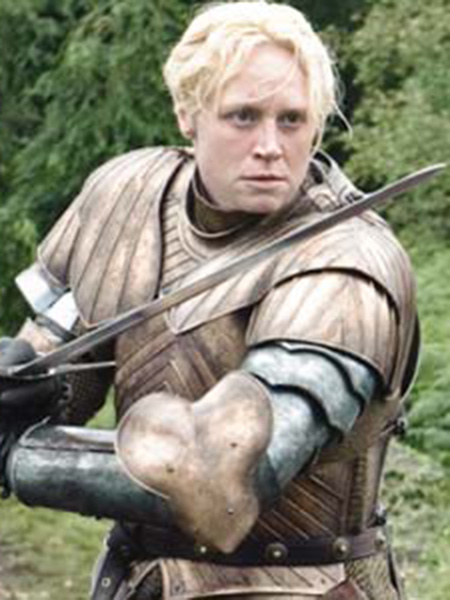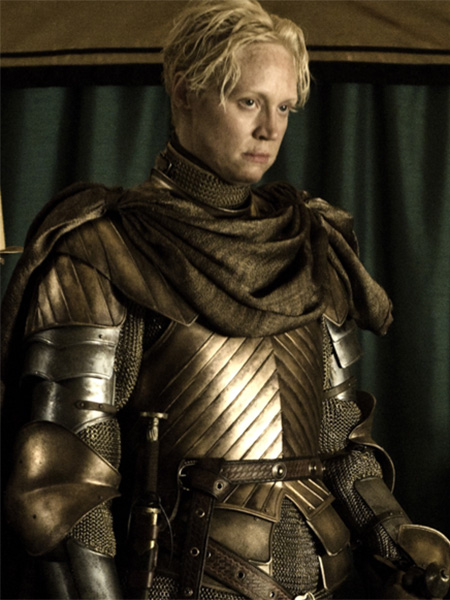 Brienne après le combat
Cette figurine est une version exclusive Hot Topic de la première figurine du personnage déjà sortie quelques temps auparavant. Brienne porte toujours cette armure dorée particulièrement luxueuse montrant qu'elle vient d'une famille particulièrement aisée. Les détails de celle-ci sont particulièrement bien représentés sur cette figurine qui dépasse d'un demi-centimètre presque toutes les autres figurines de la collection. On peut voir qu'elle porte en dessous une tunique de plaques ainsi que d'épais gants noirs. Au niveau de la tête, son visage est tout simple mais on reconnait bien ses courts cheveux blonds caractéristiques. Enfin, comme sur son autre figurine, elle tient son épée dans la main droite, mais celle-ci est ici recouverte partiellement de taches de sang, ce qui montre qu'elle vient apparemment de combattre.